Ward 6 council candidates make their case


Former School Committee President Judith Cronin trounced political newcomer James Amatucci in September's preliminary election, but Amatucci believes the final count on Nov. 6 will be a close one.
"She did a really good job turning out her core base," Amatucci said. "I think I'll be able to get more people out in the general election, and I think I'll close the gap."
Ward 3 opponent slams Burke on letter, censure


Like most local races, the contest for Ward 3 city councilor centers around such mundane issues as who can get the roads paved and the sidewalks repaired.
But this year, there's one topic that elevates the battle between incumbent John Burke and challenger Steven Crowley beyond the realm of routine politics.
In July, the City Council voted 8-0 to censure Burke and strip him of his committee assignments for writing an anonymous letter accusing the Police Department of wrongdoing.
Stay-at-home dad, political activist face off for Ward 2 seat


Sean Devlin hopes his years of walking downtown and getting to know people in Ward 2 will give him an advantage over Wesley Slate, who's been active in local, state and national campaigns since the late 1960s.
"I've been involved in politics for a long time, but I've always been the man behind the scenes," Slate said. Most recently, he was the Beverly coordinator for Gov. Deval Patrick's campaign.
Challenger for council seat: Too much development


A political newcomer hopes to unseat a 10-year incumbent in the Ward 5 City Council race, saying he wants to keep development in check.
"The council has been too pro-development, as if it's a cure-all for all our financial problems," Duane Anderson said. "I like Beverly, and it's a small city. I don't want it to be a big city."
Incumbent Councilor Don Martin stressed development in the appropriate places and said he tries to run the city the way he runs his own finances.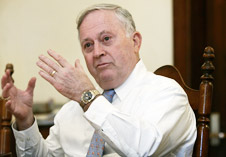 Long-serving Scanlon focuses on task at hand

If Bill Scanlon wins re-election next month, he'll become the longest-serving mayor since the city began electing them in 1895.
Asked to comment on the possibility of that historic achievement, Scanlon said, "Let's wait and see how it goes next month."
Scanlon's supporters say that kind of focus on the task at hand is typical of his hard-driving approach. He may be on the brink of political history, they say, but he's more concerned with ushering through the next project.
Two races for School Committee have candidates going door-to-door


Candidates vying for a position on the School Committee have launched subtle yet serious campaigns expected to gain momentum in the next weeks as the Nov. 6 election approaches.
The two races are between bank vice president James Latter, the incumbent, and part-time bus monitor William Simpson in Ward 3; and behavioral specialist Duane Carbone Jr. and Realtor Karen Fogarty in Ward 4. Current Ward 4 School Committee member Nancy Brusil decided not to run for another term.
Council race will end with new president


Predictions can be risky when six candidates are running for three seats. But one thing is already certain about this year's race for city councilor-at-large: There will be a new City Council president.
Paul Guanci has held that title for the last six years by topping the ticket in each of the last three elections. Unlike in Salem and Peabody, where councilors choose their own president, the top job in Beverly automatically goes to the highest vote-getter in the at-large race.
Guanci is not running for re-election, so the president's position is wide open in the Nov. 6 election. Based on history, the favorite to succeed him would be five-term Councilor-at-large Tim Flaherty, who finished a close second to Guanci in the last three elections.

| | | | | | | | | |
| --- | --- | --- | --- | --- | --- | --- | --- | --- |
| | | | | | | | | |
| Bill Scanlon | | Euplio Marciano | | | | | | |
| 4,356 | | 1,722 | | | | | | |
| | | | | | | | | |
Councilor-at-Large — Choose 3
| | | | | | | | | |
| --- | --- | --- | --- | --- | --- | --- | --- | --- |
| | | | | | | | | |
| William Coughlin | | Timothy Flaherty | | Patricia Grimes | | Robert Jerin | | Rosemary Maglio |
| 3,333 | | 4,189 | | 3,603 | | 1,356 | | 1,178 |
| | | | | | | | | |
| | | | | | | | | |
| --- | --- | --- | --- | --- | --- | --- | --- | --- |
| | | | | | | | | |
| Euplio Marciano | | | | | | | | |
| 1,436 | | | | | | | | |
| | | | | | | | | |
| | | | | | | | | |
| --- | --- | --- | --- | --- | --- | --- | --- | --- |
| | | | | | | | | |
| D. Wesley Slate | | Sean Devlin | | | | | | |
| 437 | | 264 | | | | | | |
| | | | | | | | | |
| | | | | | | | | |
| --- | --- | --- | --- | --- | --- | --- | --- | --- |
| | | | | | | | | |
| John Burke | | Steven Crowley | | | | | | |
| 612 | | 446 | | | | | | |
| | | | | | | | | |
| | | | | | | | | |
| --- | --- | --- | --- | --- | --- | --- | --- | --- |
| | | | | | | | | |
| James Latter | | William Simpson | | | | | | |
| 576 | | 387 | | | | | | |
| | | | | | | | | |
| | | | | | | | | |
| --- | --- | --- | --- | --- | --- | --- | --- | --- |
| | | | | | | | | |
| Duane Carbone Jr. | | Karen Fogarty | | | | | | |
| 396 | | 658 | | | | | | |
| | | | | | | | | |
| | | | | | | | | |
| --- | --- | --- | --- | --- | --- | --- | --- | --- |
| | | | | | | | | |
| Donald Martin | | Duane Anderson | | | | | | |
| 822 | | 277 | | | | | | |
| | | | | | | | | |
| | | | | | | | | |
| --- | --- | --- | --- | --- | --- | --- | --- | --- |
| | | | | | | | | |
| Judith Cronin | | James Amatucci | | | | | | |
| 937 | | 419 | | | | | | |
| | | | | | | | | |