When an opiate epidemic first struck the North Shore 10 years ago, stunned parents, politicians and community leaders quickly responded.
They formed task forces, created education programs, and vowed to maintain vigilance against a scourge that was claiming the lives of so many young people.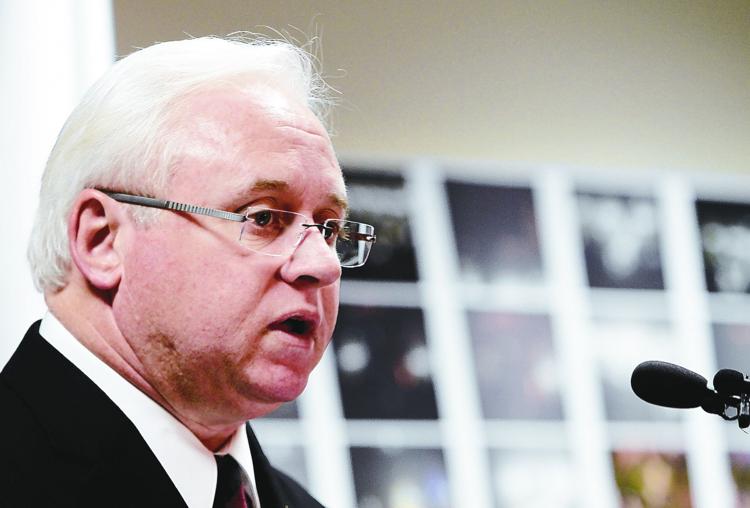 A decade later, the epidemic is back stronger than ever. Deaths from suspected heroin overdoses in Essex County rose from 23 in 2010 to 145 in 2014, and leaders from the governor on down are once again proposing solutions.
It's a depressing deja vu that naturally raises the question: What happened to all of those solutions that were promised the first time around?
A look back shows that many of them fizzled. Community task forces disbanded. A high-profile education program created by the Essex County District Attorney's office appears to be rarely used. And a Peabody City Council subcommittee established to tackle the problem hasn't met in five years.
In a talk to a group of business and political leaders in Salem, last December, on the day the county's overdose death toll passed the 100 mark for the year, District Attorney Jonathan Blodgett said opiates have become "the single greatest threat, not just to our young people but to the way we conduct our lives both personally and professionally."
"We were making progress," Blodgett said in an interview. "I think we were heading in the right direction. I don't want to say we didn't remain vigilant. But it seemed like it came back stronger than ever."
Task forces wane
In 2005, a series of stories in The Salem News revealed that middle-class kids from the suburbs were dying in increasing numbers from heroin. Many of them started with prescription drugs like OxyContin and graduated to heroin, which was available at record-cheap prices.
The stories shocked many people on the suburban North Shore, who had long associated heroin use with poorer communities. More than 1,200 people packed a forum in Salem, filling every seat, leaning against the walls and sitting on the floor in the high-school auditorium.
The crisis galvanized residents to form volunteer task forces. But after some initial accomplishments — a golf tournament in Peabody that raised money for drug education videos; a five-week drug recognition program for parents in Beverly — the task forces eventually disappeared.
"As the headlines kind of diminished, membership dropped off," said Bill Burke, the health director for the city of Beverly. "The crisis wasn't on the front burner anymore."
Norman LaPointe, a deacon at St. James Church in Salem, recalled attending only one or two meetings of the task force there.
"It just didn't materialize," he said. "I really don't know why."
In Peabody, the volunteer task force was turned into a City Council subcommittee on substance abuse. According to the city clerk's office, the subcommittee hasn't met since June 22, 2010.
When asked why, subcommittee chairman and City Councilor Tom Gould said he planned to convene one soon.
"To be honest with you, it probably should meet more regularly, especially with the issue as prevalent as it is," he said.
'Choose to Refuse'
In 2005, Blodgett unveiled the "Choose to Refuse" opiate education program at a breakfast meeting attended by more than 250 police officers, teachers, probation officials and politicians at the Peabody Marriott Hotel.
"It's one thing to heighten awareness," Blodgett said at the meeting. "But now we have to roll up our sleeves and do something about it."
"Choose to Refuse" was a new curriculum designed by the juvenile justice staff of the Essex County District Attorney's office. It was one of 25 programs in Massachusetts that year that was funded by a $9.3 million federal grant.
Blodgett's staff consulted substance abuse experts and surveyed 700 Essex County high school students to see what they thought would work in an anti-drug curriculum. They came up with a six-session program, aimed at ages 13 to 18 years, based on the theory of inoculation, a strategy in which students use role-playing to rehearse their responses to the pressures to take drugs.
"Choose to Refuse" won an outstanding achievement award from the Massachusetts Executive Office of Public Safety in 2006. In an event marking its one-year anniversary, officials praised it as a model for others to follow.
But the actual effectiveness of "Choose to Refuse" was never determined. Blodgett's office did not conduct a formal evaluation of the program, despite a recommendation that it do so by the Executive Office of Public Safety.
Blodgett said his office trained teachers from several schools on how to teach the program, and still offers the training. But his office does not track which schools actually implement "Choose to Refuse."
Blodgett mentioned Peabody, Lynn Classical and Gloucester as school districts that might have used the program. Officials at Peabody and Gloucester high schools said they incorporated sections of it into their health curriculum but not the entire program. Gene Constantino, the principal at Lynn Classical High School, said he was not sure if the school ever used "Choose to Refuse."
Another substance abuse education program, run by the Essex County Sheriff's Department, ran from 2006 to 2009 in up to eight area high schools. A department spokesman said the program ended when the grant money that paid for it expired.
The spokesman said the sheriff's department runs an eight-week summer leadership academy for children ages 8 to 15 that includes drug education.
One program where Blodgett can offer evidence of its effectiveness is the drug diversion program he established in 2012. Under the program, people with substance abuse issues who are arrested for non-violent crimes can enter a treatment program instead of being prosecuted.
According to Blodgett's office, 27 of the 48 people who went through the program in 2014 completed it successfully, a success rate of 56 percent.
'Patchwork' approach
Steven Chisholm, an assistant professor in the drug and alcohol rehabilitation education program at North Shore Community College, said society has taken a "patchwork" approach to drug education.
He said many schools teach drug education as part of their health curriculum, but more comprehensive, research-based programs are needed.
"You need 10 or more hours per year of prevention programming to begin to be effective," he said.
Chisholm said teachers often have limited training in drug education, and schools are restricted by costs and by standardized testing mandates that leave little time for other instruction.
"It needs to start in middle schools and elementary schools," he said. "Most prevention experts will tell you if you start in high school, it's too late."
Kevin Norton, the CEO of Lahey Behavioral Health Services, said it's difficult to rely on volunteers to fight an intractable problem like heroin. He said volunteer groups need at least one part-time funded position to assume the responsibilities of arranging meetings and setting goals.
"Those task forces are no different than running a business except they're using 99 percent volunteers," Norton said.
Grant-funded organizations have more stability than volunteer groups. DanversCARES and the Healthy Peabody Collaborative are two long-time North Shore groups that have been running educational programs for years.
"If anything has impacted drug and alcohol use in Peabody, they do a big piece," said Phil Sheridan, director of health and athletics for the Peabody public schools, of the Healthy Peabody Collaborative.
But those organizations live a tenuous existence from one grant cycle to the next. Ten-year federal grants that have been helping to fund the Healthy Peabody Collaborative and DanversCARES are set to expire in 2019.
Organizers are hoping a new round of state grant funding targeting opioid abuse will help to sustain the fight. The program, announced by Gov. Charlie Baker's office in May, awards $2.9 million to 127 communities.
But the money is stretched fairly thin. On the North Shore, 14 communities will receive a total of $300,000.
"It's not a lot of money," said Lynn Health Director MaryAnn O'Connor, whose city will share a $100,000 grant with Salem, Marblehead and Swampscott.
O'Connor said the communities will work on long-term strategies rather than programs that end when the grant money runs out. Examples include training family members of addicts on how to use Narcan, a drug that can reverse overdoses; encouraging physicians to use the prescription monitoring program designed to detect people "shopping around" for opiates; and working with law enforcement to identify the demographics of overdose victims.
"These are things we can put in place that will last after the funding's gone," O'Connor said.
Staff writer Paul Leighton can be reached at 978-338-2675 or pleighton@salemnews.com.