BOSTON — The state took baby steps on Monday to reviving its coronavirus-battered economy, with Gov. Charlie Baker rolling out a long-term plan to gradually reopen businesses that have been shuttered for weeks.
Baker said the road map for restarting the state's economy will allow "essential" businesses that stayed open during the pandemic, such as manufacturing firms and construction sites, to continue to operate with restrictions. He also gave a green light to churches and other houses of worship to open to the public.
Other, higher risk businesses will have to wait. Baker and other state officials outlined a gradual process that will unfold in four phases over several months.
"The toll this virus takes and continues to take on many of us is staggering, but the response, the fight, the millions of people who are doing what they have to do to push back, has been brave and bigger," Baker said during a briefing. "We are going to ask people once again to rise to the occasion as we continue to fight this virus."
Beginning on Memorial Day, hair stylists, pet groomers and marijuana retailers are among retail businesses that can reopen, with curbside pickup and tight restrictions on capacity. A statewide ban on parking at beaches will be lifted while hunting, fishing and other outdoor activities will be allowed to resume.
Offices located outside of Boston can reopen after May 25 but must operate at 25% capacity. Baker is also encouraging businesses to let employees continue working from home, if possible.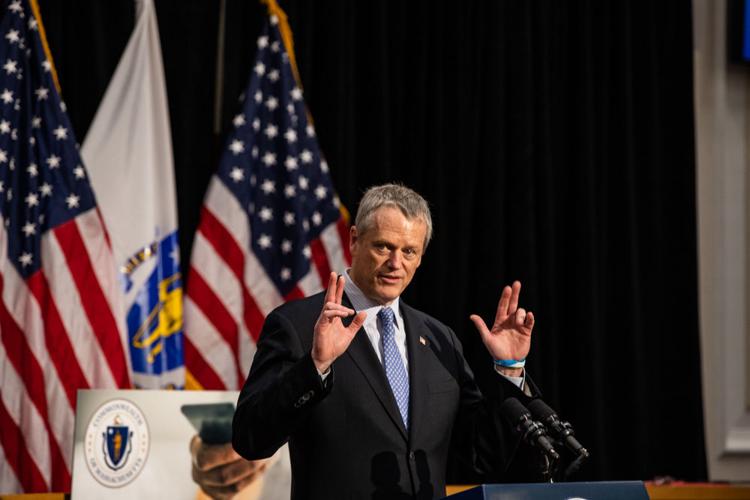 Hotels, dine-in restaurants and other retail outlets, such as nail salons and day spas, will be allowed to reopen in the second phase. It's not clear when that will get underway.
The second phase would also see playgrounds, pools, summer day camps and athletic fields reopen in a limited fashion.
New standards
Any businesses that reopens will need to provide masks and other protective gear to workers, install signage about preventing spread of the virus and require customers to practice strict social distancing by staying six feet apart.
Employees must also practice good hygiene and allow employers to monitor their temperatures.
The new workplace safety standards will be enforced by local boards of health and state agencies, which will have the authority to issue fines and shutdown businesses that violate the rules. Businesses that want to reopen under the plan must develop their own plans, based on rules and guidelines from the state.
As of Monday, the state is also replacing its "stay-at-home" rules with a "safer at home" advisory that eases some restrictions on outdoor activities but keeps in place a requirement to wear masks or face coverings in public when social distancing isn't possible.
While day care centers remain closed, the Baker administration said it would focus on building capacity for the state's emergency child care system for essential workers.
Baker declared a state of emergency on March 10 and imposed a number of aggressive restrictions aimed at preventing spread of the virus. Two weeks later he ordered all "non-essential businesses" to close for two weeks and advised people to stay home.
He has extended the shutdown twice, warning that the state must see a continuing decline in COVID-19 cases before taking steps to restart the economy.
Public and private schools across the state, including universities and colleges, have been closed for the remainder of the academic year.
Push to reopen
Pressure has been growing on the Baker administration to reopen the economy. Protesters have gathered outside the Statehouse, as well as Baker's Swampscott home, demanding that he "end the lockdown" by lifting a stay-at-home advisory and other restrictions.
Over the past several weeks, a swath of industries from restaurants to pot shops pitched their reopening plans to a 17-member advisory board led by Lt. Gov. Karyn Polito.
Polito urged patience from the business community as the reopening plans take shape.
"We know that many of our homegrown businesses in every corner of the state are suffering," she said. "We want to get everyone back up and running when it's appropriate to do so."
The push to reopen has been fueled by public frustration as unemployment skyrockets, businesses struggle to survive closures, and fears of a prolonged recession mount.
Massachusetts is one of a half-dozen states -- including New York and Connecticut -- that has kept restrictions in place as other states have eased lockdowns.
Even as it begins to reopen the economy, the state remains a national hot spot for COVID-19 infections, with 86,010 cases as of Sunday and 5,797 deaths.
Baker said there have been "positive developments" in the COVID-19 data, but the state isn't out of the woods yet.
He said reopening plans will be driven by key data points and could be delayed if there is a resurgence of virus-related deaths or new infections.
Business leaders welcomed the Baker administration's plan and said they hope the state will move quickly to lift restrictions.
"Retail shops will not last very long with curbside pickup only, so the state must allow customers in stores sooner rather than later," said Christopher Carlozzi, Massachusetts state director of the National Federation of Independent Businesses. "Restaurants also cannot operate solely on take-out and delivery."
John Regan, president and CEO of Associated Industries of Massachusetts, urged business owners to be patient as the process plays out.
"We realize that every employer in Massachusetts would love to hear that they can re-open immediately," he said. "But we also acknowledge that a phased re-opening balances the need to re-start the economy with the need to manage a public-health crisis that continues to claim 100 lives a day in Massachusetts."
Christian M. Wade covers the Massachusetts Statehouse for North of Boston Media Group's newspapers and websites. Email him at cwade@cnhi.com