SALEM — Residents got their first look at the Driscoll vs. Prevey fight last night, as two opposing mayoral candidates offered promises of progress: one of progress continued, the other of progress yet to be delivered.
Three-term Mayor Kim Driscoll and her challenger in this year's elections, former City Councilor and Freeman Road resident Paul Prevey, squared off at the season's first debate Thursday night. 
The election season forum was held at Hawthorne Hotel and hosted by the Salem Chamber of Commerce and Salem News.
It seemed everything in the event came in twos.
Twice, Driscoll had to be shut down by moderator David Olson for going over her allowed time to speak. Similarly twice, at least, Prevey was heard saying he agreed "with the mayor" on positions.
Also twice, applause for Driscoll's opening and closing statements — both of which were read from apparently prepared statements — briefly delayed the event from moving forward despite instructions from Olson to not applaud. 
The first division between the candidates came in their opening statements.
"I've seen so many wonderful trends and so many wonderful things going on in Salem," Prevey said, "but in the last few years, I've been increasingly concerned — as well as many people — that Salem's city government isn't serving people properly."
Prevey referenced division throughout the city "over a number of issues."
"I want to unite people and make sure people feel they're connected to the city and have a seat at the table," he said, "that they belong."
Driscoll's opening called attention to her 12 years as mayor and compared the progress from the city she took over in 2006 to what happens today.
"Just think about how different Salem was back then — there was no refurbished MBTA station," she said. "There was no Blaney Wharf, no ferry to take you into Boston."
But at the same time, "there are still plenty of challenges we face and improvements we've made, but never before has there been more promise and optimism in these eight miles," Driscoll said. "We've accomplished a lot in the last years, and in my opinion, we're just getting started."
The "Sanctuary for Peace" ordinance came up quickly, making up the third question out of 16 total. Driscoll opened her response by restating her support for it, and then explaining what it does and doesn't do.
"We're not violating federal law. We're not jeopardizing federal funding, and most assuredly, we're not not cooperating with federal officials," Driscoll said.
But the ordinance is needed, Driscoll said, because of how failed immigration policy at the federal level has in Salem "left people feeling vulnerable."
"When people feel afraid and fearful of contacting police, we're all less safe," Driscoll said.
Prevey launched against the ordinance for how it "actually ends up changing nothing in terms of policy and practice," he explained. "What it did do in this city is create a divide."
It will be up to the next mayor to heal that divide, according to Prevey.
"Whoever is the next mayor and whoever is on the City Council in this election is going to have to face healing that divide," Prevey said, "and that's going to be very tough."
Driscoll launched back, saying the divisiveness now plaguing the city is more a national creation than that of the ordinance.
"This is a failed immigration policy, and in my opinion, the perspective we have across this community is that people here are welcoming and supportive of everyone who lives here," Driscoll said. "This is basic humanitarian rights for families who are here and law-abiding, good people."
In response, Prevey critiqued how the ordinance was crafted.
"When the ordinance was put together, it would've been better if more outreach was done throughout the city to get more feedback and opinion," he said.
Later on, the topic of schools came up. Driscoll spoke first, highlighting the district's growth in the past decade and, in her criticism, a need to develop more confidence from families.
Prevey's response quickly railed against the district's standing in the state and its spending. He referenced the number of families leaving the district, dropping enrollment, and then highlighted a recent Boston Magazine report that ranked Salem 111th out of 125 districts along the Interstate 95 corridor.
"Over the last few years, there's been an explosion of administrative positions in our school department," Prevey said. "I'd certainly look at the administrative aspect of it and what we spend on that, and look at trying to figure out if some of these positions are necessary, and asking, how does this position translate to more support for teachers and learning?"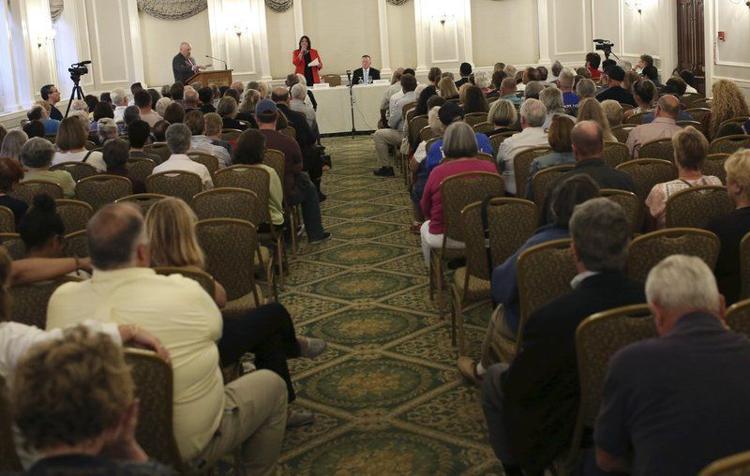 Driscoll bit back in her response, saying, "I don't care what Boston Magazine says. We're not 111 out of 125."
She read from materials she brought to the forum, particularly a line from a state report that the city "didn't have administrative capacity" in 2010. A year later, Salem Public Schools became a Level 4 district under state accountability standards.
"The reason we added administrators in Salem Public Schools is because we were too decentralized," she said. "We needed more support for our teachers."
The administrators, she said, were that support.
"We're improving every day," she said, "and I'm excited about the progress going forward."
Spending came up again toward the end, on a question about the growth of the city's budget from $117 million in fiscal year 2008 to $155 million this year. Driscoll spoke first, highlighting the growth of the city over the years and practices to not tax to state-allowed limits.
Prevey, in his response, returned to the argument of too much spending.
"People are concerned about rising taxes. People are concerned about affordability," he said. "How do we continue to sustain a budget that people feel is too big to live here in Salem?"
In her follow-up, Driscoll highlighted the Salem Harbor Footprint power plant, and how keeping the gargantuan power provider in Salem also kept taxes lower than they could be — by a factor of $400 to $500 a year on the average tax bill.
"We're trying to do everything we can to lower costs," Driscoll said. "I wish taxes could be lower, but I also know people want those services."
The forum Thursday night was the first opportunity for residents to see the two mayoral candidates go head to head. 
Other events are scheduled, including a mayoral forum hosted by the Alliance of the Salem Neighborhood Associations on Sept. 27 beginning 7 p.m. Questions can be submitted for that event in advance by emailing jldkearney@gmail.com or calling 978-475-2605.
Contact Salem reporter Dustin Luca at 978-338-2523 or DLuca@salemnews.com. Follow him on Facebook at facebook.com/dustinluca or on Twitter @DustinLucaSN.
||||