SALEM — Salem native Claire Kallelis was a teenager when she started working at the historic Hawthorne Hotel as a banquet server.
Now, three decades later, she has been named general manager of the 89-room hotel on Washington Square, overlooking Salem Common.
"Claire is a highly motivated, dedicated individual with a strong work ethic," said hotel owner Michael Harrington, who announced her promotion last week.
"The memories here are amazing," Kallelis said. "I can walk around the corner and I can see myself at 19, see myself at 28, see myself at 35, see myself at 45. And now I'm like, oh my God, now I'm seeing myself at 51.
"I think what is great about my position now is I know what has worked and what has not worked, and it gives me a great perspective of the building."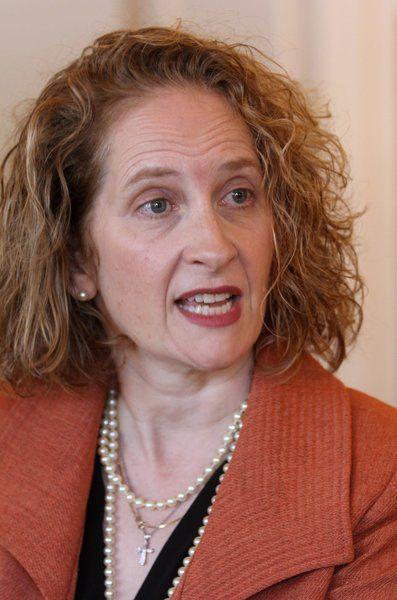 Her promotion has been greeted enthusiastically.
"She brings so much institutional knowledge to the job, she's a great choice," said Kate Fox, executive director of Destination Salem, the city's tourist agency.
Over the years, Kallelis has worked with six general managers, including Juli Lederhaus, who was general manager for 15 years until she left in 2015. She was succeeded by Patrick Cornelissen, who was well-known in the North Shore hospitality and tourism industry. 
Kallelis said Cornelissen has returned to his homeland in Europe. "He's exploring options in his home country of Belgium," she said.
Salem roots
Kallelis was born and raised in Salem, but lives in Amesbury now. She's the former first lady of Amesbury, as her husband is the former eight-year mayor, Thatcher Kezer.
She grew up on Raymond Road near Salem State University, where her mother worked in the bursar's office for 30 years. She attended Horace Mann Laboratory School and graduated from Salem High in 1984.
She got her bachelor's degree in business administration in 1989 and her M.B.A. in 1993 from Salem State.
Kallelis started at the hotel in 1986, when she was 19.
"I had a friend that worked here as a banquet server. She said 'Hey, you know, you should come by,' so I came by. And then I really fell in love with the hotel business at that moment, really admiring the banquet managers and the food and beverage directors and all that," she said. "That was one of my ultimate goals and objectives to continue in the hotel industry."
She left for a few years to work at DoubleTree Suites in Boston, before returning to the Hawthorne in 1994 as the banquet manager. She was soon promoted to director of food and beverage.
Kallelis said the hotel does about 100 weddings a year, which means she has been a part of approximately 3,000 weddings in her 30 years. She enjoys the adrenaline of working banquets.
Over the years, she has worked with some great chefs, she said, including the late Steve Nelson, the executive chef at the hotel for 32 years. He died in June at age 61. Kallelis worked with Nelson to build the food and beverage department. The hotel's new executive chef is James Holloway.
History & the Hawthorne
Kallelis said she plans to focus on the history of the more than 90-year-old hotel, which employs about 150 full- and part-time workers.
The hotel was built on subscription, with the Chamber of Commerce, Rotary and other citizens raising $500,000 to build a hotel for travelers. It opened in 1925.
"We have so many collections of works from that era, and I want to bring more of that into the building, as well as being innovative and fresh like we've done over the past couple of years," she said. "We've done a lot of work in the ballroom to keep it innovative, so it doesn't have that older historic feel, but it's a historic landmark."
There are about 17 hotels in Massachusetts that are considered historic destinations, she said. The hotel is listed as one of the Historic Hotels of America by the National Trust for Historic Preservation.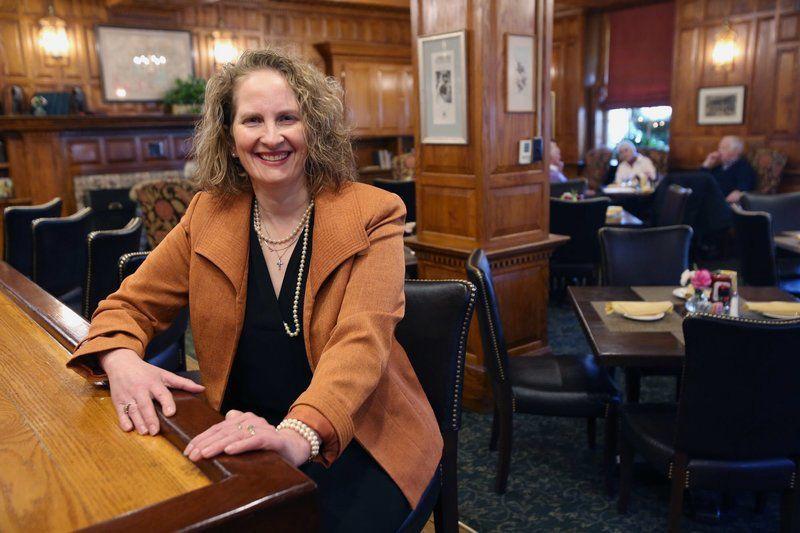 Increasing competition
The Hawthorne Hotel has two restaurants in its lobby, Nathaniel's and the more casual Tavern on the Green.
Back when Kallelis was working as a waitress in Nathaniel's, she said, it was one of only three upscale restaurants in the city, along with the Lyceum and the Grapevine. Since then, Salem has seen a huge increase in fine dining options, ranging from Finz and Sea Level on the waterfront, to Ledger, Opus, the Adriatic, Turner's Seafood and many more downtown.
There is also more competition in the hotel industry, with the Salem Waterfront Hotel, which is planning a 34-bed expansion; the 44-room Hotel Salem, which opened recently on Essex Street; and The Merchant, an 11-room boutique hotel on Washington Street, located in an historic building built by famed 18th-century Salem architect Samuel McIntire.
A 110-room Hampton Inn is planned as part of a development to include apartments, shops and a restaurant at the corner of Washington and Dodge streets.
Kallelis said the increased competition shows Salem is the right venue for visitors.
"It just makes us stronger to work together for the city of Salem," she said.
And she said she believes the Hawthorne can hold its own among the competition.
"The Hawthorne is elegance without the attitude, I think," Kallelis said. "... There is something about the Hawthorne Hotel that is unique." 
Staff writer Ethan Forman can be reached at 978-338-2673, by email at eforman@salemnews.com or on Twitter at @DanverSalemNews.