PEABODY —  The Peabody Veterans Memorial High Class of 2020 capped off their last full day of classes Friday morning with a celebratory car parade that snaked its way through the school's expansive student parking lot, where teachers and staff had stationed to cheer them on.
Seniors had been learning remotely since the coronavirus pandemic shut down schools in mid-March. Graduation has since been postponed from June to early August. This was supposed to be the week of prom and other senior activities.
The parade allowed teachers, staff and students to be at a distance, waving and hollering to each other as the cars rolled by and drivers leaned on their horns. Toward the end of the parade, seniors dropped off their pictures for teachers in a box on a table decorated with balloons.
"I think it's great," said math teacher Katie Skerry. "I'm looking forward to seeing the seniors before they leave. We miss them ... they miss out on a lot, but I hope this helps a little bit."
"I'm pleased that we were able to unite as a group and come and say that we wish them well, and we hope their futures are bright. We're excited for them, even though this is a little disappointing in how it finished for their senior year," said health and physical education teacher Kathy Pingree.
"The kids worked long and hard to get their degree. It's kind of anti-climactic for them, so (this is) a chance to celebrate them."
Teachers arrived by 9:15 a.m. Friday and parked in every other space in the student lot. Their cars were adorned with signs, balloons and messages congratulating the graduating Tanners.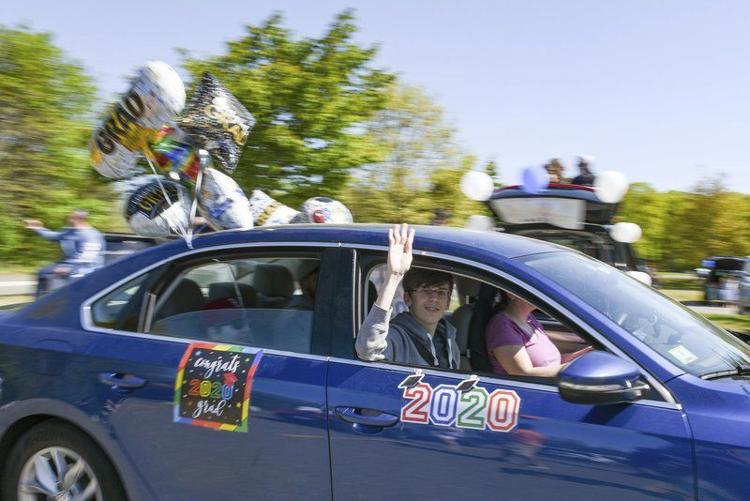 Students and families arrived by Feery Road near the McVann-O'Keefe ice rink and were directed by police along the parade route. Several cars carried blue and white balloons, the school's colors. Others were decorated with Mylar balloons and streamers. 
Fire engines and police cars stationed at the entrance of the student lot blasted their sirens and flashed their lights as the procession of seniors and their families made their way through the student parking lot and down an access road at the side of the high school. Set out along the route were congratulatory lawn signs with seniors' names on them.
"Thanks for the memories," was written on several cars.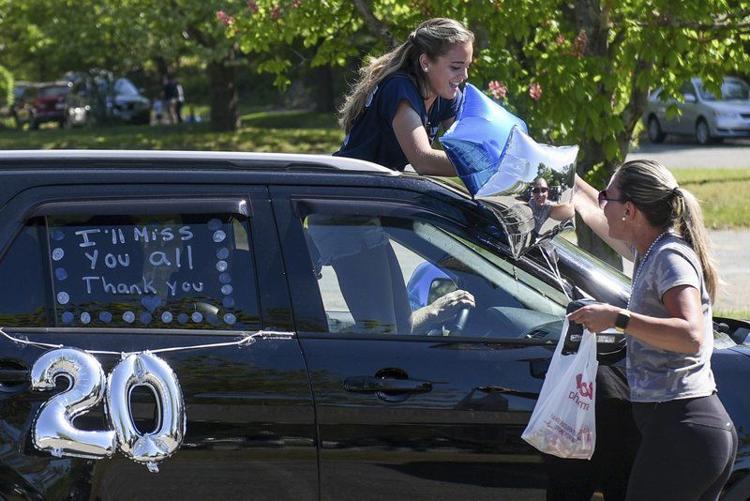 Many of the seniors wrote their names on the side of their cars and their plans after high school or what college they planned to attend. Many popped their heads out of their sunroofs to wave and cheer.
"I think it's super cool," said senior Diana Le, who got out of her car to drop off her senior pictures to teachers. "It's like we're all getting together as a community to do something nice for each other."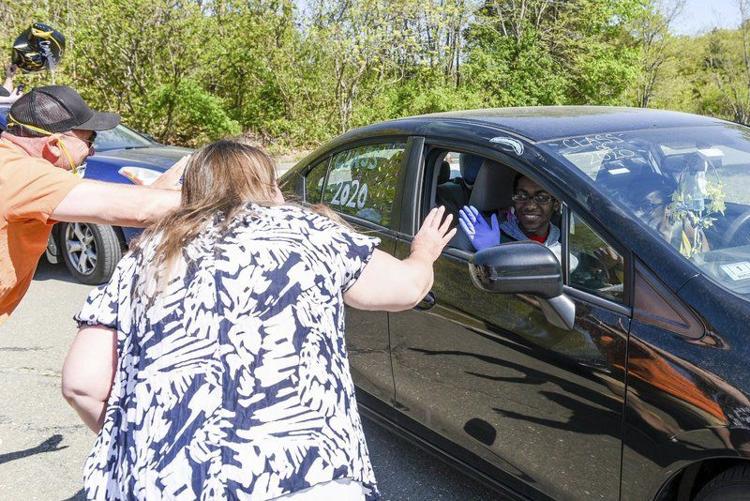 "I love it," added senior Sydney Nagle, who had popped her head out of the family Jeep as it rolled by.
"It's brilliant. It's great that we can do this for the kids; they deserve it," said middle school visual art teacher Elaine Barry. She stood near the photo collection box with high school guidance clerk, Susan Marc-Aurele, and Gayle Ograbisz, the principal's administrative assistant, cheering on the seniors as they drove by.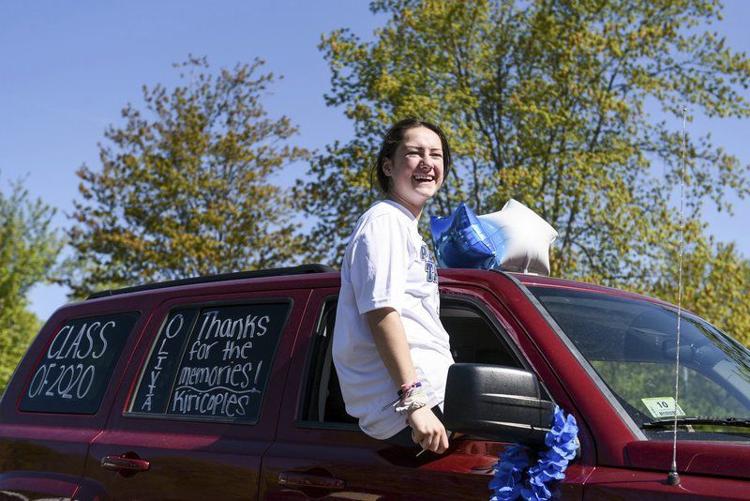 "What a wonderful, wonderful day for the kids today," added Assistant Superintendent and interim High School Principal Chris Lord, who stood at the entrance to the parking lot wearing a T-shirt that read: 'Peabody Tanners', greeting cars as they arrived. "I couldn't be happier for the kids.What a wonderful day."
||||