DANVERS — The immaculate, 4.3-mile stone dust rail trail that runs along the former Essex Railroad line here has made a believer out of one of its most ardent opponents.
"I was definitely opposed to it," said Franklin Street resident John Toomey about the trail that abuts his backyard.
It's not noisy.
It's not crowded.
And he and his family enjoy walking on it. Other people walk, jog and bike it.
"Let's put it this way," Toomey said. "The Danvers Rail Trail is a very nice trail."
Perceptions have certainly changed in town about the Danvers Rail Trail since its construction several years ago.
Something that was opposed for decades, a source of vehement controversy, is now considered the top recreational amenity in the town, according to a recent report for Danvers Recreation done by planning experts at the University of New Hampshire.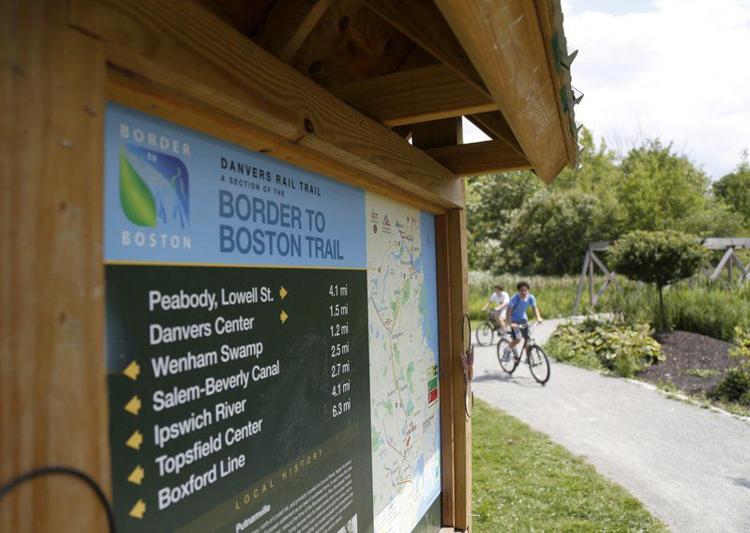 Of 525 respondents, more than 55 percent reported regular or frequent use of the trail, with nearly 90 percent rating it "superior or good."
On Monday, Swampscott Town Meeting will find itself at the crossroad of a rail trail debate, just as Danvers did a decade ago.
Swampscott Town Meeting must decide whether to borrow $850,000 to acquire the rights for the rail trail and design the corridor from the train station on Railroad Avenue in Swampscott to the Marblehead border at Seaview Avenue. This will require a two-thirds vote.
"It's been 40 years coming," said Swampscott Selectman Naomi Dreeben. The selectmen voted unanimously to back the rail trail plan.
In Swampscott, the obstacle is not money, Dreeben said; the town is in good financial shape.
Rather, it's perception. Opponents fear that a rail trail will invite crime, reduce property values and create problems for homeowners along the route — the same concerns that fueled opposition in Danvers years ago.
Little crime in Danvers
But concerns about rampant crime, vandalism and falling property values have not panned out, said Paul McNulty, chairman of the Danvers Rail Trail Advisory Committee. The experience has been just the opposite.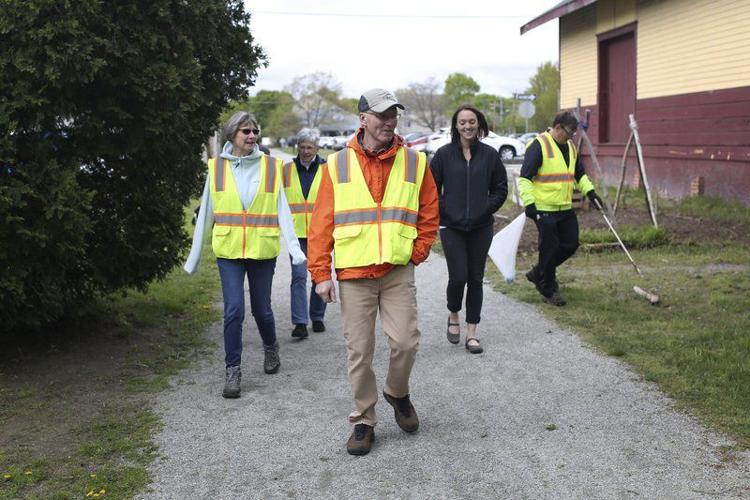 So Swampscott residents have reached out to the Danvers Rail Trail Advisory Committee to help them steer the way forward.
"I think they are just trying to understand the experiences that we have had," said McNulty.
In Danvers, the rail trail committee, with help from town planning staff, oversees activities on the trail.
They holds cleanup days, and have built bike racks and other amenities. They take complaints, and they hold special events, such as an Earth Day spring cleaning and planting, and a Mother's Day Walk, which was held May 13. The rail trail even has its own app and extensive website, www.danversrailtrail.org, designed by Mead Web Design of Danvers.
McNulty said Danvers abutters were rightly concerned with the coming of the rail trail.
The biggest complaints these days, however, are about motorized scooters, illegal dumping and dog poop, McNulty said.
A walk on the downtown section of the rail trail last week found it free of graffiti.
"There is really no crime on the trail," McNulty said.
Danvers Police Chief Patrick Ambrose said as February 2017, there have been 100 calls for the rail trail starting from the days of its construction in 2011.
The most common complaints were for snowmobiles, dirt bikes and other all-terrain vehicles using what is a non-motorized trail. There were 20 calls for those.
There were 10 calls each for suspicious activity and well-being checks. There have been seven instances of vandalism, including graffiti, and reports of kids throwing rocks off the train bridge at passing cars.
In the past six years there have been just three verified reports of drug activity, and three suspicious drug activity calls.
Police received another 31 calls to locations that abut the trail. Of those, 11 were for vandalism, including reports of windows being broken by rocks thrown from the train bridge. Seven calls were for shoplifters fleeing Wal-Mart on Brooksby Village Drive, heading down the trail.
Three calls reference car breaks. One says stolen property was found on the trail after being discarded, and two calls about car breaks said suspects had fled down the trail after being spotted.
Cleaning up, listening to neighbors
"After a while, because the trail is there and there are so many people on it, you can't do anything despicable," said Charley Lincicum, the former chairman of the Danvers Rail Trail Advisory Committee.
About 500 to 600 people a day use the rail trail, he said. There are 225 abutting properties, and Lincicum said there have been few complaints from them.
Last year, McNulty said yard waste dumping at the Oak Street crossing downtown had become a problem. Fortunately, a Danvers landscaping company called J.C. Grounds Management called the committee and wanted to do some community service work, McNulty said. The company came in with trucks and skid loaders and cleaned out eight to 10 truck loads of yard debris and cement boulders, McNulty said.
Since then, he said, "what we are finding is people take care of it."
"You take an area that was cluttered, you clean it up. We told the neighbors we were going to be doing this, and now for over a year, it looks pretty good," McNulty said.
That doesn't mean there will no issues for abutters in Swampscott, he said.
"There will be valid concerns for people who live along the trail," McNulty said. "There are valid concerns. The best thing to do is communicate with them. Communicate, communicate, communicate. Talk to them. Walk up. Knock on their doors. Ask them what their concerns are."