[Editor's Note: This article has been updated to reflect a correction. A complaint from a neighbor about a parked vehicle in the area was made to the police, not the mayor's office. Additionally, the Community Preservation Committee will vote first on an appropriation for preservation funds on April 12, followed by review by the City Council in May.]
SALEM — With the news of its dark past released earlier this week, it's possible that Proctor's Ledge hasn't received this much attention since 19 innocent people were hung there, condemned of witchcraft, during the Salem Witch Trials of 1692.
Since the site was confirmed as the hanging site on Monday by the Gallows Hill Project, a group of seven scholars who spent the past five years pinning down the exact spot, the rocky, wooded area has grabbed attention from not only visitors who want to grab a picture, but news crews and even direct descendants of some of the victims.
Tracing her family's ancestry back to Rebecca Nurse — one of the accused witches — Diane Kiriaji of Naples, Maine, said she looks forward to visiting Salem, and possibly the location where her ninth great-grandmother was executed.
Kiriaji, who was born in Saugus, said in an email that the news was "fascinating."
"Imagine finding the exact location of these events after so many decades," she said.
Kiriaji said her family as been interested in genealogy for a while — she's related to Nurse through her maternal grandfather.
"We have always been drawn to and fascinated by the Salem Witch Trials after finding out Rebecca was our ancestor," she wrote, noting her youngest daughter is also named Rebecca.
Much further away from Maine, Benjamin Works of Culpeper, Virginia, said that while he studied American History at Yale in the 1970s, he didn't know about his relationship to Elizabeth Jackson Howe, who executed as a witch the same day as Nurse, until a few months ago.
His cousin, Betty Fuller of Corpus Christi, Texas, filled him in.
"Between Betty and I, we pretty much notified the whole family about it," he said. "I think they're all quite tickled."
The Witch Trials have interested him for some time, Works said — he's read books about it and watched the movies.
"Those people, all 19, and those others who suffered, deserve some honor," said Works.
The "others" Works refers to are at least six people — in addition to the 19 — who died during the witch hysteria. Giles Corey was one of them. Accused of witchcraft, he was pressed to death with rocks after he refused to enter a plea in court so that he could then be put on trial. Five others died in prison awaiting trial.
Increased interest
As the public fascination has grown this week for Proctor's Ledge, Emerson "Tad" Baker, a Salem State University history professor who served as a spokesman for the Gallows Hill Project, has been enjoying the limelight as well.
Since word began to spread Monday into Tuesday, Baker said he's received numerous requests for interviews from regional and national news services.
"My daughter texts me and says, 'Dad, you're trending on Facebook,'" he said.
Email continues to pour in; his voicemail box at work was nearly full at one point, he added.
"I had very thoughtful calls and email from a number of descendants from all over the country who are just so happy, so excited to hear that this is going to happen," said Baker.
He pointed out that the possibility of Proctor's Ledge — situated behind the Walgreens on Boston Street and just down from Gallows Hill Park — as the actual site wasn't a secret before, it just has legitimacy now.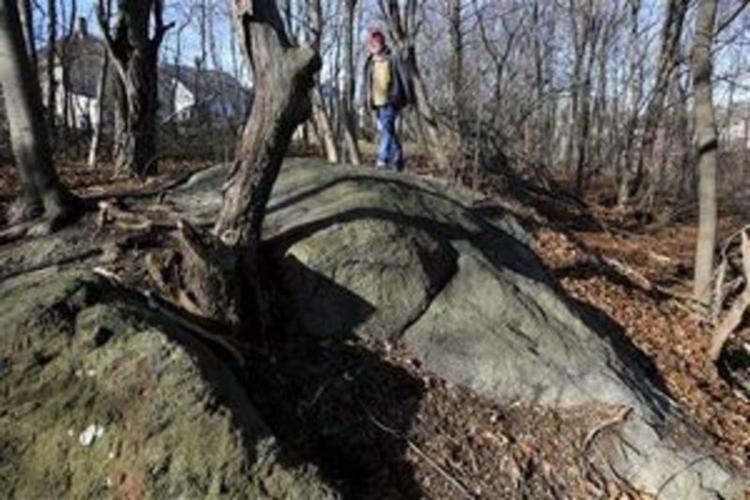 Baker said he didn't know how he would feel about the story until it was shared.
"I've been involved in a lot of stories and exhibits, but in this case, I became part of the present story," he said. "This is really something to see, to see how many people care about this."
While the news is exciting, he noted it has felt "really funny to be there, in people's backyards." He hopes everyone can work together to minimize any neighborhood issues due to the newfound notoriety.
Mayor Kim Driscoll has recommended any visitors to Salem go to the Witch Trials Memorial across town on Charter Street rather than Proctor's Ledge.
The police department had received only one call — a complaint about an illegally parked car — about the site as of Friday afternoon, reported Dominick Pangallo, Driscoll's chief of staff.
A resident said "they've seen a number of people coming by and taking pictures, but no issues," he said.
Proctor's Ledge abutters were originally notified in December of the upcoming announcement.
Meanwhile, the city is looking to have the site designated as a historic spot. Driscoll is seeking community preservation funding for a plaque or marker.
There are no specific plans or designs yet, according to Driscoll, but an award in this year's round of Community Preservation Act money could mean site improvements are completed by October.
The Community Preservation Committee is scheduled to vote on an appropriation April 12, which will then be reviewed by the City Council in May.
"I think the good news here is there's really some thoughtful conversation taking place about how the Witch Trials interact with us today and how it's told and where it's told," Baker said.
Arianna MacNeill can be reached at 978-338-2527 or at amacneill@salemnews.com. Follow her on Twitter at @SN_AMacNeill.