SALEM — The senior show... well, it must go on.
Years of tradition for departing seniors at Salem High School are stronger than COVID-19 — so the "Senior Show," an annual series of performances and skits put on and organized by the graduating class on its way out, is going virtual. 
Details are still coming together, the most critical among them being a date. But planning for the newly imagined show started almost immediately as the district started to shut down to the global pandemic in March, according to Myra Caldeira, a faculty advisor to the senior class.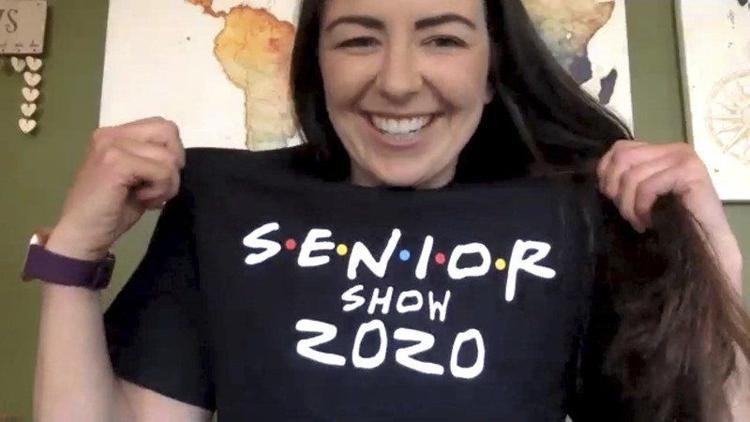 Typically, the senior show has been a ticketed affair as a fundraiser for the departing class.
"We're still trying to provide a sense of tradition and some form of normalcy, even in a time like this when nothing is normal and so many things have been taken away from the Class of 2020 and people in general," said Jack Armstrong, a senior helping pull the show together. "We can still carry on traditions — even in a new way."
By the time the region started shutting down, planning for the show was already well underway.
"We had just finished up practice for the senior show and an all-call went out to the staff, saying there was going to be an emergency School Committee meeting and the superintendent was going to postpone events for the rest of the week," Caldeira said. "Just talking to the seniors who had just practiced for the last 3 1/2 hours, ... they were starting to feel all sorts of emotions. 'Can coronavirus just wait a few months so we can finish off our senior year?'"
At the time, there was a hope that school would return and that perhaps the senior show would come at the end of the year, Caldeira said.
"But as time went on and everything transpired, it became a reality that we needed to start planning things remotely," she said. 
With three years of seeing other senior classes put on senior shows, this year's class felt there was no circumstances under which the show wouldn't go on in some fashion.
"For me, the senior show is really, really important," said Marie McCarthy, another graduating senior involved in the production. "I wrote a lot of the skits, so after all this happened I was like, 'there's no way we can't have a senior show.' I've been looking forward to it for so long now."
At that point, class advisors jumped in and "divvied up what we could do to keep the senior year moving forward," said advisor Corey Ladderbush. "Honestly, the students have been awesome about it. They basically have taken the reins."
Of course, the senior class isn't the only group facing this struggle. Not only are organizations across the country responding to life on hold, some are paving the way for others to be inspired.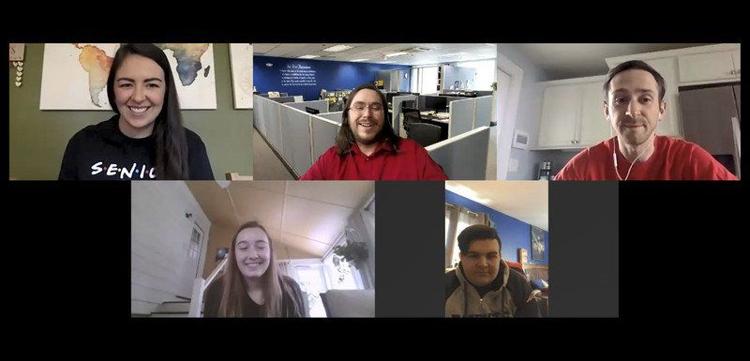 "I was really excited to do something like this, because I got inspiration from the Saturday Night Live At Home episodes," Armstrong said, referencing the weekly NBC variety show's socially distanced episodes. "Seeing it was possible to do things like that, I wanted to give it a try. So I started looking at the scripts I had written and seeing if they could stay the way they were or returned to be a digital thing."
But there's another issue buried beneath that challenge: making sure the senior show remains a solid fundraiser, according to McCarthy. Not only is it an opportunity for the class to build up cash for its end-of-career activities, but many of those activities have been kicked out to November — meaning the need for fundraising is still there.
That, and of course senior contributions, which McCarthy mentioned has been a bit of a challenge in working remotely. 
"I'm trying to reach out to as many seniors as possible," she said, "because I think it's still important that everyone is involved — especially now, considering that we can't be in the same place."
One such example is senior prom, which is now billed for late-November to coincide with homecoming.
"It does come with a cost, and if this fundraising can alleviate it even more than what this class had already fundraised over the last four years, that would be amazing," Caldeira said. "It's their time. It's what they want to do."
To help or donate, email Caldeira at MCaldeira@salemk12.org or Ladderbush at CLadderbush@salemk12.org.
||||