BEVERLY — The 50th anniversary of the moon landing has evoked the famous names of astronauts Neil Armstrong, Buzz Aldrin and Michael Collins.
On the North Shore, any re-telling of the historic July 20, 1969, event should also include the name of Robert Seamans.
Seamans was a Salem native and Beverly resident who was second-in-command at NASA in the years leading up to the moon landing. He played such an integral role in the planning that one newspaper columnist referred to him as the "Moon Czar."
"Seamans is the Moon Czar because in NASA's new organization the only place the key decisions can be made will be in his office, so surely then he is the person responsible for taking us to the moon," columnist Bill Hines wrote, according to a 1988 interview with Seamans as part of NASA's oral history project.
Seamans was born in Salem in 1918 and grew up on Broad Street, according to his autobiography, "Aiming at Targets." He attended the Tower School, which was then in Salem, and two other private schools before eventually graduating from Harvard and MIT.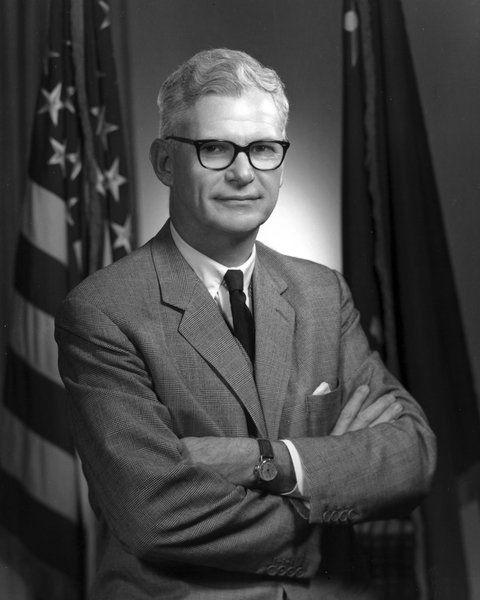 Seamans joined the still-new National Aeronautics and Space Administration in 1960. A year later, President John F. Kennedy, concerned about beating the Russians in the space race, pledged to put a man on the moon before the end of the decade.
In his autobiography, Seamans, who died in 2008, recalled several meetings with Kennedy to discuss the space program. On Nov. 16, 1963, he gave Kennedy and Werner von Braun, the former Nazi who became a chief architect of the American space program, a tour of Cape Canaveral in Florida. Six days later, Kennedy was assassinated in Dallas.
Seamans and his wife, Gene, went to the East Room of the White House the next day where Kennedy was lying in state. 
"There were no flowers, no music, only the murmur of hushed voices and the shuffle of feet," Seamans wrote. "It was the saddest place and the saddest time in our lives."
Over seven years as NASA's general manager, Seamans was often the public face of the agency on topics such as its massive budget. He met with top government officials — including three presidents, Dwight Eisenhower, Kennedy and Lyndon Johnson — held press conferences, and testified before Congress.
"I got a fair amount of scar tissue from my years in government, and a fair amount of that came from the media," he wrote. "The intense media interest in the space program was a shock to me."
Seamans received two NASA Distinguished Service Medal awards, including one from President Johnson at the White House in 1965 along with astronauts Gus Grissom and John Young after the first successful Gemini flight. The citation praised Seamans for overseeing an organization that involved 50,000 government workers and 400,000 contractor employees.
Seamans resigned from the agency in 1967, in part due to tensions following the death of three Apollo 1 astronauts in a fire during a launch test. Two years later, now as Secretary of the Air Force, he was at Mission Control in Houston for the moon landing, watching from a glass-enclosed observation room behind the control consoles.
"I did not feel any regret about not being a part of NASA at this historic moment," he wrote. "By this time my plate at the Air Force was very full. I couldn't help but feel excited though, and I certainly felt proud not so much of my own accomplishments but of NASA itself and of the many gifted people who had made the moon landing possible."
Seamans and his wife, who had five children, moved to Hale Street in Beverly Farms in 1952. Their son Toby, who still lives in Beverly, said a lot of people who knew his father are no longer around, but people are aware of his accomplishments and his connection to the space program.
Several years ago, Toby said, his father became known around Beverly as the "rocket scientist" when he got up to speak at a Planning Board meeting opposing a housing development at the old Loeb estate in Prides Crossing.
"At times, people ask me if I am related to Bob Seamans and my response would be, 'Yes, he was my Dad,'" Toby Seamans said. "The response would then be, 'I remember him as a rocket scientist.'"
Staff writer Paul Leighton can be reached at 978-338-2675 or pleighton@salemnews.com.