PEABODY — Not long ago, you might have assumed Tobacco Road Distillers was delivering boxes of its handcrafted spirits to the Northeast Arc's Black Box Theater on Foster Street for an event or performance.
Instead, with people keeping their distance from one another because of the coronavirus pandemic, the Southwick distillery was delivering a vital concoction of its hand sanitizer it had cooked up to help Northeast Arc. They did so for more than two dozen nonprofits throughout Massachusetts in attempt to help stop the spread of COVID-19 as they go about their mission of helping people.
Around noon on Saturday, distillery co-owners Pete Costella, Dave DelMonte and Sergio Bonavita helped unload boxes full of 630 64-ounce jugs of hand sanitizer that Northeast Arc had purchaed from Tobacco Road Distillers. 
Northeast Arc is a nonprofit that serves those with intellectual and other disabilities on the North Shore and dozens of communities throughout Massachusetts. Its work includes staffing group homes around the clock.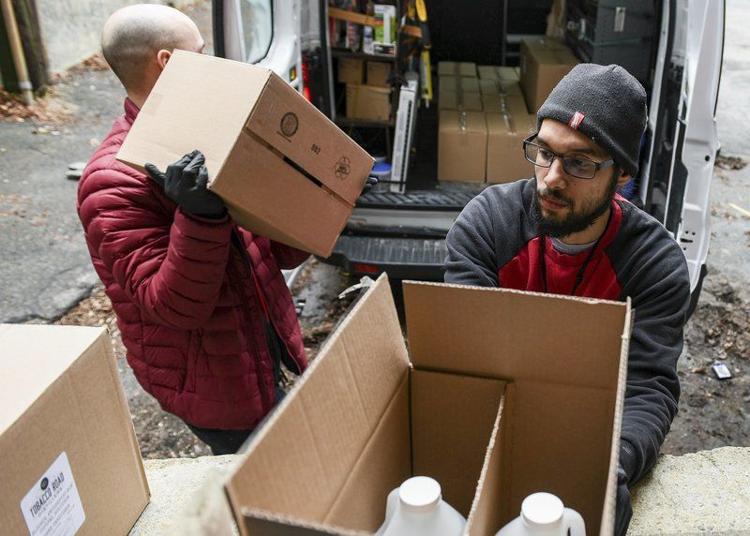 Those group homes have residents with disabilities which range from young people to the elderly, including some with significant medical needs. The agency also provides direct care nursing services.
"This is one more layer of support," said Tim Brown, the Danvers-based human service agency's director of innovation and strategy, about the need to obtain hand sanitizer from an unconventional supplier.
The idea for this, said Brown, came from Craig Welton, the Northeast Arc chief development officer who is friends with one of the owners of Tobacco Road Distillers.
Northeast Arc decided to purchase the entire lot of hand sanitizer, which Tobacco Road sold to them at cost. It then went about selling at cost the jugs to more than two dozen nonprofits with like-minded missions in need of hand sanitizer.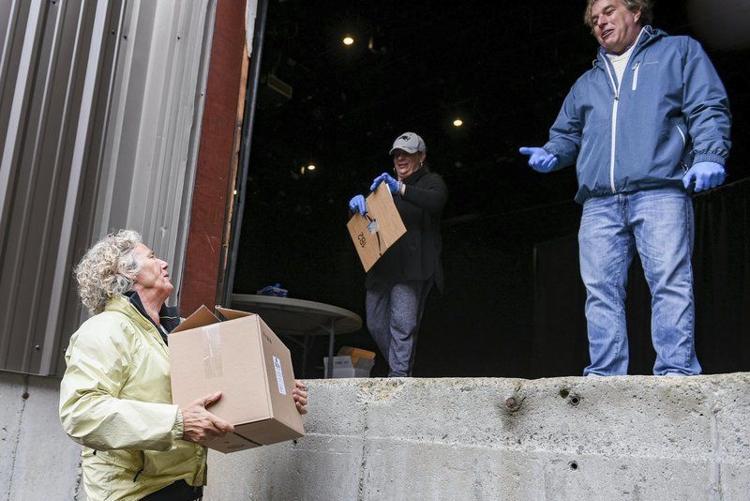 Northeast Arc paid $23,000 for the lot, which works out to $41 a jug, Brown said, adding the price is a lot cheaper than wh,at Northeast Arc would be able to pay other retailers.
Other organizations Northeast Arc is partnering with include the Berkshire County Arc in Pittsfield, Arc of Outer Cape and Islands of South Yarmouth, the Arc of Massachusetts in Waltham, Bridgwell in Lynn, the Arc of the South Shore in Weymouth, and Fidelity House and Career Resource Center in Lawrence, to name a few.
Local organizations scheduled to pick up the hand sanitizer in Peabody on Monday included Plummer Youth Promise of Salem, Brookehouse Home in Salem and Turning Point in Newburyport.
The new supply of hand sanitizer has come at a perfect time for Plummer Youth Promise at 37 Winter Island Road, which provides a home, support and path forward for 18 young people who previously did not have one.
Executive Director Nicole McLaughlin said when she told her staff that they had a couple of gallons of hand sanitizer coming from Northeast Arc, she was told that they had just run out of a big bottle of it.
"It was perfect," she said of the timing.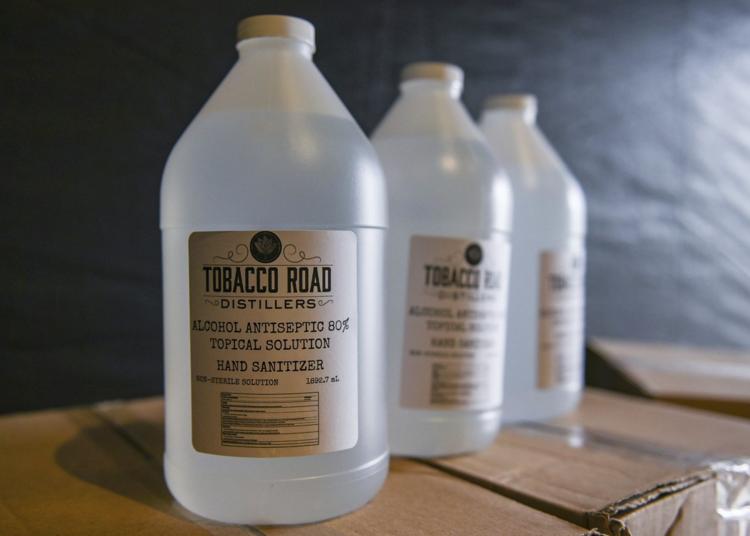 A couple of weeks ago Plummer had posted on Facebook about its need for hand sanitizer, and the community has helped with some donations. Northeast Arc saw the post and reached out.
"So far, everyone is healthy and managing well down here," McLaughlin said.
Tobacco Road Distillers is a sister company to the well-established, 9-year-old Westfield River Brewing Co. It' a new distillery, having opened in October 2019, said Bonavita, one of the co-owners. Both companies can produce their products; they just can't sell them to be consumed on site.
Bonavita is friends with Welton. The pair played football together at St. Anselm's College in Manchester, N.H and graduated in 2003. Bonavita had posted a picture of a small batch of the hand sanitizer it had produced, which it was using for its take-out operation. Around that time, Welton reached out and asked about its capabilities to produce more.
Welton said he knew Bonavita was in the beer and spirits business and Welton, who is also a Ward 1 Peabody city councilor, had heard news reports that many distilleries and breweries were switching their production to make hand sanitizer. 
He reached out to see if Bonavita was doing this as well. At the same time, Northeast Arc's CEO, Jo Ann Simons,  was reaching out to other Arcs and human services agencies if they were in need of hand sanitizer, so Welton said he asked Bonavita: 'How much can you do in one batch?'
The agency decided to front the cost for the Tobacco Road's hand sanitizer as human service providers from all over the state showed interest. 
"It just shows you the need is so staggering," Welton said.
Bonavita said the timing was perfect when Welton approached him.
Tobacco Road is doing all it can to produce another batch, hopefully within the next three-to-four weeks. He said he it was good to be able to help others and keep people safe from the spread of the coronavirus.
When asked it was easier to produce hand sanitizer than whiskey or bourbon, Bonavita said it was "because you don't have to worry about what it tastes like."  
Staff writer Ethan Forman can be reached at 978-338-2534, by email at eforman@salemnews.com or on Twitter at @TannerSalemNews. Find us at 300 Rosewood Drive, Suite 107, Danvers, Mass.