SALEM — Sheltered from the noontime sun, Salem Mayor Kim Driscoll talked about the darkest moments of the city's history.
"The sun casts few shadows this time of day. Yet the shadows from this site extend across our city in ways we can't see with our eyes," she said. "Proctor's Ledge is a place, an object — but it's also an idea, and it's also a memory."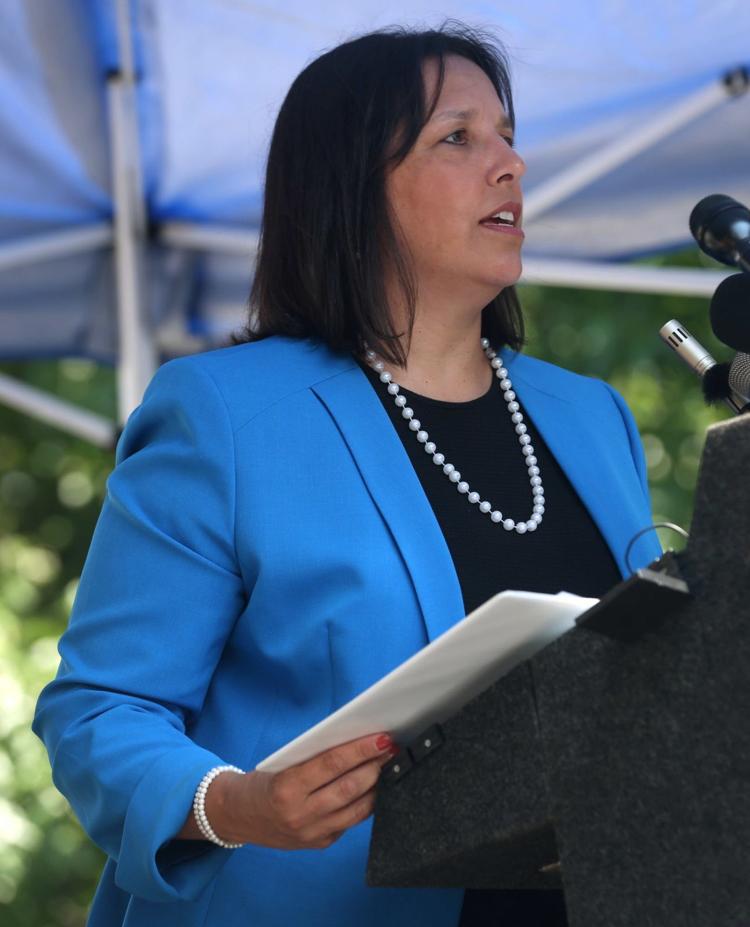 At least 200 people, including descendants of the 19 people wrongly accused of witchcraft and hanged during the Salem Witch Trials 325 years ago, held a ceremony at Proctor's Ledge Wednesday, dedicating the confirmed site of the Witch Trials executions as an official landmark in the city.
Work has been underway since last fall to build a memorial to the victims on city-owned land between Pope and Proctor streets. The Gallows Hill Project, a team of researchers, confirmed Proctor's Ledge early last year as the execution site for the 19.
The dedication was held on the 325th anniversary of the first mass execution connected to the trials. In all, 25 people were either hanged at Proctor's Ledge, crushed while being tortured or died in prison.
On July 19, 1692, five women were hanged, including Rebecca Nurse, whose home has been preserved as a historical site in what is now Danvers.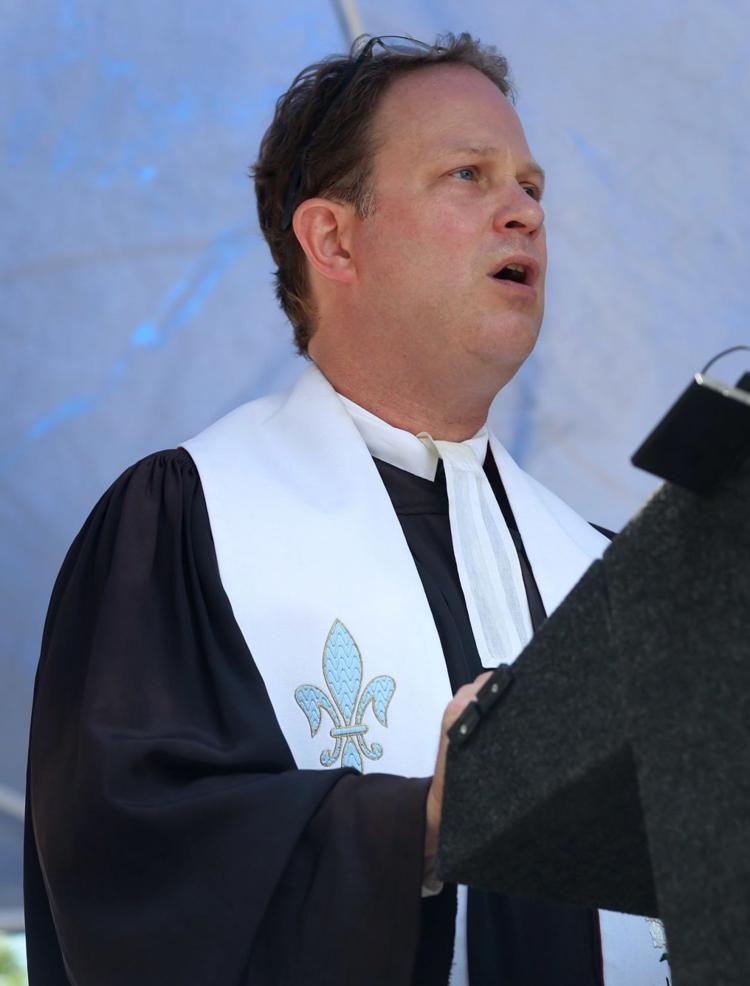 Opening the ceremony, the Rev. Jeffrey Barz-Snell of First Church told the crowd, "we should not be here today. These five innocent women shouldn't have been executed on this day three and a quarter centuries ago."
"It did not need to happen. It shouldn't have happened," Barz-Snell said. "And yet, it did."
In his remarks, Ward 4 City Councilor David Eppley offered the crowd an apology.
"These individuals were unwilling sacrificed by this community, by both clergy and political leaders," he said. "I cannot begin to apologize to the affected families and descendants for what happened here in 1692."
Eppley also reminded the crowd that Witch Trials are, in spirit, alive today, through the treatment of others perceived as "other," somehow measurably different than most.
"The Witchcraft Heights and Gallows Hill neighborhoods get their names from the events that took place here," he said. "The only way I know Salem and its political leaders can atone for such heinous acts is to continue to serve as a story of warning for the rest of the nation and this world, on what could ultimately happen when you turn your neighbor into 'the other.'"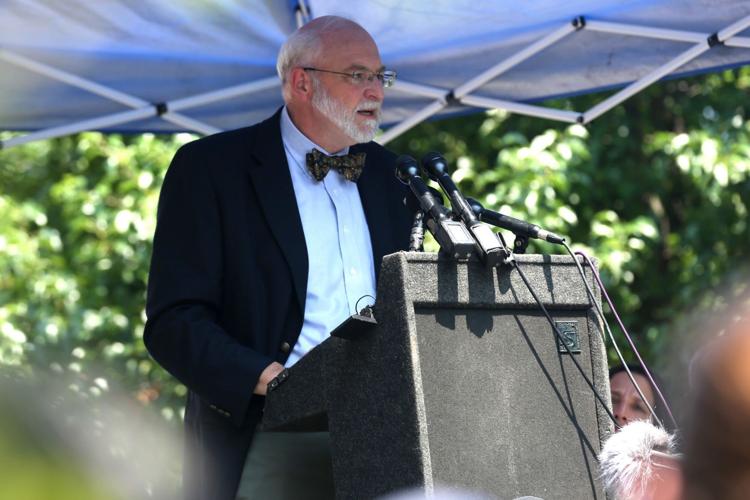 Emerson Baker, a Salem State University professor who led the Gallows Hill Project, took Eppley's message a step further.
"We became the 'Witch City' in 1892, on the bicentennial of the Trials — although largely for commercial reasons," Baker said. "I see that moniker a Salem's self-imposed Scarlet Letter. After all, the term 'witch hunt' is synonymous with Salem and stands as a symbol of persecution, fanaticism, injustice and rushing to judgment. With that title of 'Witch City' also comes responsibilities.
"From this time forward, I hope residents and visitors to Salem will treat the tragic events of 1692 with more of the respect they're due and are being shown today," Baker continued. "We need less celebration in October — and more commemoration and sober reflection throughout the year."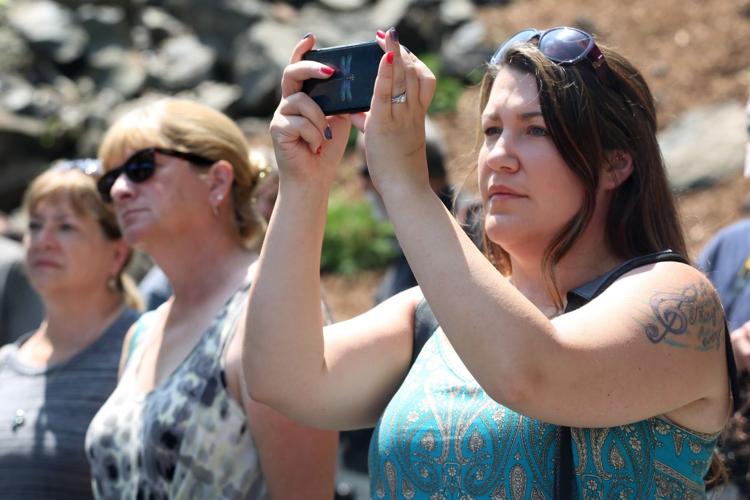 Descendants react
Plans for the memorial at Proctor's Ledge began a year and a half ago, and included several meetings with descendants and neighbors to the present-day site. The memorial was designed to be a point of reflection for descendants of the victims rather than a tourist draw.
Throughout the morning and afternoon on Wednesday, descendants took photos of family with the engraved stones honoring their elders. Each person hung at the site is represented by a single engraved stone, forming an arc in a stone wall along a point of reflection on Pope Street.
"Government should represent the people and shouldn't be against the people like they were in the Salem Witch Trials," said Newton resident Geoffrey Esty Woodward. "In those days, they believed in spectral evidence — which is basically superstition — and they hung my grandmother times 10, Mary Eastey."
His connection to the trials, and the descendants living in Newton today, have in part pushed him to run for mayor in this year's elections in that city.
When asked for his thoughts on the memorial, Woodward simply said, "it's about time."
Jen Adams, a descendant of Susannah Martin, called the memorial "beautiful."
Her relative was one of the five killed on July 19.
"It's long overdue, and it's really nice to see something that isn't commercialized, something that's really about the memory of these people," Adams said. "The fact that it's on this quiet little street... you wouldn't know about it otherwise. It's just a really nice tribute."
Richard Trask, a Danvers resident and descendant of John Proctor and Mary Eastey, said the memorial is appropriate in every way imaginable.
"Now we come to the end of the story, the place of execution," Trask said. "We know the site is here, above the memorial, and the memorial is here. It kind of puts a beginning and end to the tale of witchcraft."
Contact Salem reporter Dustin Luca at 978-338-2523 or DLuca@salemnews.com. Follow him on Facebook at facebook.com/dustinluca or on Twitter @DustinLucaSN.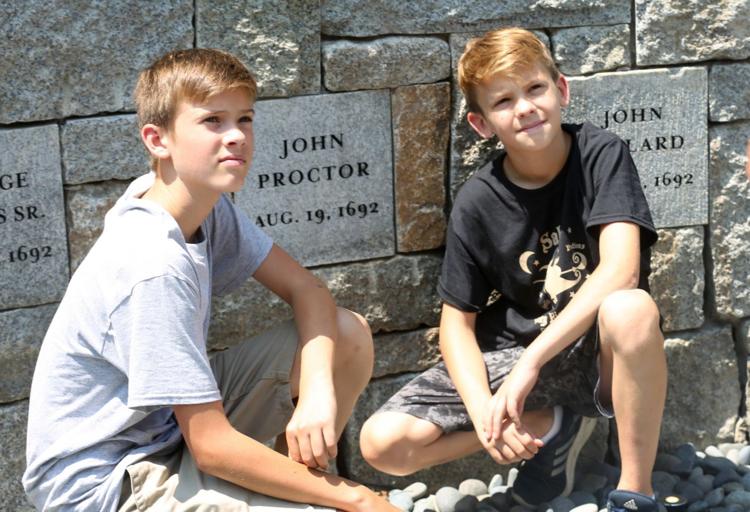 SALEM WITCH TRIALS VICTIMS
Hanged on June 10, 1692
Bridget Bishop, Salem
Hanged on July 19, 1692
Sarah Good, Salem Village
Rebecca Nurse, Salem Village
Susannah Martin, Amesbury
Elizabeth How, Ipswich
Sarah Wilds, Topsfield
Hanged on Aug. 19, 1692
George Burroughs, Wells, Maine
John Proctor, Salem Village
John Willard, Salem Village
George Jacobs Sr., Salem Town
Martha Carrier, Andover
Died on Sept. 19, 1692
Giles Corey, Salem Farms, pressed to death
Hanged on Sept. 22, 1692
Martha Corey, Salem Farms
Mary Eastey, Topsfield
Alice Parker, Salem Town
Ann Pudeater, Salem Town
Margaret Scott, Rowley
Wilmott Reed, Marblehead
Samuel Wardwell, Andover
Mary Parker, Andover
Source: SalemWitchTrials.com