NORTH ANDOVER — Just hours before Gov. Charlie Baker set foot on Smolak Farms, the U.S. Drought Monitor announced an unprecedented 16 percent of the state, including the North Shore, is considered in "extreme drought."
Joined by state administrators from various economic and agricultural agencies, Baker stood in front of a field of stunted crops at Smolak Farms and outlined steps citizens and municipalities alike can take in order to weather the lack of storms.
"We are preparing for the worst-case scenario," said Baker, who recommended residents take small, cumulative steps to reduce water consumption, such as limiting outdoor water use and shortening their shower times.
"You might have to get a haircut," to meet those demands, he said, offering a moment of levity during a time that has many deeply concerned.
Last week, less than 4 percent of Massachusetts was considered in extreme drought. But Thursday, the drought monitor nearly quadrupled the margin.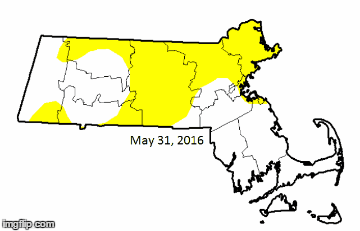 On the heels of a mild winter, Baker said his administration is monitoring and coordinating efforts to handle the drought that seems to show few signs of relenting.
Approaching an emergency
Baker said the state Department of Agricultural Resources has activated the Drought Management Task Force to survey damages of crops, increase water level monitoring, and coordinate assistance. Baker also recommended sweeping driveways instead of power washing them to keep them clean. For municipalities, Baker and members of his administration encouraged local farmers and city officials to reach out if they have any questions or concerns. 
Secretary of Housing and Economic Development Jay Ash announced the administration is refocusing a larger percentage of state small business technical assistance grants to Community Development Corporations in counties, and working with state and industry officials to develop a Massachusetts Drought Emergency Loan Fund that will provide money for family farms and small businesses affected by the drought, and bridge the gap to federal assistance for impacted agricultural businesses.
This year's drought is the most extreme on record for the state since the federal government started tracking drought conditions in 2000. 
Conditions have not reached emergency level yet, the threshold needed for federal assistance. However, farmers who experience 30 percent crop loss can file for state aid.
Mike Smolak of Smolak Farms in North Andover has already done so this year, when his peach crops were virtually wiped out in February due to severe freezing. On Thursday, he said about 85 percent of his Christmas tree seedlings — nearly 5,000 trees — have dried up to worse than "Charlie Brown" conditions.
Smolak said this will have a serious impact a few years down the road, when those seedlings would have matured. He filed for state aid to compensate for that predicted loss.
"I'm going to have to replant, this fall I'm going to try and do that," he said.
Baker said if and when an emergency drought designation happens, he will certainly file for federal assistance, referencing last December when he obtained roughly $100 million in federal disaster relief for the winter of 2014.
Ash emphasized that the administration is looking at this drought from more than an agricultural standpoint, and officials are aware of the implications crop loss has for local and state economies.
"We will be approaching Mass Growth Capital Corporation to respond to the needs of farmers," he said, offering low-interest and micro loans.
Increased monitoring
Smolak, who serves on both state and federal agriculture boards, said farmers that offer diversified crops throughout the year will likely be able to survive, but specialized farmers are certainly struggling. 
"It's nice to see politics go out the window and everyone work together on this," said Smolak. "Vegetable growers are barely hanging on. ... Dairy farmers have no hay or pastures to graze."
Baker, Ash and other officials implored people to buy from local farms, acknowledging they will likely see a modest increase in prices for locally sourced produce. They highlighted that Massachusetts tends to be one of the more significant states in the country per dollar for buying direct goods, and emphasized the importance of keeping up that trend in the wake of this drought. 
Officials offered no set timeline on when the drought conditions might hit emergency levels, but said they have stepped up monitoring of water wells. They also have opened lines of communications with the National Guard and other resources to provide assistance quickly and efficiently when it becomes necessary to do so.
Additionally, Massachusetts Emergency Management Agency Director Kurt Schwartz said even though demand for water has not yet exceeded supply, all agencies are coordinating to be ready if and when that happens. He announced a statewide conference call Friday to open the lines of communications and let people know that "if the condition continues to worsen, towns may need state support, and MEMA will be there."
Thursday's U.S. Drought Monitor update advises that 99 percent of the state is currently experiencing abnormally dry conditions, with nearly 6.5 million people living in drought conditions.