Most Beverly High football historians would agree that the 1980s were the greatest decade in Panther football lore. Under legendary head coach Bill Hamor, the Orange-and-Black won 76 games, lost only 23 and tied two while capturing three Northeastern Conference titles, the first 10-win campaign in program history and reaching its first Super Bowl in 1988.
Those 76 wins are also the most in any decade in BHS football lore.
The second-most wins in a 10-year time frame? That belongs to the modern day Panthers, who take 65 victories into this, the final season of the 2010s.
Head coach Andrew Morency, a quarterback on those Hamor-led powerhouses of the mid-1980s, would love to see the Garden City's 2019 squad get back to the greatness that helped them with a North sectional championship three seasons ago. 
"We had a great offseason and the kids are really excited about this year," said Morency, a Beverly High Hall of Fame three-sport athlete. "If we can stay healthy and continue to work hard, we feel like we have a shot. But it won't be easy; our schedule is tough, so grinding throughout the Northeastern Conference (North) week-in and week-out will be a huge challenge."
Now in his fourth year as head coach at his alma mater, Morency will be able to roll out a plethora of talent in both the trenches and the skill positions. He cites the team's strong senior leadership, stable of returning veterans and a cast of juniors and sophomores looking to crack the varsity lineup as huge plusses for this year's club.
Duncan Moreland, a 6-foot-1, 210-pound senior captain who is ticketed to play Division 1A football at the University of New Hampshire starting next fall, should again be one of the North Shore's most dynamic playmakers this fall. A wideout with terrific leaping ability and hands who is also strong enough to wrestle the ball away from most defenders, he led the team in catches (26), receiving yards (504) and receiving touchdowns (6) as a junior and hopes to bump up all of those totals considerably this fall.
"Getting the ball to Moreland will be key," said Morency. "He brings a lot to the receiver position. He could be a beast both at wide receiver and free safety."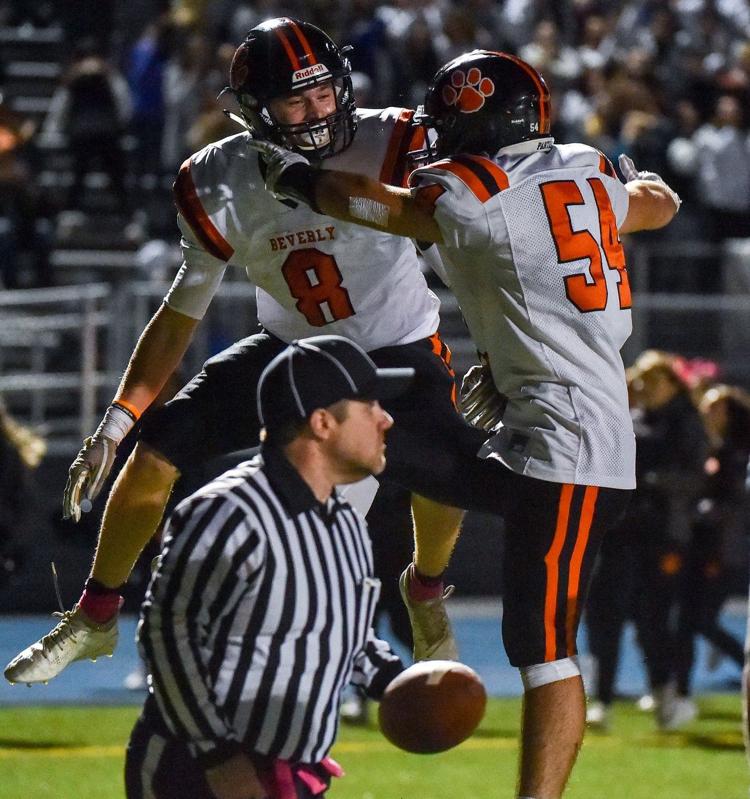 Fellow captains Braeden Pratt and Chris Curran will be huge pieces to the Beverly puzzle. A three-year starter, the 5-11, 210-pound Pratt should anchor down left guard offensively while returning as a tackling machine at inside linebacker. Curran, an athletic 5-10, 180-pounder, will likely play right guard as well as in the middle of the defense at linebacker.
Senior Marje Mulumba, a two-year starter at safety, is also back; he'll be the team's primary ballcarrier as well. You may recall that the 6-1, 205-pound speedster set a Beverly High single game rushing mark in a playoff win at Winchester last fall, rambling for 315 yards and five scores. Junior Jaichaun Stanton-Jones (5-10, 185) also brings elusive speed to the backfield; he's also slated for cornerback duties and could be "electric" on kick returns, according to his coach.
Blocking for these playmakers will be teammates with size, strength and smarts. In addition to Pratt and Curran, junior Billy Adams (6-5, 230 lbs.) is back and could be a force at right tackle and defensive end. Xavier Copeland, a 260-pound athletic sophomore, looks to start at center, with juniors Jack Ewer (6-5, 260 lbs.) and BHS wrestling standout Jonus Pavia (205 lbs.) will also be difference makers in the trenches.
Danny Morency, the 11th grade nephew of the head coach, takes over as the starting quarterback this fall. "He showed some promise last year; how he evolves will have an impact on our start," said Andrew Morency.
Joey Loreti, yet another member of a talented junior class, was the Beverly kicker last year but has put on some pounds through weight training in the offseason and is looking to contribute additionally as a running back and linebacker.
Beverly — which needs five victories this fall to reach 70 wins this decade, which would be only the second time they've done so in school history — hopes to score more points (251) than they did a year ago while surrendering fewer than the 219 they allowed. In addition, improvement on special teams is a team-wide goal; some gifted underclassmen will be asked to step up and help in this regard. 
PANTHER PATTER
Last year's record: 6-5 (Lost in Division 3 North semifinals)
Head coach: Andrew Morency (7th season, 18-16; 76-64 combined including 10 seasons at Hamilton-Wenham)
Team captains: Braeden Pratt, Sr., OG/MLB; Duncan Moreland, Sr., WR/SE/FS; Chris Curran, Sr., OG/MLB
Leading returning rusher: Marje Mulumba (60 carries, 482 yards, 5 TDs)
Leading returning passer: Danny Morency (5-for-10, 72 yards, 0 TDs)
Leading returning receiver: Duncan Moreland (26 catches, 504 yards, 6 TDs)
Did you know: With the addition of Nick Theriault this season, there are now seven former Panthers on the team's coaching staff: head coach Andrew Morency and assistants Pat Henebury, Scott Shairs, Freddy Nieves, Nate Verry, Mark Theriault and his brother, Nick.