It's tough to pinpoint one quality that makes Morgan Bovardi so special. Not because she doesn't have many; quite the opposite. 
This year's Student Athlete of the Year nominee from Masconomet, Bovardi shines as an irreplaceable leader for the soccer, basketball and lacrosse teams. She overcame a serious knee injury (torn ACL) as a junior to return to the hardwood for her senior campaign and take home Salem News Player of the Year honors in the process.
That alone is something most student-athletes could only dream of doing, but Bovardi wasn't shook by the unfortunate circumstances and worked tirelessly to return to form. 
"What sets Morgan apart from the other outstanding high school athletes that come to mind is her tenacity and ability to be relentless," said Masconomet athletic director John Daileanes. "She has that special quality that is so fun to watch because you know you're witnessing something that is unique and next level for a high school athlete."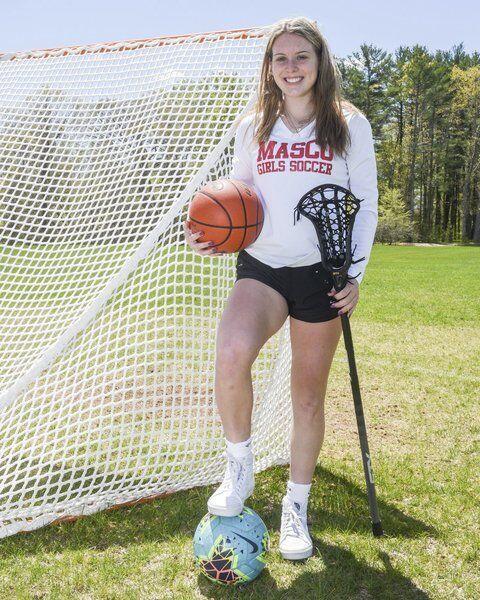 Among her other athletic accomplishments, Bovardi hit a whopping 11 three-pointers and surpassed 40 points in a single basketball game. On the soccer pitch, she returned from her ACL tear to lead the Chieftains to a near-perfect season in their first year as a member of the Northeastern Conference, taking home all-star honors along the way. She served as a captain for both squads, doing so with pride and integrity.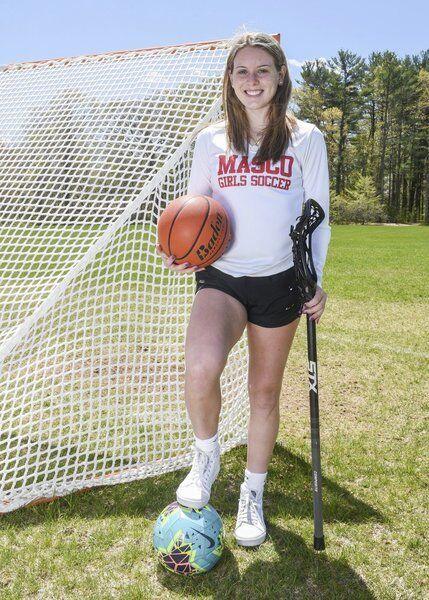 While Bovardi's exploits on her respective athletic surfaces certainly stand out, her work in the classroom is just as impressive. She's maintained honor roll status throughout her senior year, receiving no lower than a B in any class. She's particularly strong in Accounting, where she's received an A+ at the honors level. 
Bovardi has shown passion and dedication in all areas of her high school career and possesses all the tools to thrive and succeed in whichever career path she chooses to follow. 
"People on the outside looking in can clearly recognize Morgan's athletic talent, but her classroom achievement is often overlooked or underappreciated," added Daileanes. "Morgan has maintained a strong grade point average and has really matured into an outstanding young adult. She has represented the Masconomet school and community well."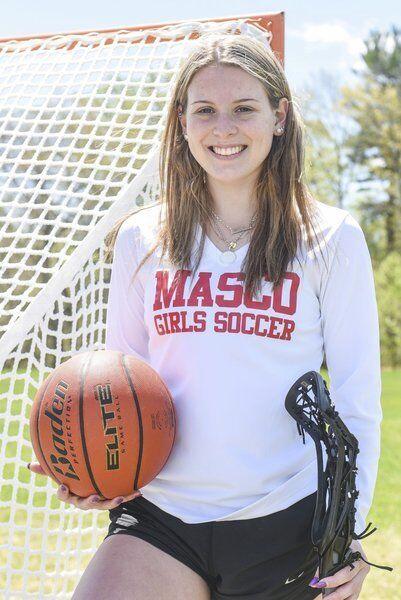 Bovardi looks up to many different people, but perhaps nobody more so than her late, great grandfather, North Shore basketball legend Larry McIntire. Bovardi and McIntire shared a close relationship throughout her upbringing and blossoming athletic career, and according to Daileanes "if Morgan were chosen for this award it would come with such a deep appreciation from the family, knowing that the local sports scene has been such an influential part of their lives."
MEET MORGAN BOVARDI 
High school: Masconomet
Hometown: Boxford
Age: 18
Prep school you will be attending: Brewster Academy
What is your favorite book?: "The Blind Side" by Michael Lewis
What is your favorite movie?: 'Mamma Mia'
Who is your favorite singer or musical group?: Morgan Wallen
What is your favorite app?: TikTok
What is your favorite class in school?: Accounting
What athletic feat are you most proud of?: Scoring 42 points, including 11 three-pointers, in my freshman year of basketball vs. Danvers and earning the 2021 Salem News Girls Basketball Player of the Year after tearing my ACL the year before.
In one or two sentences, what does being a leader among your peers mean to you?: It means being a positive role model not only on the field or court, but also outside of sports. I want my peers to see me as someone they can always rely on as a person, especially when they're faced with a new or challenging situation.
Where do you see yourself 10 years from now?: While I'm not exactly sure what I'll be doing in 10 years, success to me would be a career that I'm passionate about and challenges me every day.
What's something most people don't know about you?: Despite playing contact sports my entire life, I get sick to my stomach from the sight of blood.
||||