Ivy League schools look for well-rounded students who excel academically, are virtuous and show empathy for others and are aware of their surroundings and the world around them. If said student also happens to be a terrific athlete, all the better.
Princeton University is getting all of that and more in St. John's Prep's Collin Taylor.
"Collin is a model of servant leadership. He consistently seeks to positively influence any situation he finds himself in for the good of others," said Dr. Keith Crowley, the principal and Associate Head of School at St. John's Prep. "Collin embodies the growth mindset: he does not shy away from a challenge, seeks feedback and does the hard work necessary to learn and grow as a student-athlete."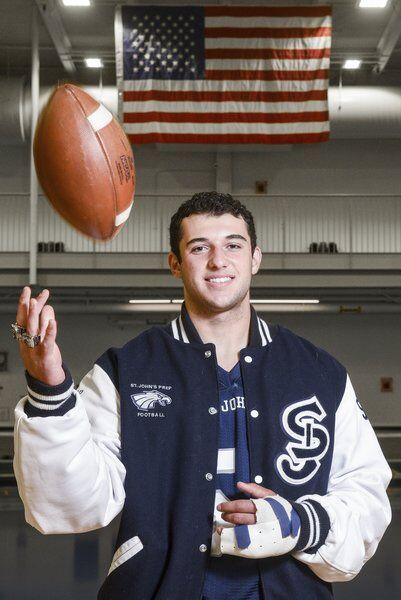 A member of the National Honor Society, Spanish National Honor Society and a St. Francis Xavier Scholar at St. John's Prep, Taylor has taken on the school's most challenging course load academically and emerged with a 4.43 grade point average. He scored a 1460 on his SATs and has been on the school's Honor Roll Principal's List/Headmaster's List all four of his years of high school. Taylor also received an Academic Excellence Award for his overall excellence in all courses as a junior. 
"Quite simply, Collin epitomizes effort," said his math teacher, Anthony Lamanna. "He never shies away from going the extra mile in order to achieve success in any area of life, whether it be academically, athletically or socially."
Susan Bavaro, a social studies teacher at St. John's Prep who has had Taylor for both AP Modern European History and Honors Constitutional Law, recounted a story in which his engagement in the Socratic method law class best came to light.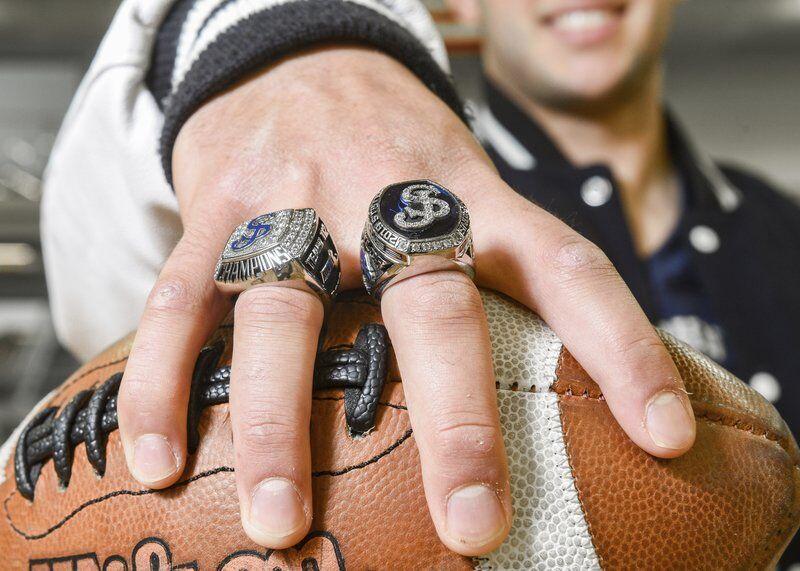 "His final project on Aaron Hernandez and CTE was an extremely well-constructed and insightful public service announcement that was well researched and effectively presented," said Bavaro. "He constantly asked very poignant questions and had the entire class saying 'ahhhh' both literally and figuratively to many of his comments. He tends to see the deeper picture on numerous issues, and this wonderful ability will definitely apply well to a college classroom and seminar type of class."
He has also worked with Camp Sunshine, volunteering with young children experiencing life threatening illnesses, and his love of animals allowed him to volunteer with several organizations where he brought support animals and service dogs to those in need of comfort at Seasons of Danvers, an elderly living facility.
Athletically, Taylor is a standout defensive end and tight end in football, having led the Eagles to back-to-back Division 1 Super Bowl titles. As the team leader in quarterback sacks for three years running and a two-time Catholic Conference and Salem News all-star, he also served as team captain this past season while earning Salem News Lineman of the Year honors. He is also an excellent four-year performer for the Prep's track and field program.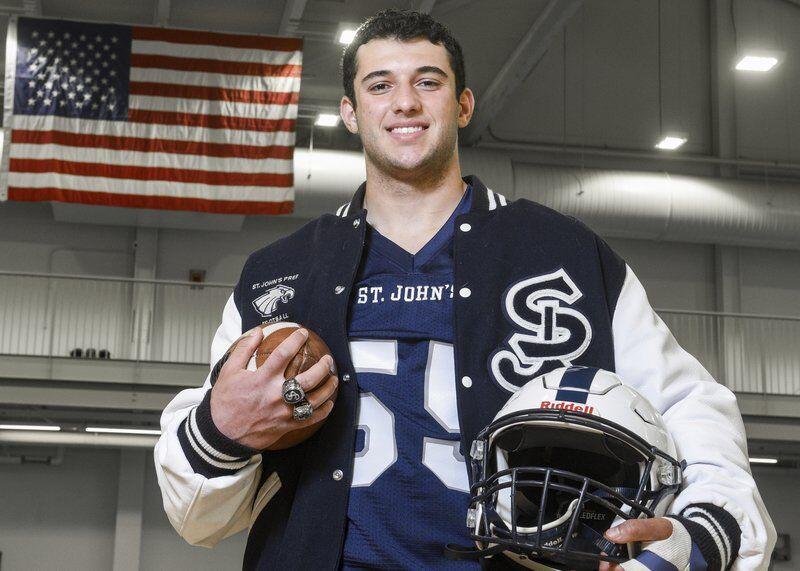 "Collin's greatest attribute is his commitment to excellence in all aspects of his life," said St. John's Prep football coach Brian St. Pierre. "He has a strong moral compass. Whether it be in the classroom, on the field or in the community, he embodies every character trait a coach would want in his players."
MEET COLLIN TAYLOR
High school: St. John's Prep
Hometown​: North Andover
Age​: 18
College you will be attending​: Princeton University 
What is your favorite book?​: "Friday Night Lights" by Buzz Bissinger
What is your favorite movie?​: 'The Departed'
Who is your favorite singer or musical group?: Jimmy Buffett
What is your favorite app?​: Spotify
What is your favorite class in school?​: English 
What athletic feat are you most proud of?: Being a starter on back-to-back Division 1 state championship football teams my sophomore and junior seasons. Not only did we have a lot of success on the field, but I also learned from a lot of great upperclassmen and made lifelong friends.
In one or two sentences, what does being a leader among your peers mean to you?: It means leading by example; setting a high standard for yourself and the team and encouraging others to follow. Also, I believe that it's crucial to always be a positive voice, especially when things don't go the team's way.
Where do you see yourself 10 years from now?: My current plan is to go to law school, so I hope to be a lawyer. I hope to be using this platform to not only give back to the community, but also to those who supported my journey to get to the point I am at. I would not be anywhere in life without the support of my family, so 10 years from now I see myself giving back to them.
What's something most people don't know about you?: I can eat a crazy amount of food. I usually have about seven meals per day, and once had 17 slices of pizza at one sitting.
||||