Thousands of high school games. That's what we here in The Salem News sports department have watched, in person, over the past 10 years.
Whittling down a list of the very best games we've covered over the last decade was an onerous proposition, but one that we tackled head-on. Here, then, are the Top 10 games of the decade as remembered by Executive Sports Editor Phil Stacey, assistant sports editor Matt Williams, and long-time correspondent Jean DePlacido (as well as the Top 5 games of Nick Giannino's tenure at the newspaper).
PHIL STACEY
1. St. John's Prep hockey stuns unbeaten Springfield Cathedral, March 11, 2015
No way, no how: that's what the so-called experts said of St. John's Prep's chances of knocking off the unbeaten Western Mass. hockey powerhouse in the Super 8 semifinals, with their six Division 1 college commits and a boatload of offensive star firepower. But the Eagles never trailed and, after going to overtime following a Cathedral goal in the final minute of regulation, watched as Mitch Shaheen's pass through teammate Seth Murray's legs and onto the tape of Jeff Cowles led to the game-winner 72 seconds into extra time, ending this utterly fantastic hockey game.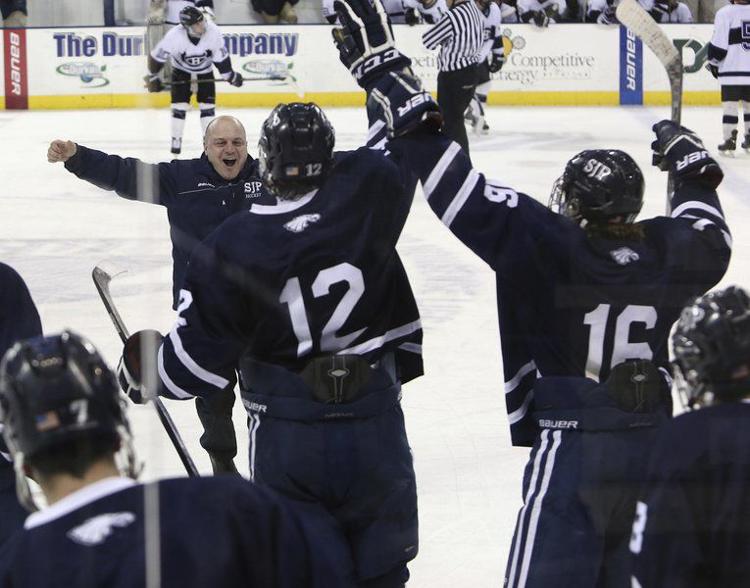 2. Beverly football rallies from 18 down at halftime to stun Billerica for North title, Nov. 11, 2016
Arguably the most dramatic win in Beverly High football history, the Panthers trailed 18-0 at halftime and had minus-5 yards of offense and zero first downs in the Division 3 North final. But behind three Sam Abate touchdowns, the powerful leg of punter/kicker Luke Samperi and a dominant defensive showing in the second half, the Orange-and-Black stormed back to defeat the disbelieving hosts on a cold, raw Friday night.
3. Beverly boys hockey wins its first state championship, March 16, 2014
Tim Birarelli's 25th and final save of the evening came a millisecond before the final horn sounded, giving the Panthers a 2-1 victory over Medfield before 8,00 fans at TD Garden in Boston — and with it its first ever Division 2 state hockey crown. The game-winning goal was potted by the program's all-time leading scorer, Connor Irving, who buried a feed from Nick Albano (2 assists) early in the third period, then watched as Birarelli and his Orange-and-Black mates made it stand up.
4. Ipswich boys lacrosse wins state semifinal in dramatic last-second fashion, June 14, 2017
With a berth in the Division 3 state championship game on the line, Ipswich led Hanover most of the way before the South Shore titlists stormed back to tie the game with 20 seconds to go. Undaunted, Tigers' elite faceoff man Charlie Gillis won the ensuing draw, ran right through the middle of the Hanover defense and flung a shot into the net with 13 seconds left, giving IHS an improbable 11-10 win. 
8. St. John's Prep, Malden Catholic battle in a Super 8 title game for the ages, March 20, 2011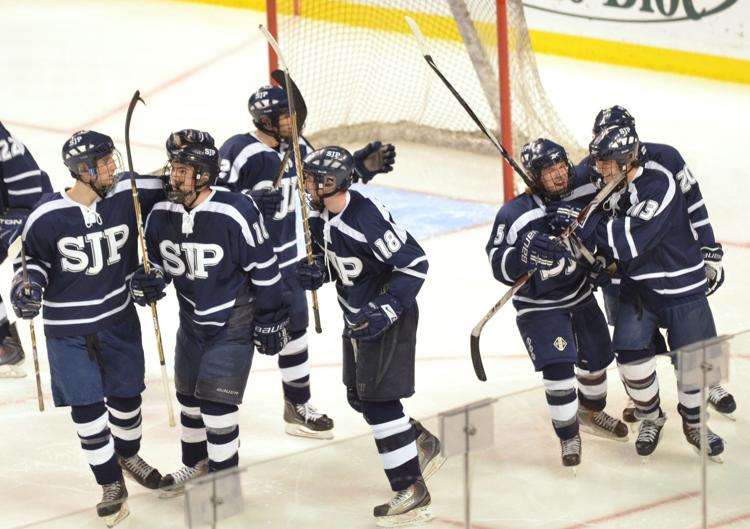 Nine players who would be drafted by a National Hockey League team (5 for St. John's) skated on the TD Garden ice that night in a dazzling Super 8 title game, which Malden Catholic won 4-3 in overtime. The Eagles never trailed until the OT winner, getting 29 saves from netminder Dan Letarte and goals of their own from Matt McDonald, Colin Blackwell and Jon Farrow as the near-10,000 fans in attendance witnessed a high school hockey game we may never seen again in these parts.
6. Danvers boys hockey makes incredible comeback to beat Gloucester in 2 OTs, Feb. 26, 2019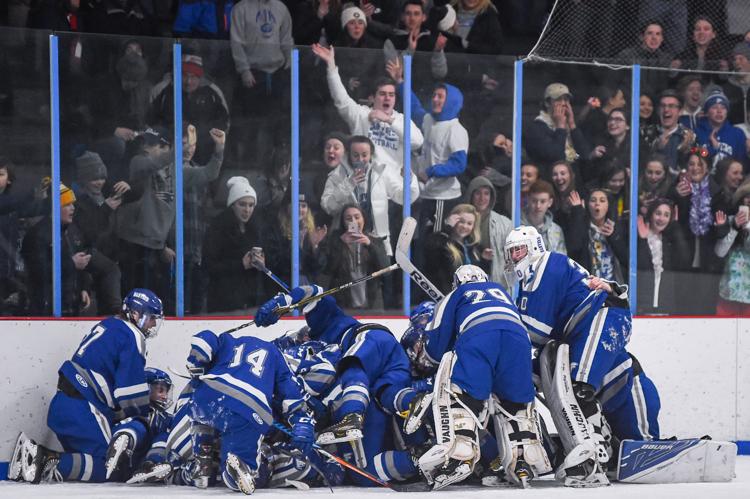 Up 2-0 before finding themselves trailing 5-3 in the second period, the Falcons turned to senior goalie Rob Prentiss in hopes of sparking the squad in this Division 2 playoff game — and spark them he did, stopping all 18 shots he faced. His teammates rallied as captain Jared Mscisz blasted home the game-tying goal from the right point with less than three seconds to play in regulation before fellow captain Jack Thibodeau won it with his third goal of the night, stealing the puck in the Gloucester end and walking in alone to score in the second extra session.
7. Beverly boys lacrosse slows it down to take down unbeaten Wakefield and win North crown, June 10, 2017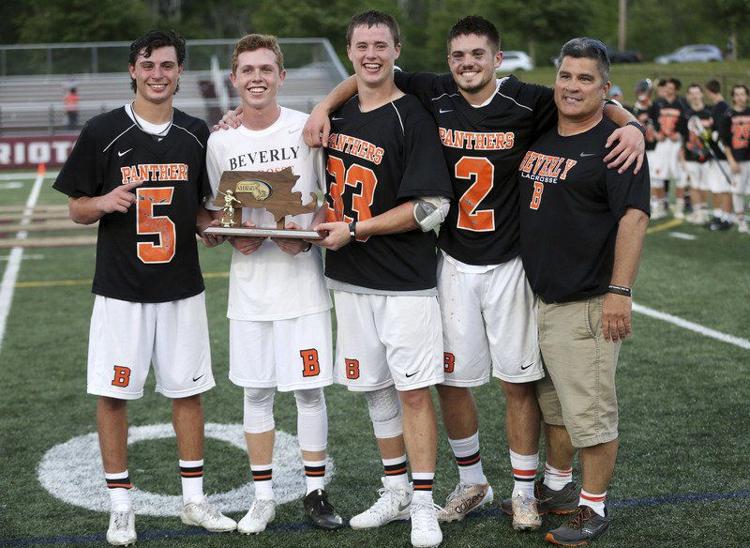 Knowing it wouldn't be wise to try and go toe-to-toe with the unbeaten Warriors — who had netted a state-leading 330 goals — in the Division 2 North title game, Beverly instead deployed the lacrosse version of a 4-corner offense in basketball, working the ball around the perimeter for long stretches of time and lulling the unbeaten top seed into making costly mistakes. The end result saw the Panthers, behind four goals from Nick DiLuiso, emerge as sectional champs after a 7-6 triumph.
8. Lynch takes charge, Danvers takes North football crown over Marblehead, Nov. 13, 2015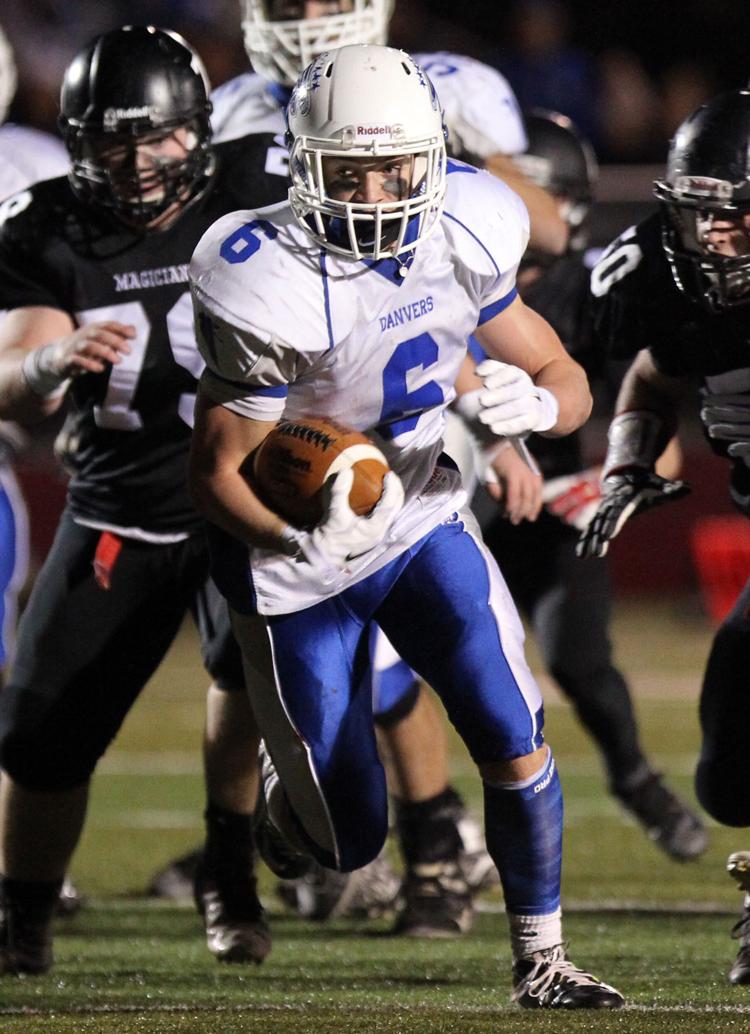 An injury within the first few plays of the Division 3 Northeast title game forced Danny Lynch to line up in the Wildcat formation and take the ball himself on the majority of plays against the unbeaten hosts. He was more than up to the task, running for a career high 241 yards on a herculean 38 carries and two scores in the Falcons' 13-7 upset victory — the first for the Blue-and-White over the Magicians in a decade.
9. Unbeaten Danvers volleyball goes five sets with Canton in state final, Nov. 18, 2019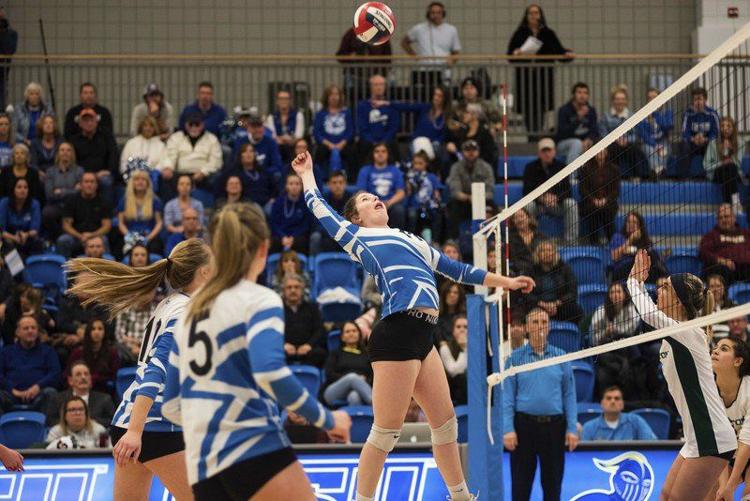 A scintillating, back-and-forth Division 2 state final saw the Falcons' unbeaten dream season come to a halt — but what a ride it was for the Blue-and-White. Used to spiking opponents into submission rather effortlessly, they showed the heart of a champion while battling an equally powerful Canton squad point-for-point in a title tilt for the ages.
10. Marblehead, Winthrop boys hockey shine brightly at Fenway, Jan. 9, 2010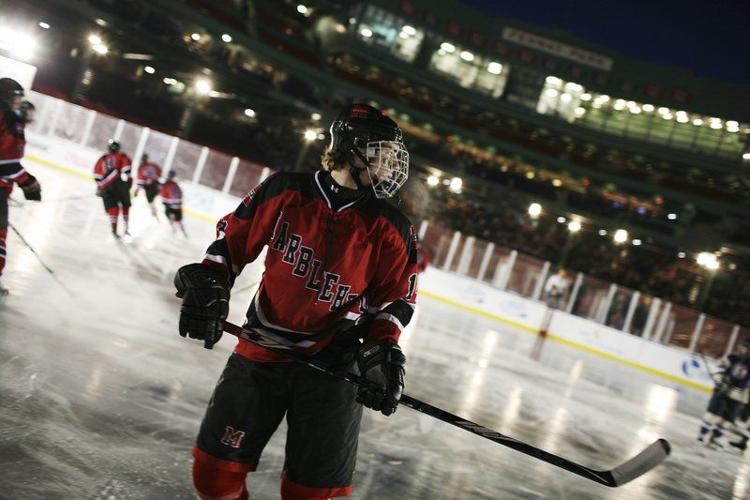 When Fenway Park became frozen for the first time for the 2010 Winter Classic, the ice stayed down for a bit longer and these two clubs were (thanks to Winthrop assistant Mike Eruzione) able to get a precious hour of ice time at the historic venue. Watching from ice level between the benches was a tremendous experience, so I can only imagine how the players felt skating atop the same field where Williams, Martinez, Ortiz & Co. had starred.
MATT WILLIAMS
1. Masconomet girls upset Beverly in hockey shootout, March 3, 2017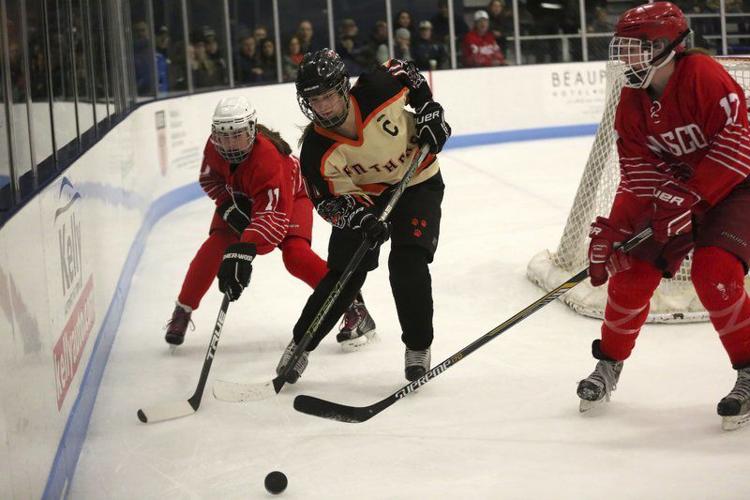 It took three lead changes, three ties and five rounds of a shootout to decide this titanic battle with a combined 64 shots on net, as then-freshman Molly Elmore stopped 41 of them to introduce herself to as the state's best big-game goalie. There were multiple power play chances in OT and each team was denied on golden scoring opportunities; skaters on both teams had a hard time standing up at the end of 57 minutes of action. There was no better example all decade — in any sport — of two teams that each emptied the bucket.
2. Doug Santos, Peabody football nearly slay Everett, Nov. 7, 2014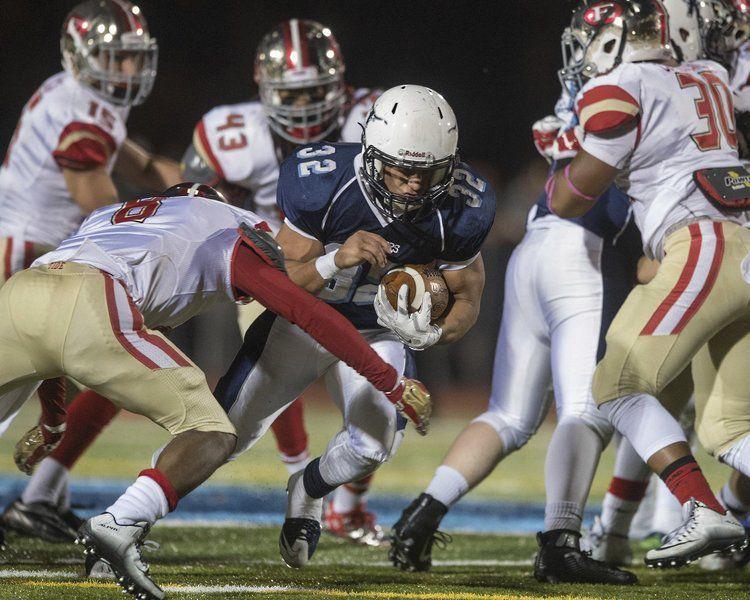 If you've been around Tanner football, you know what it means to walk into Everett Stadium. Most expected PHS to lose this Division 1 North semifinal by 3-4 TDs; instead, the Tanners and Crimson Tide staged the highest scoring game in their history, a 54-41 EHS win that had two onside kicks in the last 2:55. Doug Santos ran for 193 yards and 3 TDs and QB Mike Raymond had his career-best day with 278 yards among 515 total yards, one of the highest opponent totals ever at EHS.
3. Danvers girls soccer reaches seventh heaven, Nov. 18, 2017
There's nothing more exciting than a shootout — and a shootout with the state title on the line is even crazier. Danvers and Medway had to go extra rounds to decide the Division 2 title, with the Falcons winning penalty kicks 6-5 and captain Lydia Runnals burying the seventh kick for the win. The Falcons trailed late and got the tying goal to force two thrilling sudden death overtimes, finishing their dream season 19-2-1.
4. Swampscott football gets by Beverly, Nov. 7, 2011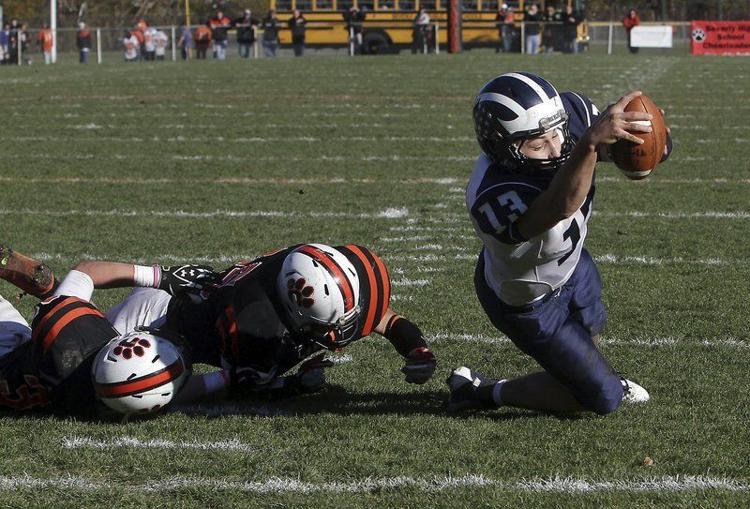 One of the best trick plays I've ever seen: wide receiver A.J. Baker took a hitch pass and lofted it deep to QB Mike Walsh for a 49-yard touchdown and the go-ahead points as Swampscott got a rare win at Hurd Stadium, 21-13. At the time, Steve Dembowski's Big Blue matched up with Dan Bauer's Panthers was the best rivalry in the NEC; both sides wanted to outsmart the opponent while playing with intensity and big, physical hits.
5. Peabody baseball outlasts Malden Catholic in 13 innings, June 4, 2011
At one point, after a relief pitcher picked off the winning run at second base, Peabody coach Mark Bettencourt turned to the crowd and mouthed "Is this real life?" That's the kind of day it was at Bezemes Diamond when Peabody survived a Division 1 North tourney tilt with Malden Catholic, 6-5, in 13 innings. Each team put a running in scoring position in the top and bottom halves of the 10th, 11th, 12th and 13th innings and there were 387 total pitches thrown, 107 total plate appearances and a combined 20 runners left on base.
6. Swampscott boys hockey punches Garden ticket in OT, March 14, 2013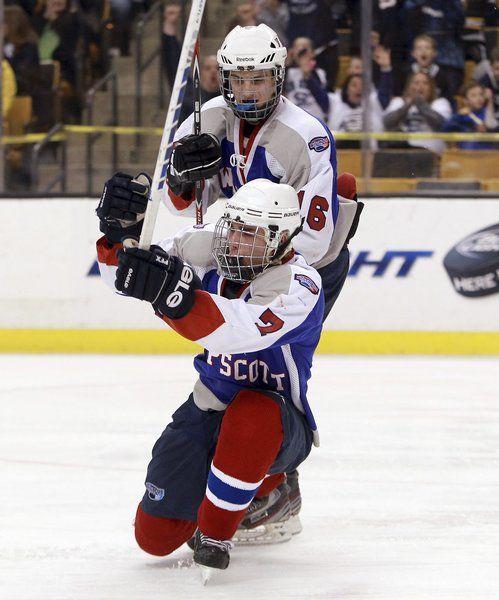 I maintain this crowd at a packed Chelmsford Forum was the loudest and most excited I heard for the entire decade; when Noah Maercklein scored in sudden death overtime to send the Big Blue to their first ever state hockey final, 4-3, the roof blew off the place. There were three lead changes and five third period goals as momentum changed benches seemingly at random. Don't forget a ridiculous spin-o-rama goal by Corey Carmody that still lives on YouTube.
7. Peabody girls hockey blanks St. Mary's in playoffs, March 4, 2019
The very idea of Peabody competing with, never mind beating, St. Mary's when Michalle Roach took over would've been silly. Over four years she built the Tanners co-op to believe it could. Abby Buckley played a perfect game with 38 saves in a win that featured a picturesque opening goal by Jess Robert as Peabody, which had lost to St. Mary's twice in the regular season, played its best game and you could feel them building confidence until they broke through.
8. Braintree baseball puts hex on St. John's Prep in Super 8, June 13, 2015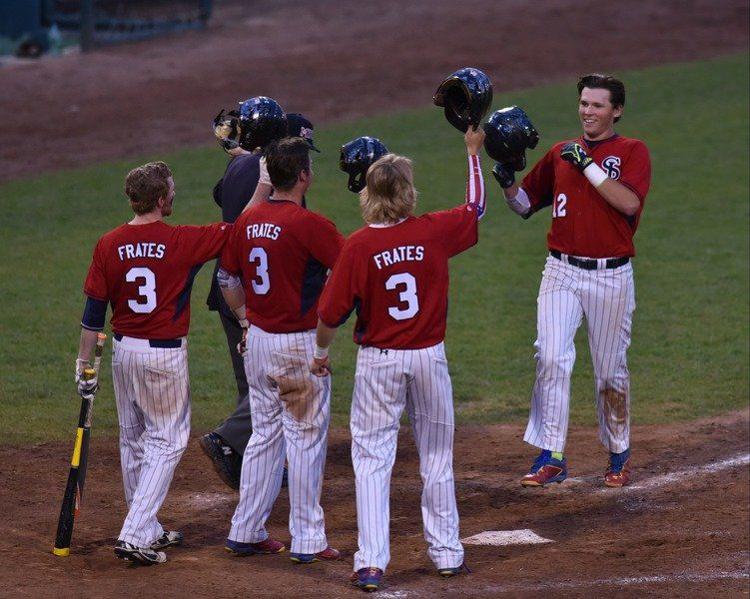 The Eagles and Wamps played each other six times in the Super 8 between 2015-16 and most of those games could've made the list. I went with the first, since it went extra innings (11) and put momentum for this series on Braintree's side, leading to back-to-back titles. The Prep had a 6-2 lead slip away after seven innings and had chances to score in the 9th, 10th and 11th in an exciting affair in Brockton.
9. Danvers baseball squeezed out of state title, June 16, 2016
As a neutral observer, this had to be the ideal high school baseball game: fast paced, well executed and down to the wire. For Danvers loyalists, it was a heart wrencher as the Falcons were denied the Division 2 state title, 1-0, on a walkoff squeeze bunt in extra innings. It was the second of three straight state final appearances by coach Roger Day's powerhouse, and probably one of his best ever teams with a 22-3 overall record.
10. Peabody girls soccer makes state final in OT, Nov. 11, 2011
There had to be a Hayley Dowd game on this list, but the problem is the Tanners didn't play that many close ones during her stellar 200-plus point career. The Division 1 state semifinal overtime victory over Oliver Ames on a cold night in Weymouth stands out, with Dowd netting the tying goal in the second half and Victoria Digiacomo netting the winner for the Falcons (22-0-2) in sudden death.
 JEAN DEPLACIDO  
1. St. John's Prep football wins Division 1 Super Bowl, Dec. 1, 2018
The Eagles won their first Super Bowl since 2012 and first ever at Gillette Stadium, hammering their rivals from Catholic Memorial, 40-22. Wes Rockett led the way with 189 yards and three touchdown catches. CM took a 22-19 lead midway through the third quarter, but it was all Prep from that point on with Rockett making two sensational grabs in the end zone and Aise Pream running for another touchdown. 
2. Jared walks, Tyler scores, Nov. 25, 2010
Jared Coppola walked for the first time since suffering a devastating injury, going out to the middle of the field at the Hawk Bowl in Westwood with the St. John's Prep football captains for the coin toss of their Thanksgiving Day game at Xaverian. His courage inspired the Eagles to a 21-12 upset victory over the highly favored Hawks as his triplet brother, Tyler Coppola, ran for 211 yards and two scores while his sibling cheered him on.
3. Danish Cup boys lacrosse: Peabody 9, Bishop Fenwick 8 (OT), May 8, 2016
Devin Hennessey scored the game-winner to give Peabody its sixth straight Danish Cup victory — but it wasn't easy. Crosstown rival Bishop Fenwick fought from behind to tie it on goals by Dan Hannon (his third of the night) and Brian Harrington, the latter coming with 16 seconds left, but Hennessey turned out to be the ultimate hero for Peabody.
4. St. John's Prep wins second straight Super Bowl, Dec. 7, 2019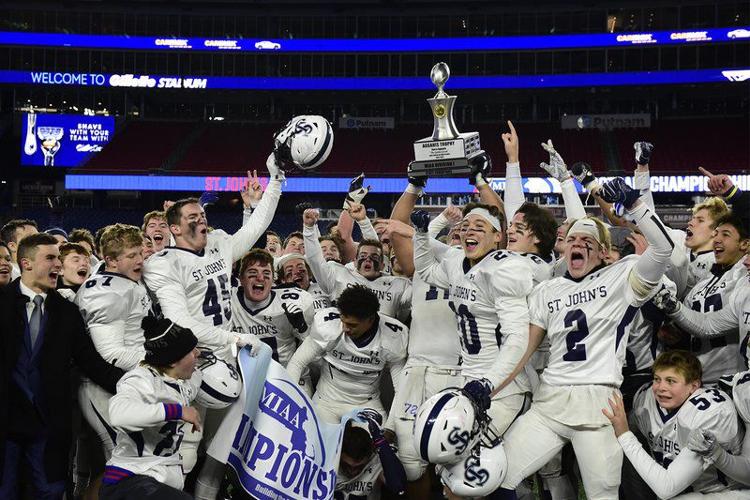 The Eagles made history by handing the Knights their first loss of the season to become the first team in school history to win back-to-back Super Bowls. Quarterback Matt Crowley (6-of-12, 145 yards, TD) and fellow senior captain Matt Duchemin (5 catches, 119 yards, TD; 2 INTs) helped the Eagles bring home the new Harry Agganis Trophy to add to their collection while avenging a two-point loss to CM earlier in the season.
5. Guapo's highlight pick, Sept. 20, 2013
Playing rival Central Catholic, the contest was close until Johnny Thomas of St. John's Prep intercepted a pass in the end zone and danced up the left sideline before a packed house at Lawrence Stadium. He avoided would-be tacklers to take it 107 yards to the house in one of the most electrifying plays of the decade in the Prep's 40-21 win.
6. Bishop Fenwick girls hoop takes down St. Mary's, March 7, 2016
On the road to a state championship, the Crusaders advanced to Division 3 North final with a 56-40 victory over their arch rivals, their first playoff triumph over the Spartans in 36 years. Sydney Brennan led the offense with 17 points while Colleen Corcoran was also outstanding in scoring, grabbing rebounds, and stealing the ball to spark her team.
7. Swampscott softball takes down Wilmington, June 7, 2017
The Big Blue pulled off the playoff upset for the year over the Wildcats, 1-0, at Aprile Field in Wilmington behind the outstanding pitching of Hannah Leahey. They went on to topple favored Burlington, 3-1, in the sectional semifinals before their Cinderella run ended with a loss to Dracut in the North final.
8. Peabody softball takes down Marblehead, May 30, 2018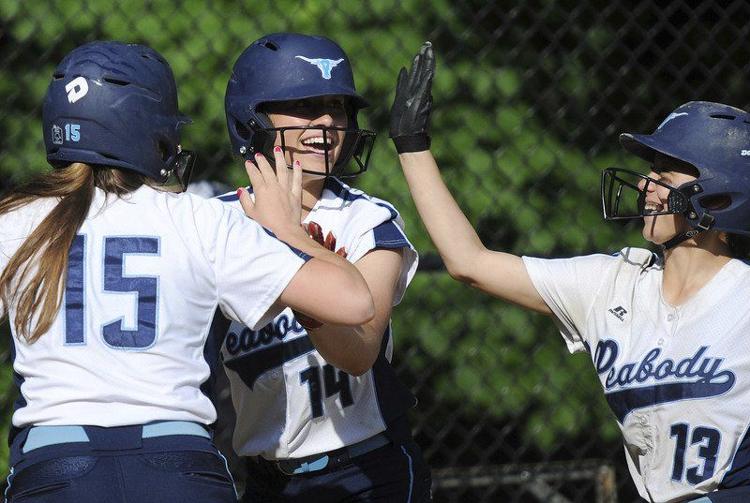 Tianna Dawe outdueled Charlotte Plakans, 5-1, as the Tanners grabbed a share of the Northeastern Conference title with the Magicians in the final game of the regular season. Dawe blasted a two-run homer and Mallory LeBlanc added three hits out of the leadoff spot.
9. Danvers field hockey topples Lexington in playoffs, Nov. 5, 2015
The Falcons won their first tournament game in a long while in shutting out Lexington, 2-0, with Erica Haibon and Kristen McCarthy scoring goals. McCarthy's came on a long run and blast past the goalie.
10. Marblehead girls lacrosse battles Newburyport in North final, June 4, 2014
For the second year in a row, Marblehead reached the Division 2 North final before falling, 12-11, in a back-and-forth showdown. The Magicians led by two (10-8) with 14 minutes left and again by one with six minutes to go, but both times Newburyport came back — the second time to net the game-winner.
NICK GIANNINO
1. Winchester boys soccer outlasts Beverly in penalty kicks, Nov. 9, 2019
Battling both the brisk fall weather and a talented Winchester team on their home turf, the Panthers finally broke open a scoreless tie when senior captain Joel Platt punched home a rebound in the second half. But Winchester responded moments later, setting the stage for a classic contest that was eventually decided in penalty kicks, won by the Sachems in seven PK rounds, Beverly deserved a lot of credit for going toe-to-toe with the eventual Division 2 state champions. 
2. St. John's Prep soccer stuns top-seeded Lexington in PK thriller, Nov. 5, 2018 
Going up against a one-loss, top-seeded Lexington in the Division 1 North quarterfinals, St. John's Prep was out-possessed, outshot and seemingly overmatched for much of the contest. But the Eagles stayed the course, battling their way through regulation and a pair of scoreless overtimes before coming out on top in penalty kicks. 
3. Danvers golfers claim Division 2 North title, Oct. 23, 2018
After falling short of a Division 2 sectional crown a year prior, the determined Falcons grinded their way to the top in 2018. Teeing it up at Four Oaks Country Club in Dracut, senior captain Jared Mscisz fired a 1-over par 71 to finish in a tie for first overall, while teammates Aaron Paskowski (75), Jack Thibodeau (79) and then-sophomore Mike Papamechail (80) all performed admirably en route to the team win. 
4. Tim McCarthy's inside-the-park homer sends Beverly over St. Mary's in Division 2 playoffs, June 11, 2018
It was like the final scene to an epic sports movie: score knotted at 2-2, bottom of the ninth inning, nobody on, two outs and Beverly's Tim McCarthy facing a full count. McCarthy proceeded to mash the next pitch to deep center, rounding all the bags before the throw to the plate to send the Panthers to a dramatic 3-2 win over St. Mary's of Lynn. The improbable hit sent Beverly on a run all the way to the state title game.
5. Pingree's Ricky Arias drops 39 points and goes over 1,000 for his career in comeback win, Jan. 12, 2018
With his team trailing at the half to Lexington Christian, senior captain Ricky Arias exploded for a career-high 39 points including nine 3-pointers to help the Highlanders battle back for a 69-54 win. A Salem resident, Arias was 9-for-12 from deep overall, grabbed 12 rebounds, swiped seven steals and surpassed the 1,000 point career mark in the process.  
||||