PEABODY— There were 18 athletes honored as Moynihan Lumber Student Athletes of the Month during the 2018-19 school year, representing the best of the best on the North Shore for their combination of success in the classroom and on the athletic fields.
Newburyport's Sam Acquaviva was one of them, and on Tuesday he and Gloucester's Tracy Wood stood above the rest as they were named Moynihan Lumber North Shore Student-Athletes of the Year.
Acquaviva, a three-season distance running star bound for MIT, boasts a resume few student-athletes can match, both athletically and academically. The senior is among the top distance runners in all of Massachusetts, having won the MIAA Division 2 All-State championship in cross country two years in a row. He was also an instrumental piece in helping the Clippers to their first ever All-State team title.
"I have coached at Newburyport for 35 years and we have had a lot of great distance runners come through," said Newburyport cross country coach Don Hennigar. "It's a powerful statement to say that Sam is at the top of of that list."
Acquaviva finished off his high school cross country career as a two-time All State champ, a two-time CAL Open champ and a four-time Division 4 EMass champ. He also turned in a top 20 finish at the Foot Locker Nationals last fall.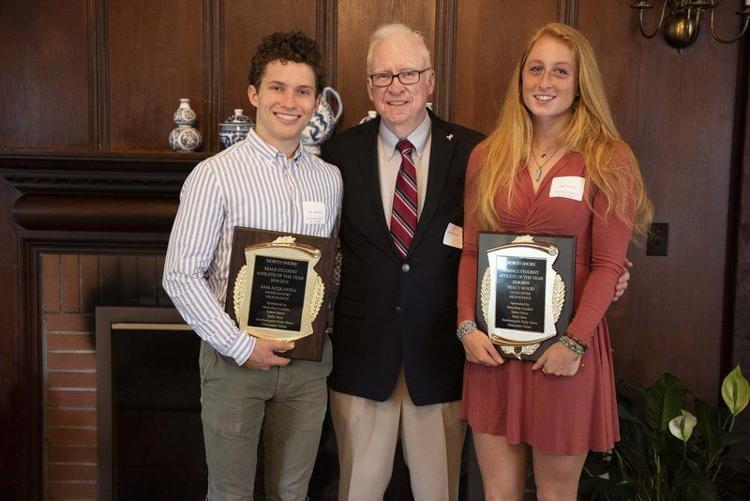 He continued that success in the winter indoor and fall outdoor seasons by winning the All State 2-mile and turning in a mile time of 4:20 during the indoor season.
Just as impressive in the classroom, Acquaviva was the valedictorian for the class of 2019, sporting a 4.80 grade point average with a course load that featured all honors and advanced placement classes. He was also his class president and is involved in several other extra curricular activities.
Wood, a field hockey and softball captain, was the Student Athlete of the Month in October, where she lit up the Northeastern Conference in field hockey, scoring 23 goals in leading the team to a second straight NEC championship and a berth in the Division 2 North semifinals.
"To have an all encompassing and extremely well rounded athlete like Tracy on our team was a blessing," said Gloucester field hockey coach Lauren Riley Gove, who introduced Wood at Tuesday's ceremony at the Salem Country Club. "She not only puts in the effort on the field, she puts in the effort in everything she does."
Wood was an All-Conference player in the fall for the Gloucester field hockey team and she was an All-Conference player again this spring for the Gloucester softball team, which also won the NEC for the second year in a row.
Her accolades on the athletic fields are only the beginning of her success as a student athlete. In the classroom, Wood had a 4.0 GPA at Gloucester High School while taking multiple advanced placement courses. She was the vice president of the class of 2019, which graduated this past Sunday, and she is heading to the University of Vermont in the fall.
Also receiving awards Tuesday were Pentucket girls basketball fans Geoffrey and Irene Sirr and Dick and Esther Roche.
Recently retired coaches Dave Wilbur of Beverly and Loraine Benoit of Peabody received Lifetime Commitment awards. Gloucester Daily Times Sports Editor Nick Curcuru was honored with a Lifetime Commitment award as well and Becky Blaeser received the Post-Graduate Award.