It's not technically a three-peat, since last year's Mass. State Track Coaches Association Cup wasn't an official title.
For all intents and purposes, though, the St. John's Prep cross country team made it three straight seasons at the top of the mountain of cross country running the Bay State.
The Eagles topped the Division 1 boys field at the All-State championship meet Saturday at Wrentham's 5k course with 97 points. Junior Nathan Lopez and senior Charlie Tuttle finished less than a second apart in third and fourth place in 15:23, while juniors Jack Stein (16:19) and Felix Rogovin (16:21) placed in the top 40 out of 190 runners to earn the points necessary for the team triumph.
"We have such a strong team of devoted individuals," Tuttle said, "We've tried to form a culture of kids who are invested in the sport and want to go out and push every workout and every race."
Last week in the divisional meets, the Eagles were edged out by Brookline and knew they'd need to be at their best to be on top this time. Stein moved up 12 places over the last 2,000 meters and James Triglio and Luc Santos (16:31 each) both made big gains.
"Our 3-through-7 guys all had amazing races; I believe they all PR'd," said Tuttle. "All week we stressed racing all the way and catching as many people as possible. That was definitely a great help for us."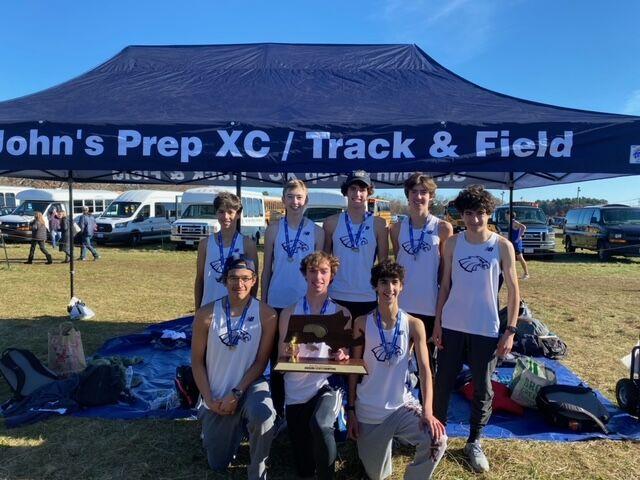 Though there are a lot of new faces compared to the Eagles' 2019 All-State championship team, the foundation for the titles to come were laid by the lessons passed down by those runners.
"It's almost a completely different team, and I learned a lot from those guys and tried to pass down what they taught me," Tuttle said. "I'm really proud and excited we were able to honor the legacy those runners and our coaches created."
Peabody's Logan Traccia was the top Northeastern Conference runner in the Division 1 boys race, clocking 16:00 for 23rd. Beverly's Liam Ouellette came in 29th at 16:08 and Marblehead's boys were 18th as a team, led by Isaac Gross (16:38) and Ryan Thompson (16:47).
Beverly's girls were 17th in the Division 1 team standings led by Emily Young in 53rd (19:29). Mia Kasperowicz clocked 19:39 and Olivia Young ran 19:44. Peabody's Sarah DaVasta ran 19:19 and came in 39th out of 185 D1 girls.
In the Division 2 boys race, Danvers High had a great showing and came in fourth place as a team. Senior Mekonnen Eon was fourth overall, moving up two spots over the last 2K and clocking in at 16:02. Running mate Kevin Rogers came in 8th at 16:07 and teammate Luke Llewellyn was 21st in 16:29, giving the Blue-and-White an impressive top three in the field of 189.
The Falcon girls saw Shea Nemeskal finish 29th in the Division 2 girls race with a time of 19:44 and Emma Eagan was 58th in 20:09.
Also in the Division 2 boys race, Bishop Fenwick's Declan Smith placed 38th in 16:49 and Wyatt Burr clocked a 16:55 for 46th place.
In the Division 3 boys race, Cape Ann League rivals Hamilton-Wenham and Ipswich both qualified in the team portion. The Generals placed 11th led by Eli Labelle (19:19, 41st), Cooper Blatz (17:41, 65th) and Ryan Gillis (17:42, 66th).
The Tigers weren't far behind in 13th as a squad. Senior Finn Russell led the pack of Tigers with a 17:30 for 51st. Colin Hansen clocked a 17:55 for 78th and Dan Buletza (18:06) also cracked the top 100 in a field of 186.
Junior Amelia Stacy made it as an individual for Ipswich and placed very well, clocking a 20:24 for 32nd place.
Swampscott freshman Anton Khripko also qualified as an individual in Division 2, running 18:18.