HAVERHILL — Amesbury's all-star soccer goalkeeper, Alli Napoli, is heading off to play Division 1 college basketball at Central Connecticut State next year — and you can put the Essex Tech girls soccer squad down as being happy to see her moving on.
Napoli and the Indians blanked the Hawks in the state tournament for the third straight season Monday, taking this year's Division 4 North semifinal by a 2-0 score at Whittier Tech.
Three-time defending sectional champion Amesbury (13-1-6) extended its unbeaten streak to 10 games and advances to face Cape Ann League rival Manchester Essex in a rematch of last year's final this Sunday at Manning Field in Lynn. Essex Tech (14-8) put 13 shots on frame, including a 7-4 edge in second half, but Napoli and the Indian defense stopped them all.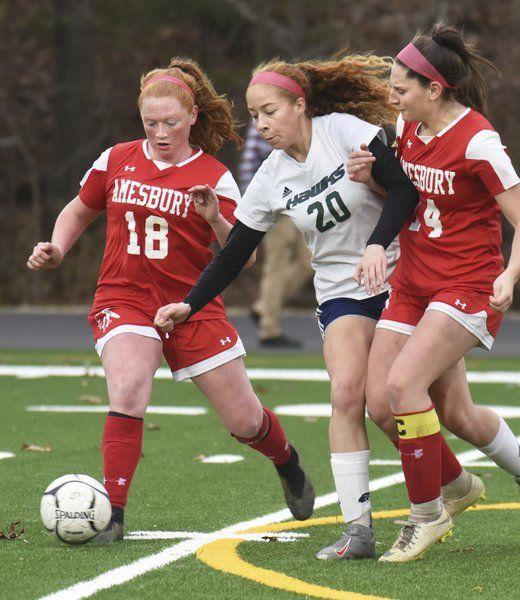 "It's the third time in a row she's shut us out," said Essex Tech coach Kelly Barrio. "We knew Amesbury had a great team. They're very well coached, the goalie is All-Conference and their defense is pretty stingy."
The Indians got both of their goals in the first half. Sophomore McKenna Hallinan was there to finish a mishandled Essex Tech pass across the box, pouncing on the loose ball to give her team a 1-0 lead in the ninth minute of action.
The early marker helped the Indians settle in and gain their footing after Essex Tech had put some pressure on in the middle of the field in the opening moments.
"We haven't played on turf since Columbus Day, and that was evident early. It took us some time to get the feel of it, get up to the speed of the game," said Amesbury coach Adam Thibodeau. "McKenna was in a great position there to punch it in and help us settle down."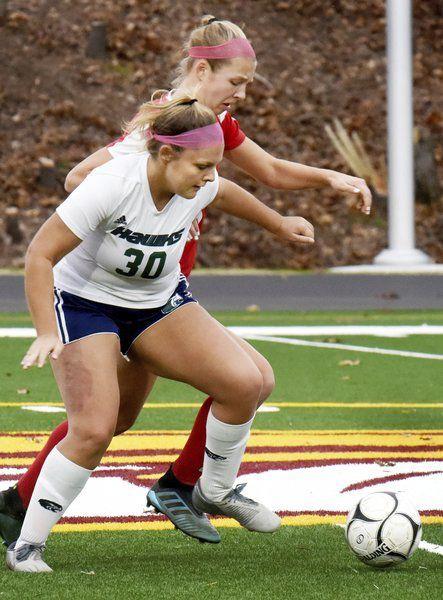 In the 35th minutes, the Indians doubled their lead and wrapped up the day's scoring when a foul in a box drew a penalty kick. Junior Alyssa Pettet buried the chance to give her team a 2-0 lead that with their defensive prowess was insurmountable.
"Alyssa makes a lot of things look easy. She's an incredible athlete," Thibodeau said of the successful PK, typically even tougher to drill in cold weather. "Our defense does a really good job of sniffing out danger early, and they played hard. We're happy to be headed back to the final and hopefully, for us, it's a repeat of last year."
For the Hawks, Hope Miller was in the middle of the majority of the offensive chance. Her ability to confidently carry the ball through midfield and distribute to Emma Bedard and Emily Enes swung momentum in favor of Essex Tech a few times, but the Indians held the fort inside the defensive box.
Senior Caitlynn Burke also had two great chances for the Hawks, one saved by Napoli and the other driven wide of the cage. Senior Caitlin Vinagro played well defensively and senior keeper Liv Cassidy made 10 saves, including two incredible second half stops (denying Pettet and Avery Halliann) that kept her team in striking distance.
"Liv is special. She had a spectacular game and those will be some big shoes for us to fill," Barrio said. "Those three seniors are three of the best seniors I've ever had."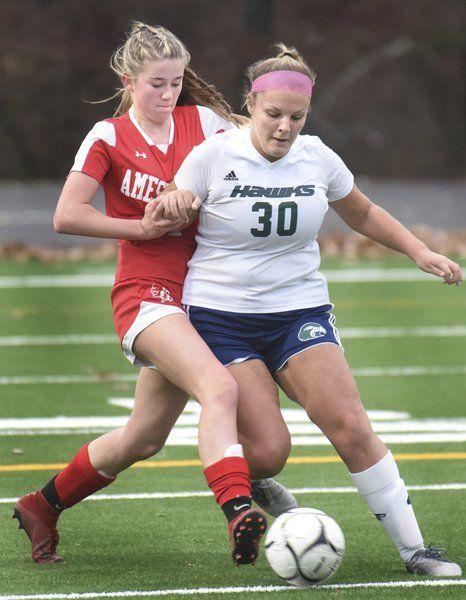 Junior Jackie Nazzaro also had a strong all-around game for the Hawks and took the serving duties on the squad's six corner kick chances. Napoli leaped above the offense to snare three of those and Essex couldn't put the others away.
"I'm really proud of this team. It seemed like there were spurts where we had (Amesbury) on their heels," said Barrio, whose team on the Commonwealth Athletic Conference title and as state vocational runners-up were arguably the best tech school girls soccer team in Eastern Mass this year.
"They had a lot of heart and a lot of courage. They played with confidence. They took everything we'd worked on this season and put together out there. I told them it's a win in my book — they played hard and with class and that's something to be proud of."