MALDEN — Anyone that's seen Marblehead's Jim Rudloff coach a football game up close knows its not always a picnic for the official assigned to his sideline. So when the Association of New England Football Officials honors one of his players, you know it's extremely well deserved.
Senior quarterback and captain Josh Robertson received the ANEFO's President's Award as Player of the Year at Monday's night's annual banquet at the Irish-American Club in Malden.
The award goes to a senior football player that excels on the field and also displays facets of leadership and sportsmanship in the eyes of the region's football officials.
"Josh is the type of kid who looks out for everyone, all his teammates," said Rudloff. "If anyone's having any kind of issue, they know they can always trust Josh and he'll help them out."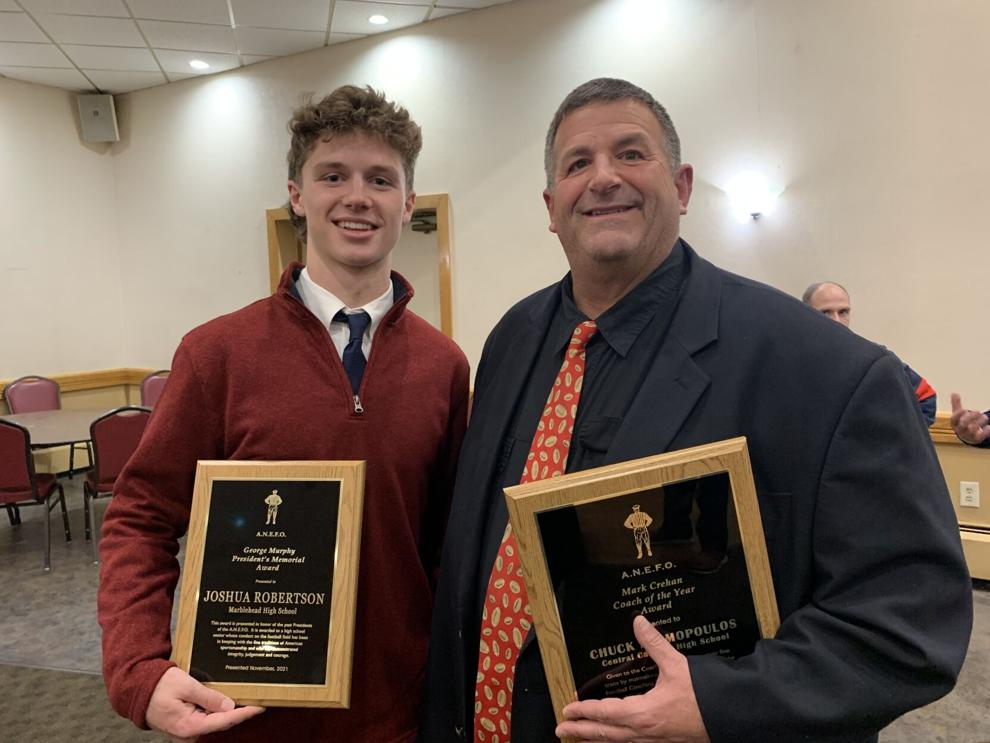 Rudloff pointed out that Robertson is the only player in his 12 seasons at Marblehead to start at quarterback for him for three years. The reigning Northeastern Conference MVP and Salem News Offensive Player of the Year has 4,902 passing yards and 57 passing touchdowns in his career — both Marblehead High career records.
While leading the unbeaten Magicians (10-0) to their third Super Bowl appearance (scheduled for Thursday Dec. 2 against North Attleboro at Gillette Stadium), Robertson has 2,098 passing yards and 26 TDs this year. He's also run for eight scores (14 in his career) while carrying a 3.97 grade point average.
"I want to thank my parents, my coaches and my teammates," said Robertson, whose squad will face fellow unbeaten Swampscott on Thanksgiving Day. "I wouldn't be able to do any of this without them."
The ANEFO represents most of the high school football officials that work North of Boston, with referees from Essex, Middlesex and Suffolk counties spanning almost a dozen leagues including the NEC, Cape Ann League, Middlesex, Merrimack Valley Conference, Commonwealth Conference and more. The organization dates back 102 years to its founding in 1919.
The annual banquet gives crews from around the region the chance to catch up and enjoy each other's company before Thanksgiving. Certificates of longevity went to officials marking anniversary years with some having officiated for 45 seasons.
Central Catholic's Chuck Adamopoulos also received the Mark T. Crehan Coach of the Year Award, joking that he'd never sat next to an official for so long without yelling at him over a call. Adamopoulos, the longtime Raiders' coach, has his team in the Division 1 Super Bowl for the fifth time next week after upending St. John's Prep in the state semifinals.
"This is really a staff award, as you know football coaching is about the staff and not the head coach. I've got a great group of guys that have been with me for a long time," said Adamopoulos, whose staff includes his son, Zak, and many of his former players. "I'm also really grateful to my family for all their support over the years."