Now 40 years old, Shalane Flanagan is two years removed from retiring as a world class runner and having two surgeries performed on her knees.
But the competitive fire to go out and pound the pavement has never left her. So if she can't finish marathons among the world's elite any longer, it doesn't mean she isn't willing to try a highly unorthodox, physically grueling way of challenging herself.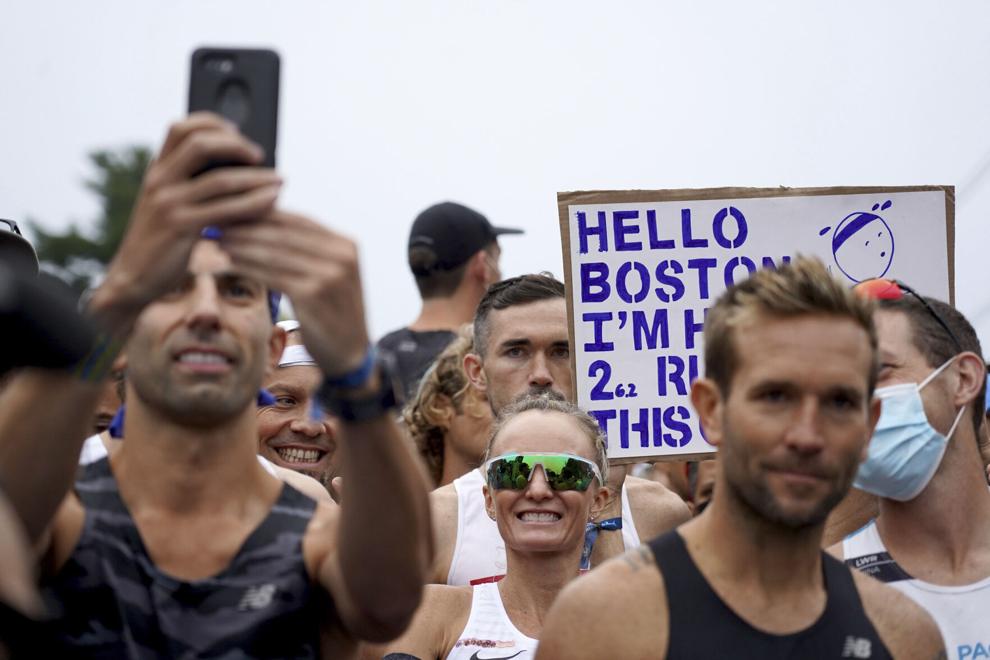 The Marblehead native has made it her mission to run the world's six major marathons within a six-week period of each other this fall — all in a time of under three hours. That's a ridiculous pace for even the most finely tuned runners, let alone someone whose priority jobs are as a mother to a 17-month-old son and a coach for Nike's Bowerman Track Club in her adopted hometown of Portland, Oregon.
Yet there the four-time Olympian was at the starting line in Hopkinton Monday morning, toeing the line and ready to run the Boston Marathon for the fifth time. This came exactly one day after she ran the Chicago Marathon before hopping on a plane to Boston and getting ready to do another 26.2-mile trek within a 28-hour span — what Flanagan referred to as her "monster double".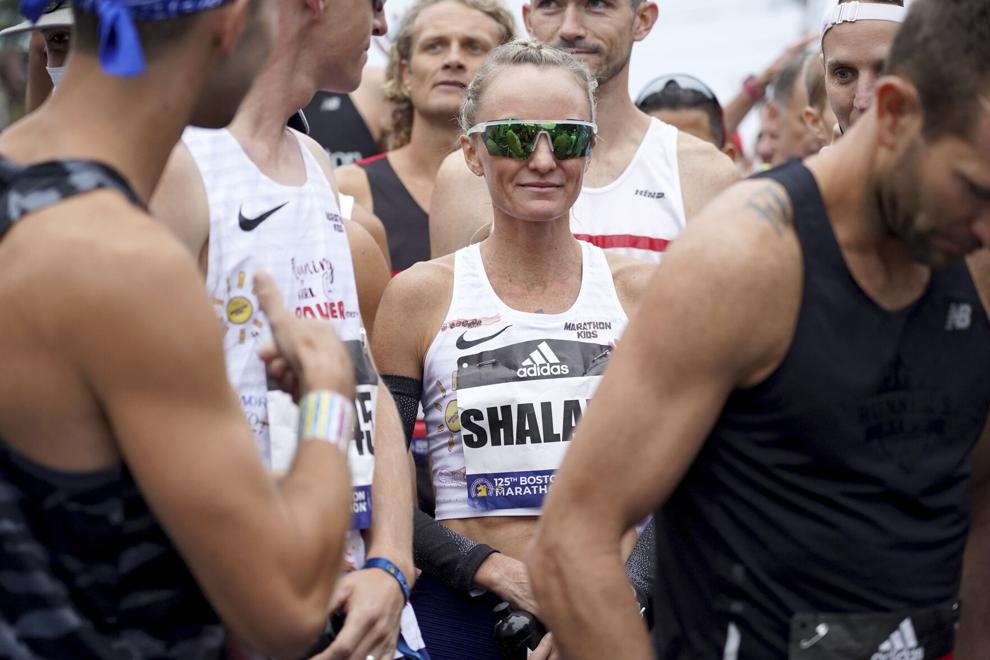 Sporting a tank top designed by the Marathon Kids Run Club in Austin, Texas, Flanagan ("I'm honored to have the extra strength and girl power" she wrote on her Instagram page) tackled Monday's challenge as she has every other provocation she's faced: head on. She crossed the finish line in a time of 2 hours 40 minutes and 34 seconds, good for third place in her age group and 33rd among all female finishers.
Mind you, this came a day after she finished the Chicago Marathon in 2:46:39, then flew almost 1,000 miles to Boston to do it all over again Monday.
Needing to average 6 minutes and 50 seconds to finish in under three hours of a marathon, Flanagan did so easily on Monday, running at a 6:08 pace overall. Her best splits came as she got closer to Bolyston Street, clocking a 5:54 and 5:53 at the 35K and 40K marks, respectively, before turning on the jets and finishing up with a 5:42 last mile.
Flanagan began her quest in Germany, finishing the Berlin Marathon in 2:38 on Sept. 26. One week later, she bettered that time at the London Marathon by finishing in 2:35.04 after first going out with the sub-elite men by accident, going out of the gate too hard and having to, for the first time in her career, having to walk for a stretch of a marathon during the final mile.
Following her two-marathons-in-two-days journey this holiday weekend, that leaves two more of the world's 'Big 6' to complete. Flanagan will run the Tokyo Marathon virtually from her home in Oregon October 17 (with the city still under a state of emergency due to COVID-19, organizers there cancelled any in-person runners) and wrap up with the New York City Marathon on Sunday, Nov. 7 — the race she won in 2017.
Flanagan, whose best Boston finish (4th) was in her first race back in 2013, came up with the idea to run these six races in a 43-day span when three of them were moved from their traditional spring dates to the fall season became of the pandemic.
Prior to Monday's race, Flanagan shared this on her Instagram page:
Today, I am home. Back in the very place that raised me. Back to the streets where I watched my father run the Boston Marathon as a little girl. Back to where running changed my life. I played a lot of sports growing up in Boston, but there was nothing quite like running. I don't know if it was the sense of accomplishment it gave me, or the energy it was surrounded with, or if it was simply cheering on my Dad all those Monday's in April….but what I do know, is that running gave me a future.