DANVERS — What do you do when you're playing the role of David and trying to take down Goliath — in his own backyard, on an 86-degree day, no less?
Peabody High boys lacrosse coach Leo Shidler was more than happy to give an honest answer Sunday afternoon.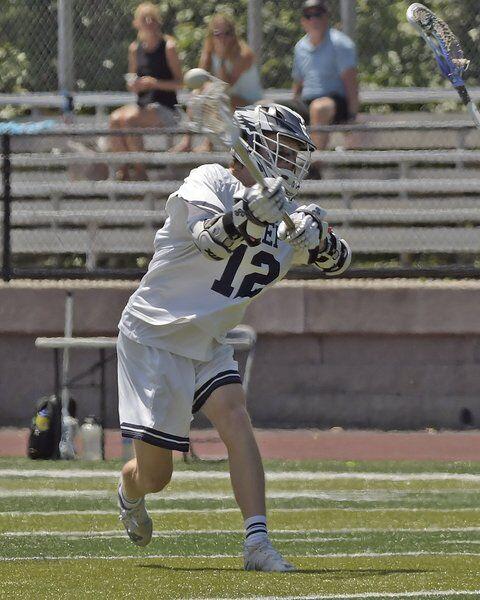 "They're a wagon, just unbelievable," Shidler said of St. John's Prep, which took down his Tanners, 18-6, at Glatz Field in a Father's Day Division 1 North quarterfinal playoff tilt. "We could play these guys 100 times and if we were close once, that'd be something. They're just so talented, so well coached ... it's a hell of a program."
Fresh off of a first round victory over Westford Academy (11-9) two days prior, Shidler and his team knew they'd have their hands full and then some against one of the state's top programs. When St. John's Prep shot out to a 6-1 lead after one quarter and it swelled to 11-1 at halftime, the end result was predictable.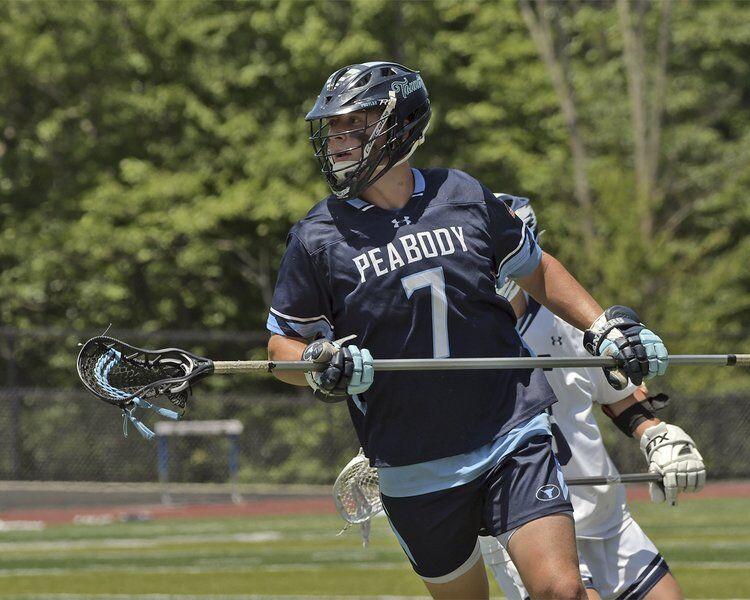 "Friday's game was more indicative of our talent level and the kind of team we match up well with," said Shidler, whose squad ended its season with a fine 12-4 mark. "But there's only so much game planning you can do against a team of St. John's Prep's caliber, one that could be the Division 1 state champs in two weeks. 
"I'm happy with our performance; the guys came out and battled the entire 48 minutes," he added. "It is what it is."
Third-seeded St. John's Prep (14-1) emptied its bench early and 14 different players had goal with 19 earning at least one point. The only multi-goal scorers were sophomore attack Jimmy Ayers (2 goals, 2 assists), junior attack Tommy Sarni (2 goals, assist), reserve Jake Vana (first two varsity goals and an assist), and senior middie and captain Pat Atkins (2 goals).
In addition, three goalies — Kaden Quirk with 3 saves on 4 shots, Teddy Cullinane with one save, and Gavin Kornitsky stopping both shots he saw — got in and four different faceoff men (Graham Tyson, Owen Umansky, Chris Esposito and Jack Doherty) combined to win a remarkable 26-of-29 draws.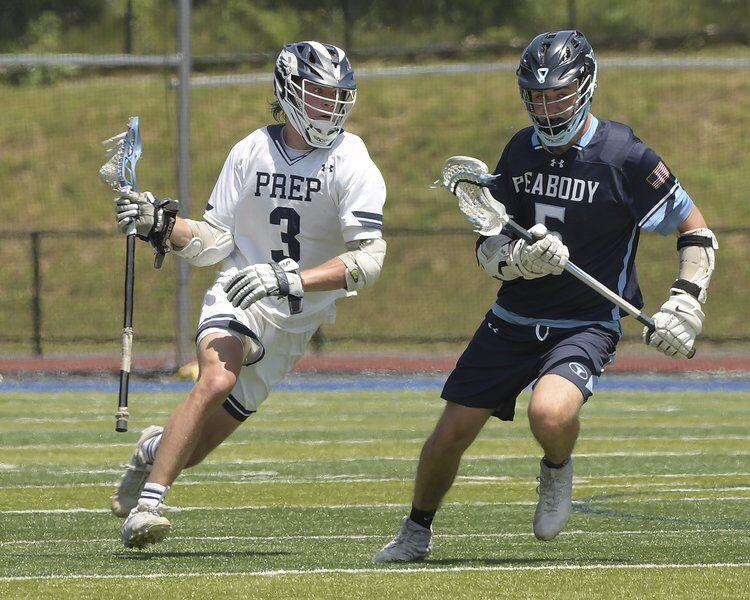 "We didn't want to change the way we prepare; for us, it was trying to be consistent in what we do," said Eagles' head coach John Pynchon, whose team will again be a heavy favorite in Wednesday's semifinals when they face the winner of Monday's Medford/North Andover game. A North Andover (10-3) victory will mean they'll play Wednesday (5 p.m.) at Glatz Field; a triumph by the second seeded Mustangs (7-0) means the game will take place in Medford.
"We talked the last two days about managing ourselves and putting ourselves in a position to perform, and I thought we did that. Up and down the bench, guys were ready to go when called upon and made plays."
Two second string defensive middies, Zack Raposa and Pierce Blaeser, were emblematic of the Eagles' team success Sunday. Known more for their hockey exploits, they showed just how talented they can be on the lacrosse field, too, with Raposa scoring a goal and Blaeser making plays all over the place.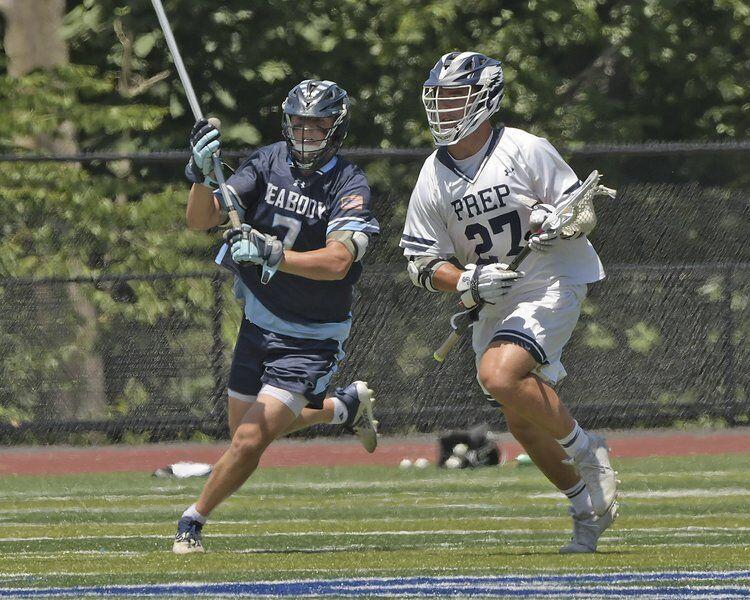 "They're behind (starters) Drew Fietze and Grady McGowan now, but both Zack and Pierce are going to be fantastic next year," said Pynchon. "Nate Jones, Matt Morrow, Jimmy Ellard (who had a goal) ... guys we haven't had to rely a whole lot on yet, we're really seeing what they're going to be like in the future and the skill level that they have."
Sophomore attack Harlan Graber finished with a goal and an assist for the winners, with Charlie Wilmot, Lucas Verrier, Luke Surette, Andrew Klein, Keigen Delisle, Noah Brown and captain Michael Kelly also providing goals. The tallies were the first of their careers for Klein, Delisle and Brown. Assists came from Tyee Ambrosh (3), captain Michael Ayers (2), Matt Morrow, Nate Jones and Will Sawyer (his first varsity point).
Peabody saw seniors Anthony Bettencourt (2 goals, assist) and captains Drew Lucas (goal, assist) and Keenan Madden (goal) all score. Freshman Matt Bettencourt also had two goals (with his older brother assisting on the second), and Cam Collins had an assist. Derek Patturelli stopped nine shots.
"Leo does a great job over there," Pynchon said of his coaching counterpart, "and they had a terrific season. I know they had some tough injuries they had to battle through, especially with Jack (Houlden, a senior captain, attackman and the squad's top scorer) seven games into the season, but they never stopped battling. And Lucas, he's as physical and good as any player we've seen this season."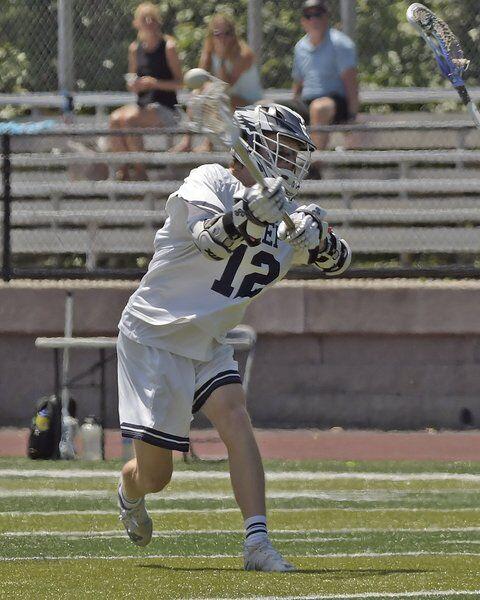 Shidler said players ranging from freshman Johnny Lucas and Matt Bettencourt to defenders like Scott Turner and Trot Smith to seniors such as Tristan Ell and Madden all stepped up over the last 4-5 weeks to help combat the absence of Houlden (who had 43 points in 7 games prior to his injury).
"And our senior class, they're completely responsible for turning this program around," said Shidler. "When we came here three years ago, they were the guys that changed everything from the way things were. Jack, Drew, that crew have instilled what it means to be accountable and wanting to win ... and being upset when you don't. Even this game, although the outcome was something most people might've figured, it still hurts these guys ... and that's all we as coaches can ask for.
"We'll be rooting for St. John's Prep now," added Shidler. "We'd like to see them take the whole thing."