BEVERLY -- It was the fourth and final event over a two-night celebration for the City of Beverly, and the members of the Beverly High football team were not going to see it end on a sour note.
Playing a rare home game at night under temporary lights, the Panthers got a 4-yard touchdown run from senior wingback Andre Sullivan with six minutes to play Friday night and pulled out a 12-7 victory over rival Danvers before several thousands of fans who surrounded the turf at Frank Forti Field.
Senior captain Jordan Irvine (135) and Sullivan (101) both rushed for over 100 yards on the night as the Panthers wore down the visiting Falcons in the second half. That was particularly true in the fourth quarter when they went on a 14-play, 87-yard drive that led to Sullivan's game-winning score.
"Playing a night game at home and winning the way we did, that was crazy," said Sullivan. "The fan squad that came out, they're the best. We could hear them over the generators and everything. They're the best."
"It felt like the whole city came out tonight for us," added Irvine. "We appreciate it so much. It got us so fired up."
Large student sections from both schools were on hand surrounding the fence in the far end zone and could be heard over the hum of the diesel-powered lights brought in for the occasion (two BHS soccer games Thursday, plus a field hockey game on the turf preceding Friday's football contest). Hundreds of fans also sat on the hill adjacent to Herrick Street to get a big picture view of the action on the field, while hundreds of others lined the outside of the track surrounding the turf. 
"I'm sure the fans were going nuts," said Beverly (3-2) first-year head coach Jeff Hutton. "I looked over one time and there were flashing lights and it looked like we were at a Grateful Dead concert, or Guns 'N' Roses were playing "Patience."
"There's nothing like Friday night football for kids, especially on their own campus."
Coming off of a last-minute, one-point loss at Masconomet the previous week, Hutton said that his squad -- one that's still building and trying to find its identity -- was faced with a crossroads in this one. Could they, after allowing Danvers to take the lead (7-6) in the second half, find a way to rebound, or would they suffer another heart wrenching defeat?
Naturally, he was pleased with what the eventual answer turned out to be.
"For our guys to come out and play as inspired as they did, on a special night in a great atmosphere, was huge for them," said Hutton. "Especially after having our guts ripped out the week before, they learned from that loss, learned they can take another team's heaviest punch and come back with one of their own. They showed all of that and more in this one tonight."
It was just the second setback in five games this season for Danvers (3-2), which hurt itself with three turnovers. 
Down by six at halftime after Beverly High quarterback Pierce Heim called his own number and scored from three yards out with 2:47 to go before the break, the visiting Falcons took the second half kickoff and went 58 yards to paydirt in just seven plays. The big play was a 33-yard pass from quarterback Travis Voisine to big tight end Aris Xerras, taking it down to the BHS 4-yard line. Three plays later, sophomore Owen Gasinowski (83 yards on nine carries) scored from a yard out, and Aidan Smith's extra point gave his team the lead.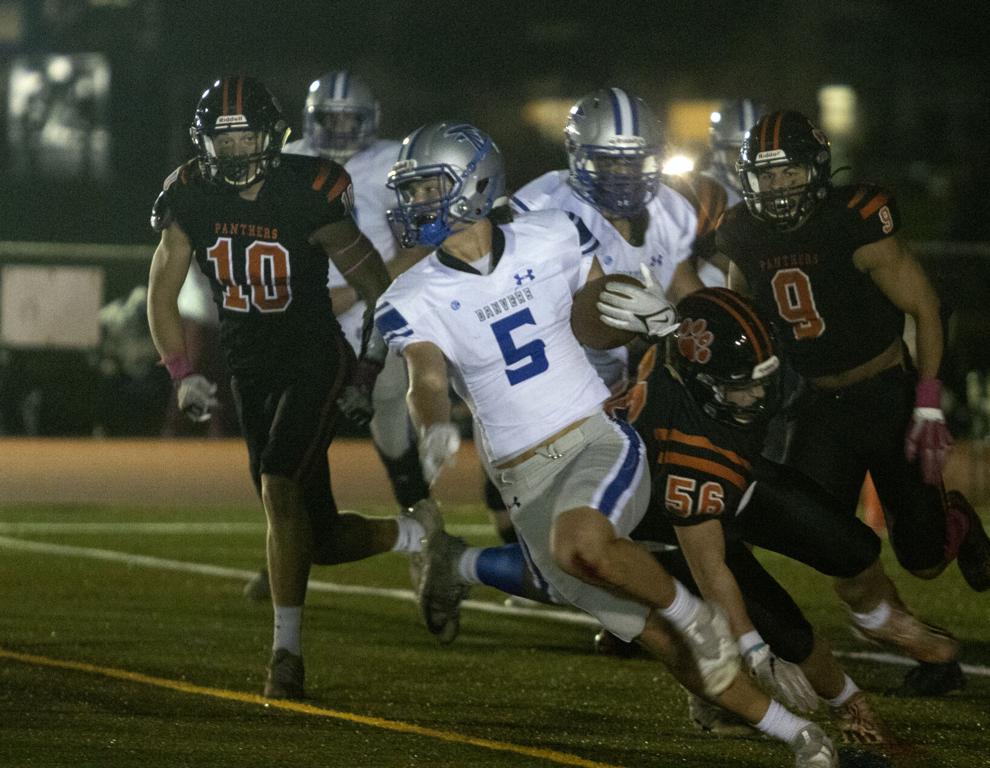 But the Blue-and-White weren't able to hold onto that advantage and ran only 12 offensive plays after scoring their only touchdown, including just seven in the decisive fourth quarter.
"On the perimeter we didn't tackle the way we wanted to," said Danvers head coach Ryan Nolan. "I'm not really sure where the breakdowns occurred; what happened I think was we'd get hit with one thing, then some of the guys started to overcompensate ... it almost became like option football.
"Our guys played hard. We were just a few plays away," he added. "But give Beverly credit; I thought we'd be able to force them into throwing the ball a bit more but that didn't happen. Their backs not only ran well but also blocked really well. We went through a lot of (defensive) fronts and showed everything we had a lot earlier than usual, but they adjusted to it. All the credit to them."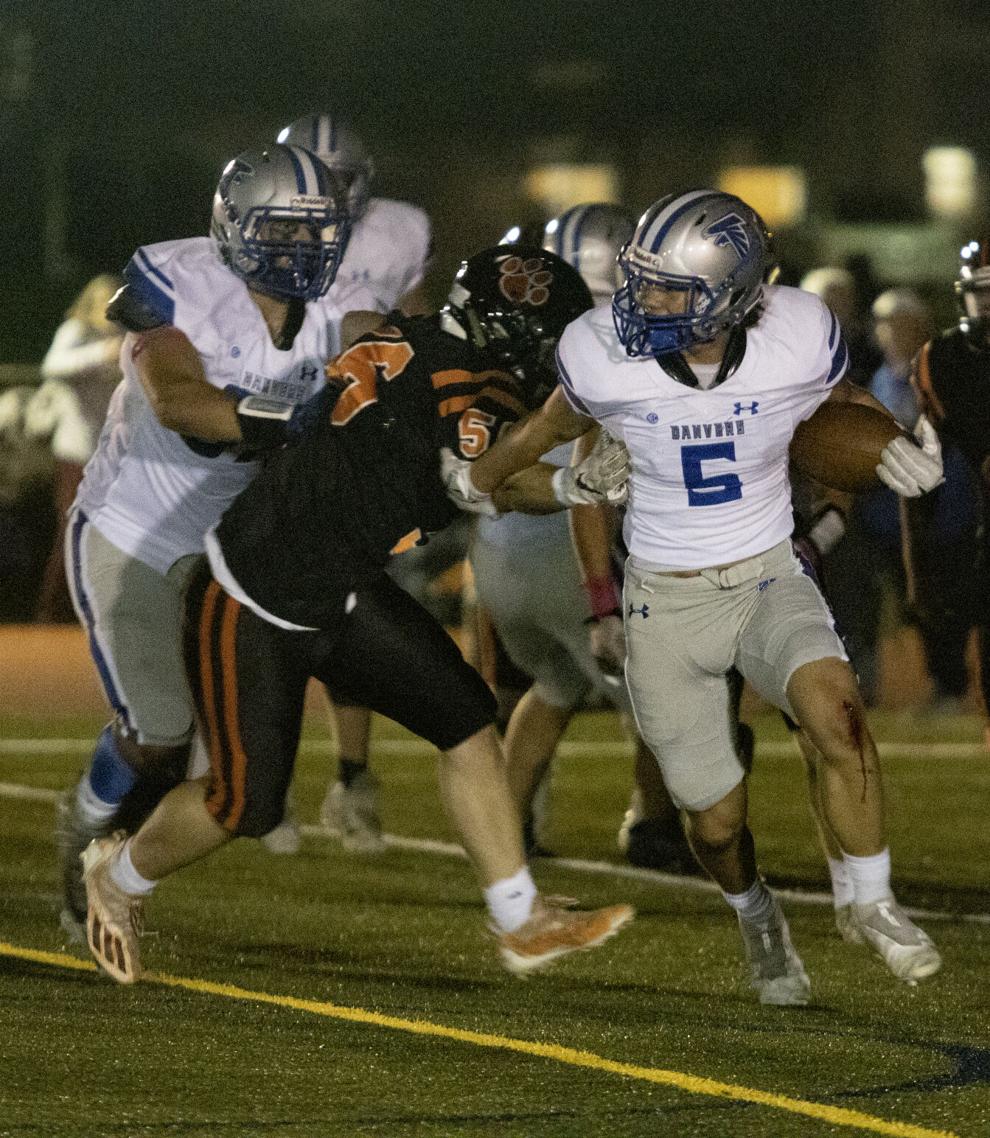 On Beverly's game-winning march, Irvine had 35 yards on seven carries while Sullivan had 44 yards on five carries, including a 27-yarder that took the ball down to the Danvers' 19. On the drive's final play, he made something out of what could have been nothing, turning a jet sweep up inside for six points.
"Danvers did a nice job adjusting to our unbalanced formation," said Hutton, "so Andre showed what an athlete he is by planting (his foot) and finding an inside seam on a play that's designed to go to the pylon."
While Irvine and Sullivan naturally shared the spotlight because of their ball carrying prowess (the duo averaged almost 7.4 yards per carry), it was the guys up front -- tackles Aidan Quealy and Alson Pashaj, captains Grant Eastin and Rob Lyons at guard, center Paul Belmonte and unheralded blocking ace Zack Sparkman at tight end -- who deserved just as much credit for the Panthers' offensive success. The Orange-and-Black were able to use their bread-and-butter plays (buck sweep, traps, belly, power, etc.) over and over because the guys up front made it work.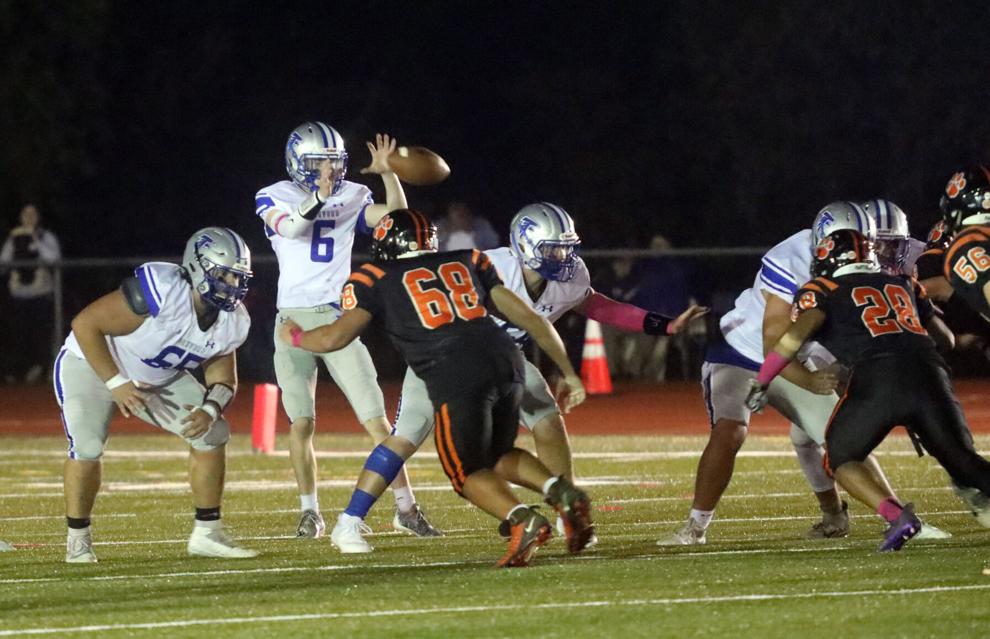 "The holes were there created by those guys; all we did was run through them," said Irvine.
Danvers appeared to be driving for a score on its opening series after Gasinowski ripped off a 25-yard run down to the Panthers' 20-yard line. But a fumble at the very end of the play, in which Beverly's Jerry DeJesus punched the ball loose, resulted in a turnover. In addition, Irvine had a pair of interceptions for the home squad.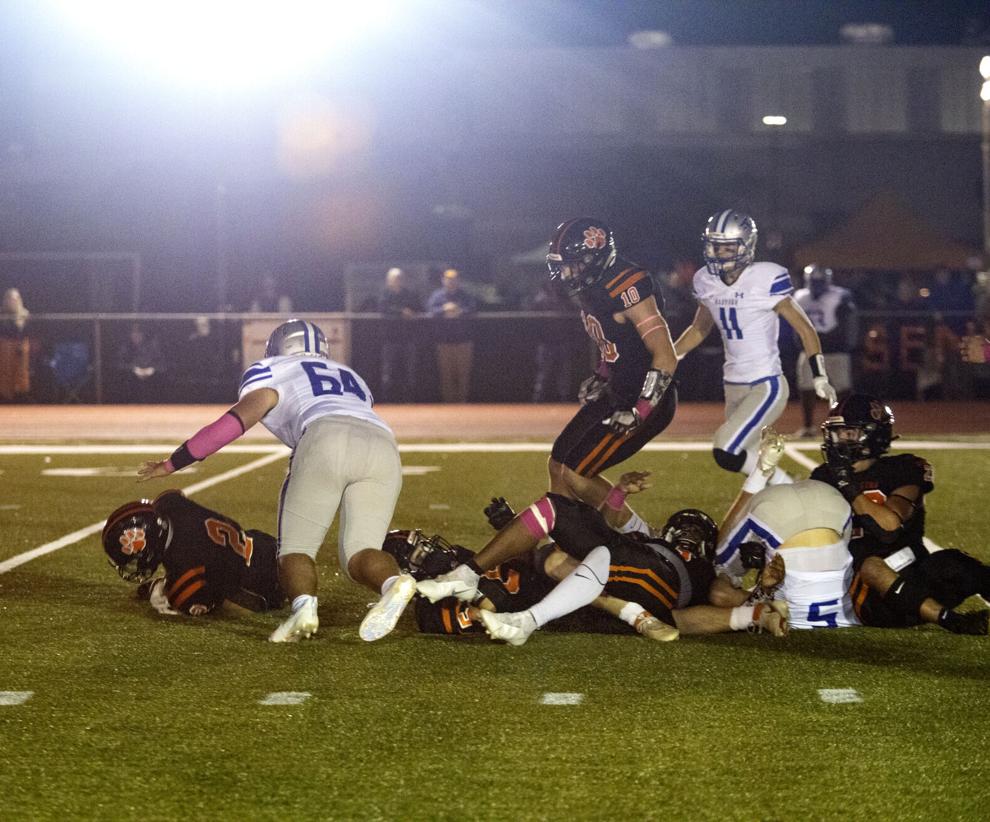 Danvers will look to regroup next Friday night against an unbeaten Swampscott (5-0) team on the road. 
"We'll get better from this game," said Nolan, whose team got another excellent game from outside linebacker and fullback Steve Reardon. "We'll watch the film, see what we can fix and go about doing that before we play another excellent team. I'm glad we've got Columbus Day (off from school) to work a little more with the boys, too."
Next up for Beverly is unbeaten Marblehead, which scored 26 unanswered points Friday night to rally and defeat Masconomet, 33-21. This will be the 90th meeting between the two schools, played next Saturday at Hurd Stadium in a rare 10 a.m. start.
While the Panthers lead the overall series (47-38-4) they've lost their last eight games to the Magicians.
"We have to have a perfect week to beat them," said Sullivan.
"They're the best athletes with the best coaches and the best quarterback (Josh Robertson) we'll probably see all season," added Hutton. "It's not like anything we do is going to surprise them; their coaching staff has seen it all. We just need to play with confidence, try to play a little ball control, and see what happens from there."
---
Beverly 12, Danvers 7
at Frank Forti Field, Beverly
Danvers (3-2);0;0;7;0;7
Beverly (3-2);0;6;0;6;12
Scoring summary
B-Pierce Heim 3 run (kick blocked)
D-Owen Gasinowski 1 run (Aidan Smith kick)
B-Andre Sullivan 4 run (rush failed)
Individual Statistics
RUSHING: Danvers — Owen Gasinowski 9-83, Steve Reardon 10-44, Colin Kelter 6-24, Dominic Baez 1-7, Travis Voisine 1-0; Beverly — Jordan Irvine 21-135, Andre Sullivan 11-101, Manny Hernandez 3-8, Gabe Copeland 4-5, Pierce Heim 2-3. 
PASSING: Danvers — Voisine 2-6-34-0-2;  Beverly — Heim 4-9-35-0-0.
RECEIVING: Danvers — Aris Xerras 1-33, O. Gasinowski 1-1;  Beverly — Zack Sparkman 1-22, Sullivan 3-13.