Greg Fonzi will soon be taking his two sons to Vittorio Veneto in the northeast portion of Italy so that they may be become better acquainted with their family lineage.
Before Fonzi crosses the Atlantic Ocean, though, he received a gift better than any trinket he's liable to pick up in the old country.
The 53-year-old Fonzi was officially named the new boys varsity hockey coach at Beverly High School Thursday. He takes over the program from Justin Shairs, who stepped down last month after four years in charge.
This will be the first head coaching job for the Ipswich resident, who has served as an assistant coach for the past 20 years under Vin Mirasolo, with a dozen of those at Lynnfield High and the last eight in Melrose.
"I'm very thankful for this opportunity," said Fonzi, an Everett native and a 1983 Matignon graduate who won a pair of state titles as a goaltender with the Warriors. "I liked being an assistant when my boys were playing, because I could make time for both coaching and watching them play. But my youngest just finished his final high school season (playing for the Rockport cooperative program), and when this opportunity came up he said, 'Dad, you have them time to do this now.'"
Fonzi bested a field of candidates that included several former head coaches on the North Shore. The search committee that interviewed the candidates found him to be open and honest and with a clear vision of both the program's short and long-term future.
"The committee was really impressed with Greg," said Beverly High athletic director Dan Keefe. "He has the coaching experience and background and has worked with Vinnie for so long. Everyone we spoke with said Greg's connection to the players and making relationships were excellent, and clearly he has a love for coaching the game at this level."
A Northeast Regional Sales Manager for Taylor Adhesives, Fonzi was a water boy for legendary coach Marty Pierce's teams at Matignon (where his father, Riccardo, was the athletic director) growing up before deciding to attend school there. He played on the junior varsity before making the big club as a junior, helping them win the last two of their five straight Division 1 state titles.
He got into coaching in his early 20s with Don Concannon at Everett High before landing with Mirasolo about 10 years later. 
"Vin and I are like brothers; we're inseparable," said Fonzi. "When I told him I'd like to try and (go for the Beverly job), he said 'I'll back you 100 percent.' 
"I learned so much from watching him over the years," Fonzi added. "He could go toe-to-toe with anyone as far as X's and O's, but he really excelled at getting the pulse of his teams. And loyalty was a big, big thing with our staff; it's why we almost never lost any of the coaches year to year. That's because he leaned on his assistants a lot, which made it fun to be there. That input was important; the staff was truly a staff. He, as the head coach, always made the final decision -- as I will -- but we were an extra set of eyes and always had his back. I'll miss that."
Well aware that his new team is just five seasons removed from winning the Division 2 state title, Fonzi believes the key to Panthers' success starts with working in their own end of the ice. He wants to cut down dramatically on the 75 goals the Orange-and-Black gave up this past season while producing more than the 46 they scored.
"We need to start from the defensive end out, and that's hard work," said Fonzi. "I don't know any team that, if you play strong in your own end, you can't compete right away. It's about hard work, outworking our opponents, and defensive zone coverage. That leads to offense.
"It may never be pretty, but if we do it the right way it'll be effective."
The Panthers graduated just four seniors off a team that went 4-15-1 last season. Among those players coming back are leading scorer Andrew inseparable, who will captain the team for a second time this coming winter; other forwards such as Cole Johnson, Austin Bernard, Drew Bernfeld, Bobby Hunter, Max Murphy, Danny Morency and Matt Mezza; and defenseman Jaxon Thomas, Brayden Clark, Shane Cassidy, Owen Desmond and Finn Crocker.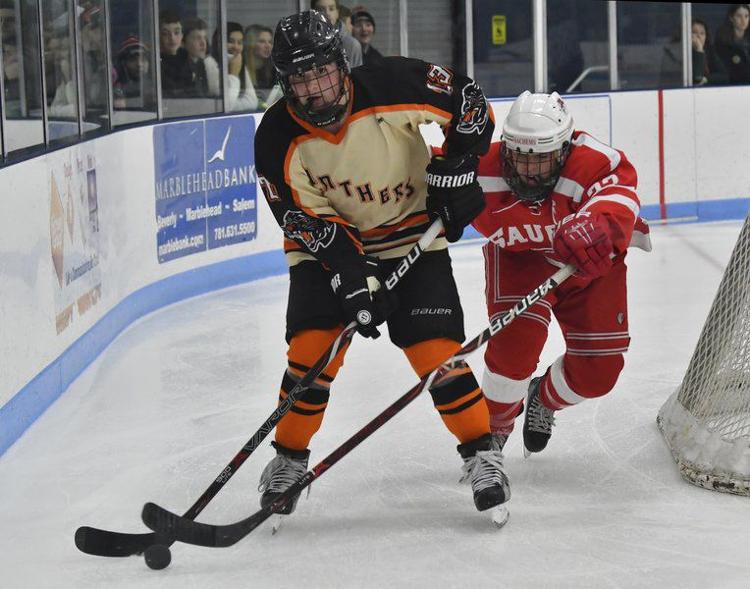 "I hear we have two goalies (Jack ten Hope and Jack Feuerbach) coming back, he added, "and I love working with goalies and helping to simplify their game."
Fonzi also expects his team to "respect the game itself", which means not only playing the right way, but also acting properly as it applies to other teams, their coaches and the officials.
"We'll be up front and transparent so everyone knows where they stands before it all starts ... and that isn't a negative thing," said Fonzi. 'It's just 'This is how it has to be done for us to be successful.' That's what we all want."