BEVERLY — Not every school in the Northeastern Conference is able to host cross country meets this fall, for a variety of reasons. But that's only made the Panthers of Beverly High more grateful to the hit trails at the J.C Phillips Estates and nature preserve.
The hilly and woodsy 2.95-mile layout across the street from Beverly Airport served up some home cooking for Beverly's boys and girls cross country squads Wednesday afternoon, where both sides remained unbeaten by toppling Salem.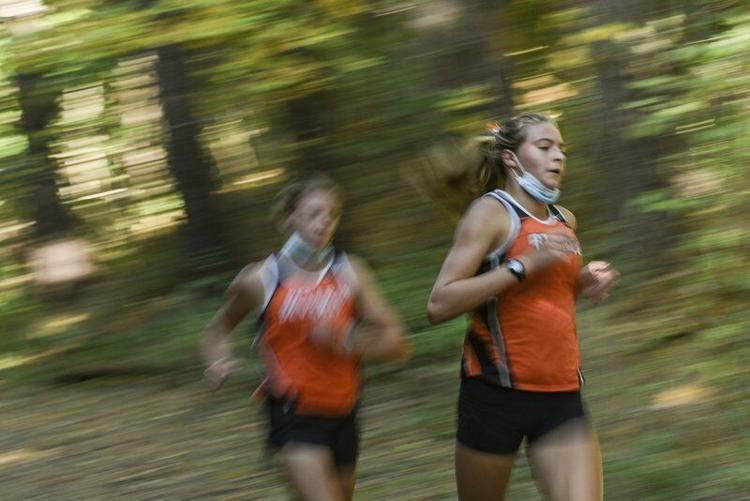 "I feel pretty fortunate knowing I have these last chances to run on our course and try and beat my old times from last year," said Panther senior Heidi Eberhardt, the girls' race winner in 20:08.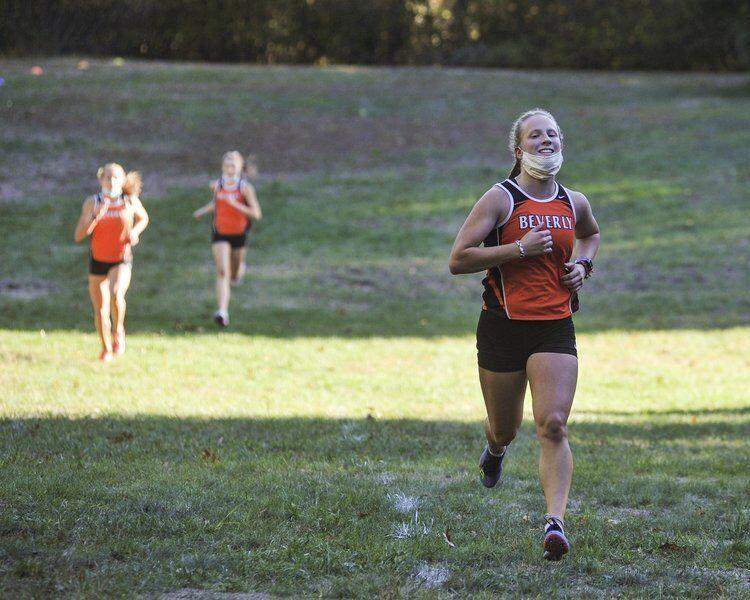 Beverly's ladies had the first dozen or more runners across the tape in a 15-50 win that was always assured, since visiting Salem only has two girls on its team. It was a solid showing for the Panthers' top five, who all finishing within a minute of each other: Olivia Young was second in 20:10 followed by Mia Kasperowicz in 20:13, Emily Young in 20:54 and Hannah McCarthy in 20:59.
Freshman Tilda Rieder was Salem's top finisher.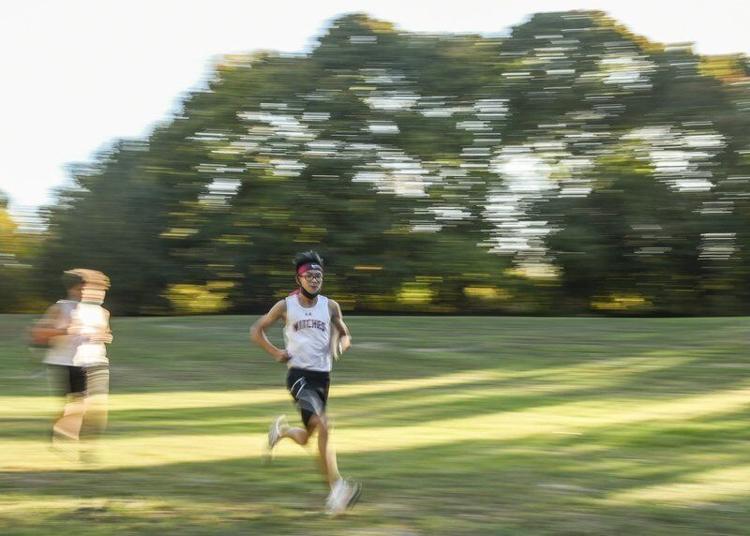 "We had seven personal bests overall and that's always great to see," said long time Beverly High girls coach Dave Jellerson, whose team has four seniors in Eberhardt, Kylie McCarthy, Grace Carella and Mackenzie Gilligan. "The girls ran hard on a tough day, so we're very pleased with the meet."
The boys race had a little bit more drama, with Salem's Joey Wong fighting his way through a pack of several Beverly runners. Ultimately, Panther senior Kevin Kelsey pulled away for a winning time of 17:52 to set the table for a 20-41 team win.
"Anytime we practice or we have a meet, it's a blessing," said Beverly boys head coach Sean Dunleavy. "We're all just glad we have the chance to get out and compete this fall."
Wong showed off a strong kick to outpace a couple of Beverly runners for a second place time of 17:59. Max Fitch was next for the Witches with an 18:26 to place sixth overall, and Jamont Hightower turned in a quality time of 20:27 for ninth place.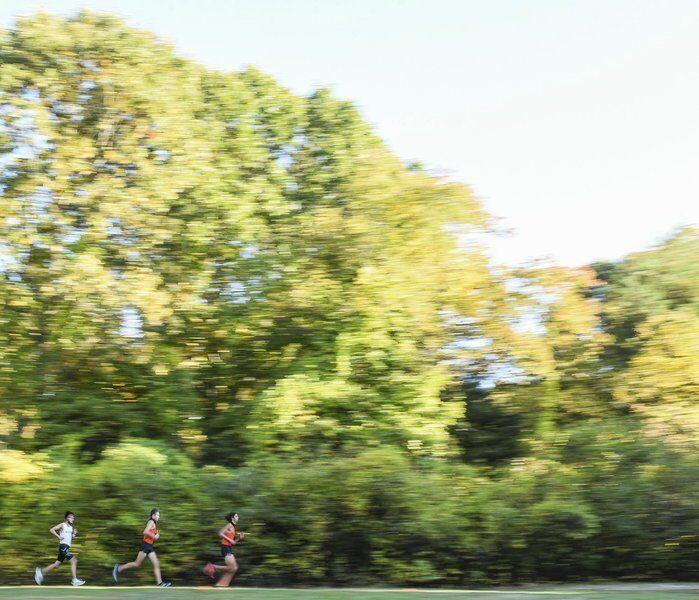 "This was a big race for Joey and he ran really well," said Salem assistant coach Cayleigh Solano, whose team was on a bit of short rest after having a dual meet last Saturday. "Everybody's a little tired, but they pushed through and had some great times. This year especially, it's all about the clock and trying to improve those times."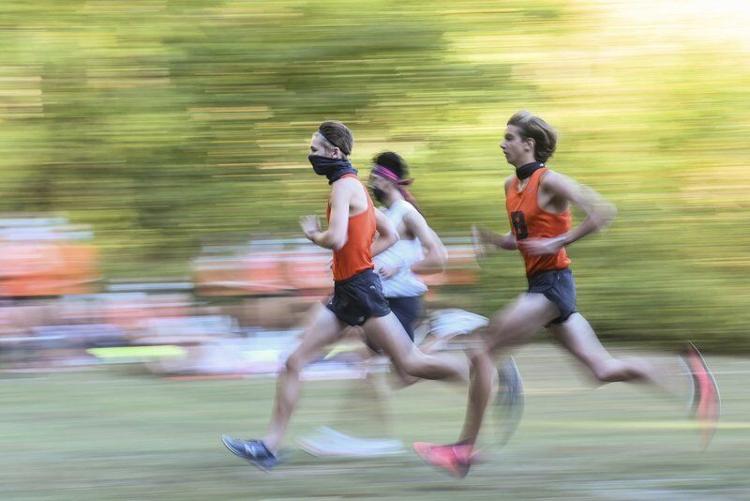 Jackson Clark was third overall and second for Beverly at 18:03, followed by fellow senior Brennan Frost in 18:09. David DiPietro clocked in at 18:10, Damien Bogrett followed at 18:45 and Drew Fessenden was next with an 18:58.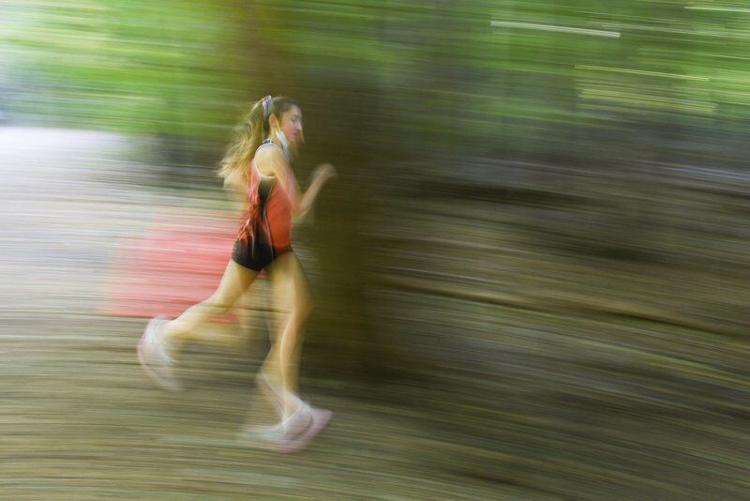 Both Beverly's squads have found their rhythm in the comforts of home. Next week's meets against Marblehead have big Northeastern Conference implications, so knowing the ins-and-outs of the home layout can't hurt.
"I like that it's a familiar place. We practice here at least once a week," said Eberhardt. "We know when to kick, when we need to work ... the other courses, even if I've run them before, it's been at least a year so it gets fuzzy. Here, I always know what's going on."
Neither the Panthers boys or girls are opting to send any runners to this weekend's Mass. State Track Coaches Association Invitational, being held with individual entries at Highland Park in Attleboro. The big meet with Marblehead means that a hard weekend race doesn't fit time-wise, but they haven't ruled out going to Invitational meets later in the season if this MSTCA event goes off without a hitch.
"This year had to be all about the times since we probably won't get the big meets. We don't get a chance to improve on what we did in last year's Division 2 state meet," said Eberhardt. "We're glad we're out here. Our big goals are just trying to win the conference and do as well as we can."