ANDOVER — The high school football season is played between early September and, for those teams fortunate enough to play for a state title, into early December. But those dedicated to the gridiron understand the sport has no true offseason.
Beverly, Danvers, Bishop Fenwick and Hamilton-Wenham were four of the 30 teams that took part in Saturday's Northeast 7v7 football tournament at Greater Lawrence Tech High School. The tournament, one in which teams hone their offensive skills and develop quarterback-to-receiver relationships in the offseason, is one of several played by North Shore teams this summer. Shorts and shells are worn by the teams, and head coaches are not permitted to guide their teams.
Of the local squads, Beverly produced the best showing. The Panthers went 4-2 overall, winning four straight at one point before fallinf to the defending champions fom Buckingham, Browne & Nichols in the playoff quarterfinals.
Two-time Salem News all-star and rising senior Duncan Moreland was one of the Saturday standouts for the Panthers, snaring four touchdown receptions in wins against Braintree (20-6), Lowell (18-13), Lynn Tech (14-12) and a first-round playoff victory against Milton. 
"It felt great being out there with the team again," said Moreland, who tallied seven touchdowns last season with Beverly High. "This was our second time competing in a tournament like this and we showed we that we can play with the best teams out there." 
Despite playing without pads or helmets, the conditions were sweltering enough to drag down even the most passionate football fans. But according to Moreland, it's something his team, and every other, must find a way to deal with.
"It definitely makes us stronger," said Moreland. "It gives us a feel for what it would be like playing in the fourth quarter of a game where we're tired but it's all on the line."
Rising junior and starting quarterback Anthony Pasquarosa looked exceptional for the Panthers in flinging the pigskin to different receivers like Moreland, Jordan Irvine, Marje Mulumba and Jaichaun Jones to name a few. 
"He's been working hard all summer like the rest of us and is improving each day," said Moreland on his talented signal caller. "We have the chance to be a dual-threat team with our running game, too. It's going to be tough to defend us if we have everything working at once."
BIshop Fenwick, Danvers and Hamilton-Wenham all face similar challenges heading into the 2019 season: replacing tough, vetted and talented signal callers. Cory Bright, Brendan Treacy and Billy Whelan from the Crusaders, Falcons and Generals, respectively, have all graduated, leaving their three squads to find suitable replacements. 
"We can't ignore the fact we lost a great senior class, including our starting quarterback for the last couple of seasons," said rising Hamilton-Wenham senior Ian Coffey, a former running back who is set to open the year as the Generals' starting QB. "But it will just serve as a challenge to see who steps up to fill those roles. That's why these tournaments are so key."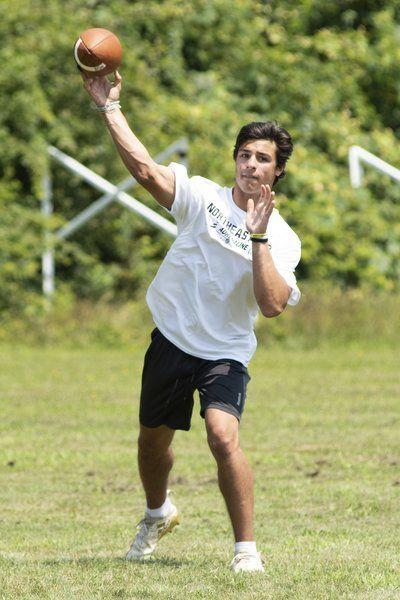 The Generals' 'head coach' for the tournament, Jackson Latimer, has been impressed with Coffey for quite some time. 
"Losing Billy (Whelan) is big," said Latimer, "but Ian Coffey has filled that role of QB and has done a tremendous job this summer. He's developed good chemistry with receivers Colby Cala, Tristan McCarthy, Ryan Monahan and Henry Brunelle, and he backed that up with his play during this weekend's tournament."
"Being all around the offense is definitely advantage," added Coffey who tossed 11 touchdowns during his squad's 2-2 showing Saturday. "I've played a lot different positions, so I know the playbook well and the transition has been going very well so far." 
Bishop Fenwick sophomore Jason Romans and junior Chrys Wilson both saw time under center last fall and split time at quarterback Saturday afternoon. Despite going 1-3 on the day, with its win over Burlington (21-6), rising senior tailback David Cifuentes liked what he saw from his two potential starters.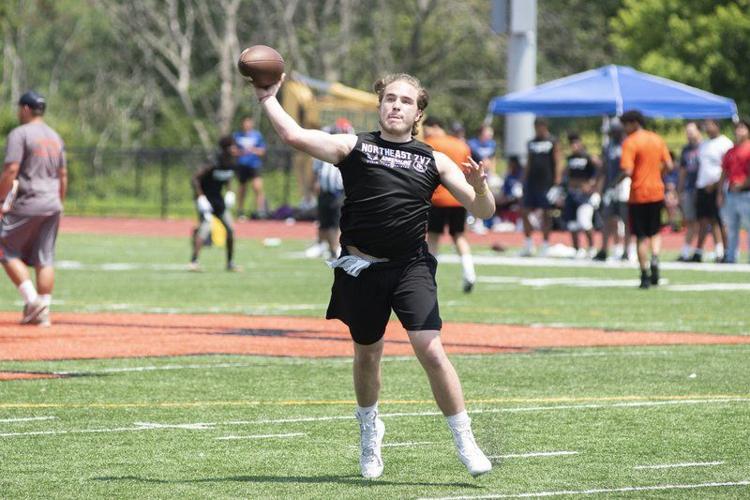 "We want to be able to work as a team this season and trust each other on the field," said Cifuentes. "Jason and Chris have looked really good all summer ... it's going to be fun playing for whoever ends up under center this fall."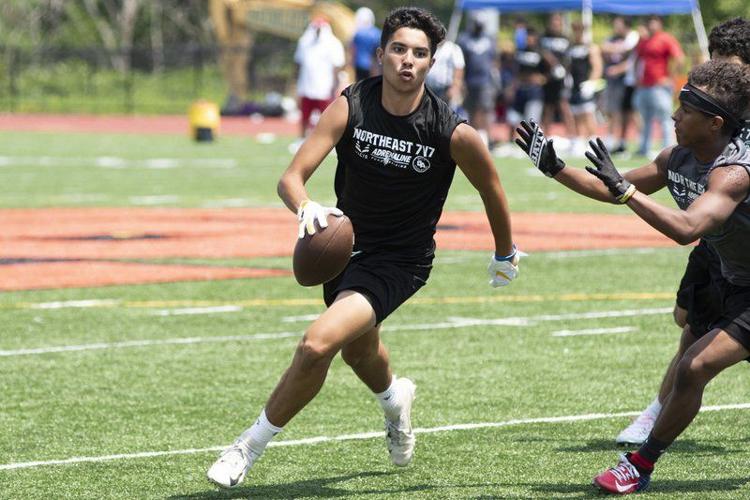 While Danvers also went 1-3, it was able to give plenty of looks to senior QB Ezra Lombardi and junior signal caller Darren McDermott. According to center Tom Walfield, the Falcons figure to be more of a defensive-oreinted squad this fall, but giving the two hopeful starters reps under center has been extremely helpful. 
"They've both looked really good making great throws and showing off their arm strength," said Walfield. "But we won't be able to determine who the starter will be probably until we get closer to the season ... there's a very good chance we could use both of them." 
Danvers junior Jackie Strangie also believes using a two-quarterback system is a possibility for his team. He believes it could make the Falcons harder to prepare for come autumn.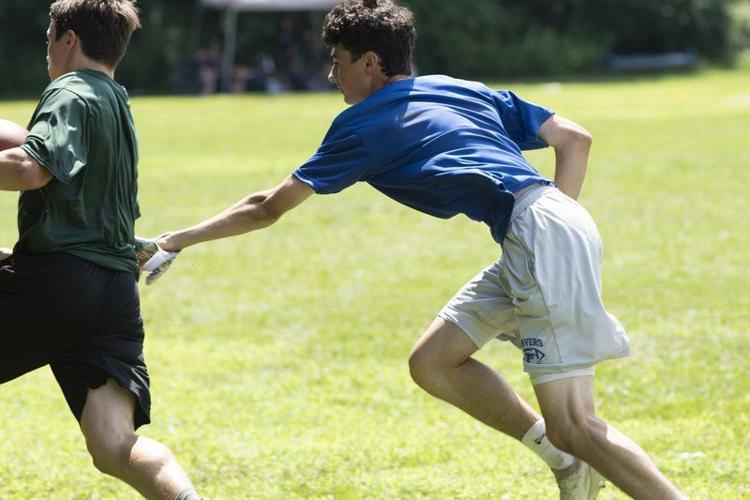 "Game planning would be extremely difficult with a double QB threat," said Strangie. "They both can also play wide receiver and run the ball as well, so it gives us a whole different element which could help us greatly."  
Since the game is becoming increasingly quicker, Walfield noted that being able to keep up with shifty receivers while also understanding coverage assignments is a balance learned during these 7-on-7 tournaments.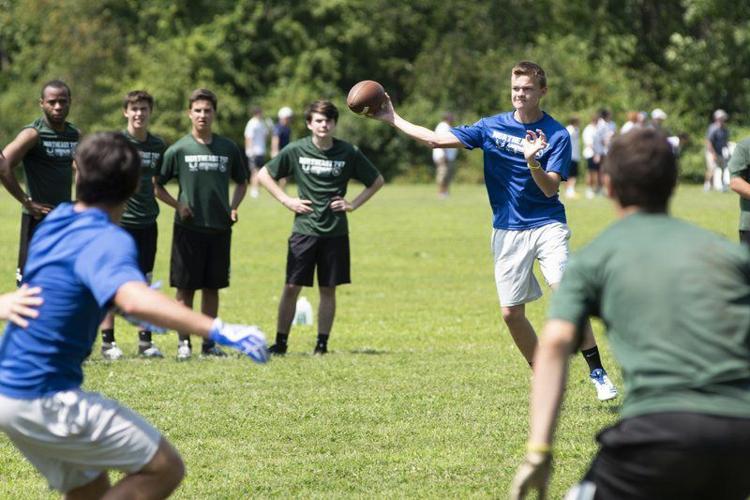 "They're a great place for young players to understand zones and being aware of your assignment (defensively)," said Walfield. "It may not be fun to track down fast receivers in this sort of weather, but Danvers prides itself in being a defensively tough team and it starts during events like this."  
 Billerica emerged as the 2019 East Regional victors with a 12-6 overtime win against BB&N.