SWAMPSCOTT — Andrew Augustin dyed his dreadlocks purple a few weeks ago. Since then, however, they've turned a sea green color with a hint of blue in them.
"Chemical reaction," laughed his fellow Swampscott High wide receiver, Zack Palmer.
On the turf at Blocksidge Field, however, it's all about chemistry for Augustin, Palmer and the offensively gifted Big Blue.
The hosts put on a pinball-like display Saturday night under the lights during the program's first-ever home playoff game at night, scoring three touchdowns in both the first and second quarters en route to blowing out Weston, 55-6, in the Division 5 North quarterfinals.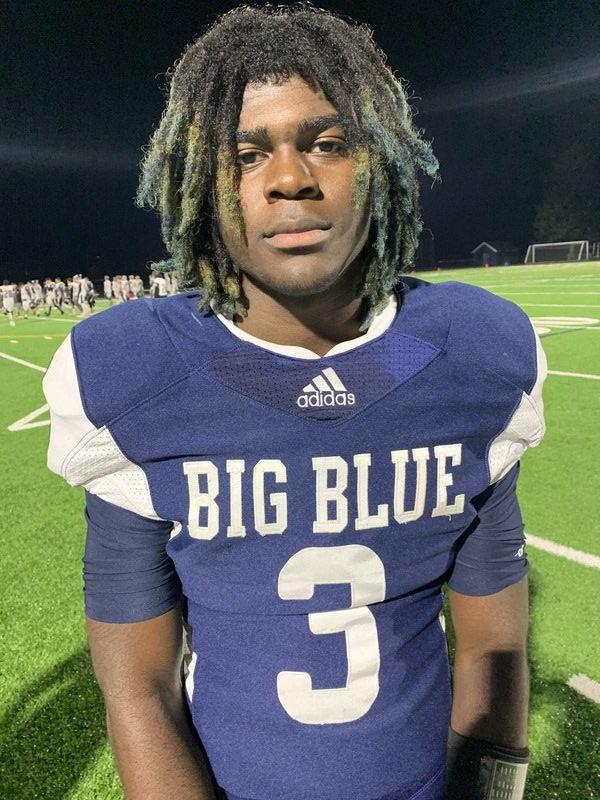 Swampscott (7-1) was even more dominant offensively, holding the Wildcats without a first down and to just 22 yards of offense the entire evening. Weston's only score came on a fumble recovery that was scooped up and returned for a score in the second quarter.
Head coach Bob Serino, whose fourth seeded squad put up 465 yards of offense to go with 19 first downs (6 of those ending with a trip to the end zone), said a long, demanding week of practice paid off handsomely.
"As soon as (his guys) take a play off, our staff is all over them. We demand every play and every rep in practice to be 100 percent," said Serino, whose team will hit the road to face top seeded Pentucket (7-1) next Saturday at 1 p.m. "We tell them that the day you don't do it 100 percent on the game field or the practice field, you're going to get hurt ... that's the bottom line. Even when we're up 35 or 40 points, don't take a play off."
Senior quarterback Graham Inzana was in the zone, completing 9-of-13 passes for 215 yards and a season-high five touchdown passes while playing the first half and one series in the third. Palmer had receptions of 21 and 77 yards, both for touchdowns; so did Augustin, who hauled in scoring tosses of 13 and 21 yards.
Senior Caden Dubiel also snared a scoring toss of 2 yards from Inzana, giving his team a commanding 41-6 lead at the break.
Backup quarterback Cam O'Brien got in on the fun as well, completing all three of his passes and connecting with Arturo Vasquez (3 catches, 69 yards) on a tackle-breaking 28-yard score.
The Big Blue also scored twice via the ground as captain Dylan January smashed in a 1-yard plunge in the first quarter that made it 14-0. He ran for 75 yards on 10 carries while sophomore backfield mate Xaviah Bascon had 95 yards on seven totes, including a 28-yard TD jaunt. Thomas Frisoli booted seven extra points as well.
"During practice this week, we were working on executing ... and I think we executed pretty well tonight," said Palmer.
Stuff that doesn't get noticed by the average observer also came to light in Saturday's win — particularly the Big Blue's downfield blocking.
"I was running down the sideline one time (with them) because it was so unbelievable," said Serino. "They made some TD blocks downfield, the (linemen) and the skill players. Jake Papa (i.e., Papazoglou, a sophomore lineman) made a touchdown block probably 30 yards downfield that was probably the best block of the season."
 "Everyone on the field does something well," said Augustin. "There isn't anyone out there who doesn't do something well for us." 
That included sophomore outside linebacker Nakarree Davis, who sacked Weston quarterback Jack Noonan once while combining with teammate Nick Reiser, a Big Blue captain, one another. 
Getting their subs into the contest early in the third quarter and escaping the contest healthy, it's now on to Pentucket for the Big Blue, who defeated them at home in last year's playoffs, 34-0, en route to claiming the sectional crown.
"We know them and we'll match up with them," Serino said of the Sachems. "Run game, spread game, defense, special teams ... we'll be ready."