The Blue Line Report
Phil Stacey
Peter Santeusanio has already started to look back a bit.
"Some of the games we've played recently, I've caught myself thinking, 'That's probably the last time I'm ever going to face that team'," Santeusanio, Marblehead's senior goaltender, said. "I still feel like we have a lot more hockey left, but in the grand scheme of things we really don't have much at all."
His Headers' teammate and classmate, Zach Piersol, knows the feeling.
"There have been times this season we've struggled with consistency, playing three full periods, things like that," said the 18-year-old center. "But then I definitely feel like we as a team still have a lot of hockey left to play this season, even though I know we don't in reality."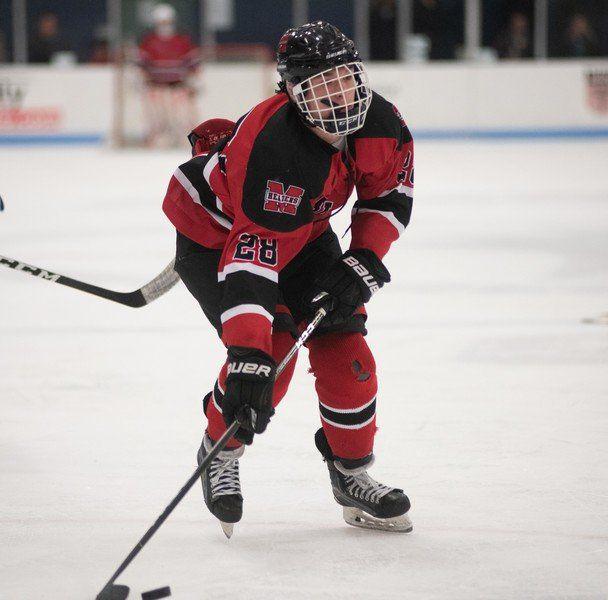 The end of their high school careers may be closing in, but for Santeusanio and Piersol, the aim is to leave an indelible mark on this storied program before they graduate from the 01945.
At 11-3-3 overall, Marblehead is one point shy of clinching its first Northeastern Conference North title in four years; that could come as early as tonight when it faces a 2-14-1 Saugus squad on the road. That, the two seniors say, would be a great achievement.
But not as great, they add, as making a deep postseason run. And if the Headers are to do so, they'll need their starting goaltender and leading scorer to do a lot of the damage.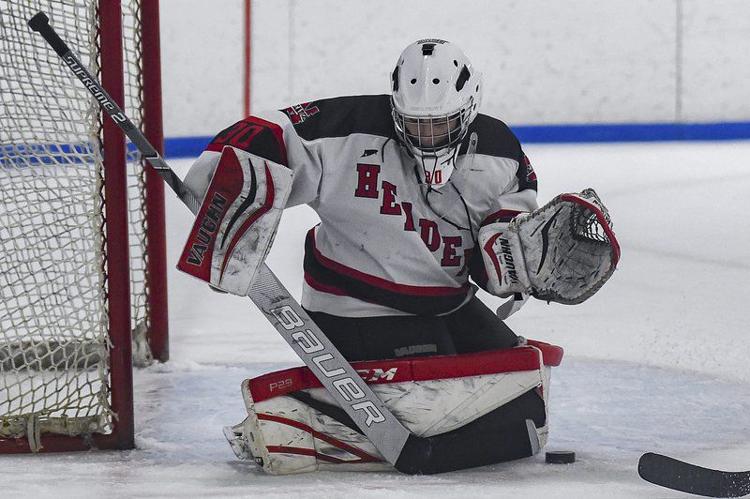 "At the beginning of the season I looked at who we had coming back and knew we had Peter in net, and I turned to (assistant coach) Mike Donovan and said, 'There's no reason we can't win this conference. We have a lot of good players here and a goaltender who is very solid," said second-year Marblehead coach Chris Wells. "But in order for that to happen, you need guys to step up and play bigger roles than they have in the past — and that's what we've received from Peter and Zach.
"We knew Peter was good; because he's the only starting goalie I've had here, sometimes we take him for granted. But this year's he's taken his game up several notches to where you know he's not only going to make the saves he should make, but he'll make all of the clutch saves at the biggest times, too.
"And Zach, everything was in place for him to do what he's done for us this year: the hands, the speed, the size, a rocket shot," added Wells. "It was more a question of 'When's he going to break through?' Well, he's broken through in a big way."
A three-year starter, Santeusanio is playing the best hockey of his MHS career this winter, with a 9-3-3 record, 2.07 goals against average and a career-best .916 save percentage. He has not given up more than three goals in any one outing and has surrendered two or fewer in ten of the 15 contests that he's appeared in. Thanks to a steady defense in front of him, he hasn't been asked to make more than 29 saves in any particular outing.
Piersol is the Headers' leader in goals (16) and points (24). Eleven of those tallies have come since the calendar turned to 2020 as he not only used his speed to drive the net, but also his size (6-foot-1, 197 lbs.) to outmuscle defensemen and knock in rebounds.
"Before the season began I told myself, 'This is it, so you might as well go all out'," recalled Piersol, who has nearly equalled his three-season MHS totals (16-10-26) in this, his senior campaign. "I went to the gym all offseason and was just grinding, trying to get ready. I feel like my shot's harder and I'm skating faster, too. My size helps, too, winning 50/50 pucks along the wall and such."
"He's a true two-way power forward; you name it and he's got it," added Wells. "Zach not only knows what to do in the offensive zone, but also gets back on defense, too. He's a responsible player who always finds a way to get on the scoresheet."
His best individual performance came earlier this month when, with the Headers trailing host Danvers, 4-1, with four minutes to go, he potted a pair of strikes to help his team earn a tie and stay unbeaten in the NEC (currently at 8-0-2).
"Danvers bottled him up for two periods and Zach was frustrated; I could see it," said Wells. "But I didn't say anything; I had a feeling he'd figure it out. Sure enough, in the third period he found some space for himself, and with someone that has his speed and strength, you give him that little space and he'll make you pay."
It should come as no surprise that, as a middle schooler, Piersol loved watching two of the program's all-time leading scorers, Braden Haley and Tim Kalinowski, ply their trade for the Headers over at Salem State.
Piersol's offensive surge was especially huge for Marblehead when the team's most natural scorer, junior captain Will Shull, was injured against Beverly in early January and forced to miss a month of action.
"It was tough seeing Shully get hurt like that, but we had to keep our cool and find a way to keep winning games," said Piersol, who is hoping to attend college in Canada (Ontario or perhaps British Columbia) while studying economics. "Fortunately we were able to, and now that he's back we can really get rolling."
Piersol skates with sophomore Eli Feingold (6 goals, 7 assists) on his left side and talented freshman Carter Laramie (5 goals, 3 assists) on the right. With Shull (13 goals, 4 assists) paired up with playmaker extrordinnaire Collin Hart (4 goals, 18 assists) on the port side and freshman Chris Locke (7 goals, 8 assists) on his right, that gives the Headers two very strong, virtually interchangeable scoring trios.
Not nearly as big as his goal-scoring teammate, the 5-foot-7, 155-pound Santeusanio has certainly played that way tending the nets for Marblehead.
Not much fazes him when he's got the pads, blocker and glove on; Santeusanio gets into a zone and stays there until it's time to shake hands with the other team postgame. The puck has a way of hitting him, meaning he doesn't have to use a lot of unncessary movement to stop the disc and/or tire himself out. Santeusanio has improved his movement in the crease so he can better get to the spots he needs to be in and get to the top of the crease before a skater can gain the advantage.
He's also become extremely adapt at playing the puck — something he almost never did his first two varsity seasons — to the point where he can be a valuable resource in helping the play get jump-started up ice.
Second in the area in wins behind Masconomet's Tucker Hanson (10), Santeusanio has come a long way from the freshman who was forced to start the first five games of the 2016-17 season after the senior starter had been disciplined. After dropping 17 decisions as a 9th and 10th grader, he's gone a combined 23-8-6 in the two years since with a 2.05 GAA and .909 save percentage.
"Peter can be a game changer, and knowing that is so clutch for us," said Wells. "He's exactly what you want from your goaltender, a guy that you can turn to time and time again to make the big save. He works so hard, he cares so much and he's the most consistent guy we have. And as a captain, he's been much more vocal this season, yet stayed within his personality. He'll let the boys know when he feels like he's not getting a complete effort from someone — and they listen to him."
It's not often goalkeepers are designated team captains, since they can't really go over plays on the bench with a teammate or talk to them before a faceoff in the neutral or offensive zones. But the Headers thought enough of Santeusanio to give him that designation along with Shull and senior Loch Sheridan.
"You don't see it often, so being a captain is clearly an honor," Santeusanio, who is looking at NESCAC schools with the hopes of majoring in computer science, said. "It works for us because we're a really close team, hanging out all the time even away from the rink."
As the Headers eye the end of the regular season and the upcoming Division 2 North state playoffs, Piersol and Santeusanio are focused on helping their teammates reach that consistency that they've strove for since the season began the Monday after Thanksgiving. Doing so, they said, could help drive Marblehead deep into the March — and possibly beyond.
They were third graders when Marblehead won its own state crown, taking home the Division 3 hardware on the TD Garden ice in March 2011. Piersol, Santeusanio and their fellow seniors — Ryan Baker, Cam Razin, Gavin Dowley, Mike Flaherty, Sheridan and Hart — would love nothing more than to take that same victory lap to conclude their careers.
¢¢¢
Ian Driscoll, the speedy top line center at Pingree, is a point away from reaching 100 for his career. The junior from Middleton has 46 goals and 53 assists during his three years with the Highlanders heading into Saturday's game at Brewster Academy. Playing with his brother, senior captain Brendan Driscoll (himself a 100-Point man, currently with 67-9-157 career totals) and equally gifted Hazen Pike as the line's right wing, it's a good bet he'll do so before the weekend is out.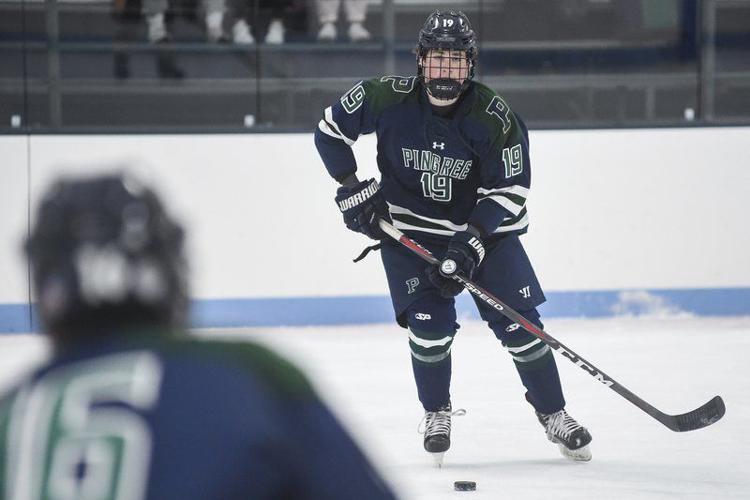 When the younger Driscoll does reach triple figures, he'll become the third local boy to do so this season, joining Swampscott captains Drew Olivieri (currently with 47-70-117 totals) and Conor Donovan (49-59-108).
He's also make the 99th gentleman in Salem News area annals to reach 100 career points, joining fellow Pingree greats Chris Higgins, Mike DePlacido, Boo McCarthy, Ricky Willis, Dan Gordon, Chris Halecki, Jerry Toomey, Chris O'Donnell and Vito Visconti in that club.
¢¢¢
It went by without much notice, but in winning its second straight Cape Ann League title last week — for the first time in program history, mind you — Masconomet stretched its league unbeaten streak to 23 games.
Since losing its 2018-19 opener to Lynnfield (4-2), the Chieftains went 22-0-1 in the last two seasons they'll ever play as members of the CAL before they move to the Northeastern Conference for the 2020-21 school year. In those games, they outscored their opponents by a whopping 109 to 28 and posted six shutouts, allowing just one goal in 11 other contests.
This winter, Masconomet went 11-0-1 in league play (with that one tie, a 2-2 stalemate vs. Newburyport, 'won' by the Chieftains in the experimental 5-minute overtime period) and scored 53 times, allowing a mere 13.
That's how you leave a league in dominant fashion.
¢¢¢
Masconomet (14-2-1 overall), Marblehead, St. John's Prep (8-4-5), Essex Tech (8-3-5), Swampscott (9-9, NEC South champs) have qualified, and Peabody (5-10-1) was officially eliminated from postseason consideration t his past week.
That leaves four local squads — Danvers (7-8-2), Beverly (7-9-2), Bishop Fenwick (7-7-2) and Hamilton-Wenham (7-6-2) still looking to earn the requisite 20 points to get in, with just nine days left in the regular season. (Bishop Fenwick, playing 21 regular season games, needs 21 points).
Their respective schedules the rest of the way:
Danvers: Wednesday at Swampscott (9-9-0); Saturday at Winthrop (7-7-3); Monday vs. Masconomet (14-2-1) at Essex Sports Center, Middleton. (The Falcons will also play 8-8-1 Bishop Feehan on Feb. 19 at noon in an 'exclusion' game that won't count against their tournament record).
Beverly: Saturday at Gloucester (8-5-3); Wednesday vs. Methuen (5-6-4).
Bishop Fenwick: Wednesday at Shrewsbury (11-3-2); Saturday vs. St. Mary's Lynn (10-5-2); Monday at Peabody (5-10-1); Wednesday at Triton (12-3-1); Thursday vs. Lowell Catholic (0-16-1).
Hamilton-Wenham: Wednesday at Revere (4-9-4); Saturday vs. Rockport (9-6-3); Sunday vs. Amesbury (3-11-1) at Newburyport Bank Clasic; Tuesday vs. Pentucket (3-13-0) or Haverhill (4-9-2) at Newburyport Bank Classic; Wednesday vs. O'Bryant (2-13-0) at Bourque Arena, Beverly.
¢¢¢
The Blue Line Report, a column on North Shore high school boys hockey, appears each Wednesday during the winter sports season in The Salem News. Contact Executive Sports Editor Phil Stacey at pstacey@salemnews.com, and follow him on Twitter @PhilStacey_SN.
||||