It took almost nine years for all five of Masconomet's 2021 senior girls basketball class to get on the floor together.
When they finally did this winter, they were unbeatable.
It was truly a Fab Five for the Chieftains. The team didn't lose a game this season when its five senior captains, Morgan Bovardi, Cally McSweeney, Paige Richardson, Jenna DiPietro and Liv Filmore started.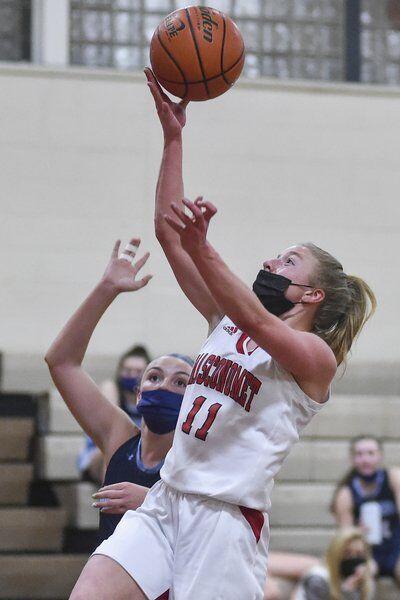 Overall, Masconomet posted a 10-1 record that was the best in the Northeastern Conference and among the best in the state in Division 1.
"I'd say playing together as a unit was arguably the best part about the season. It was really rewarding," said Richardson. "It took a while to get the five of us together, but when it happened it's a moment I won't ever forget."
With a program as strong as Masconomet's (this was its 36th consecutive 10-win season), it was going to be tough for the quintet to get on the floor together as freshmen or sophomores. Bovardi lost her entire junior year to a knee injury, and then injuries to Richardson and McSweeney at various points this year delayed the reunion on the floor.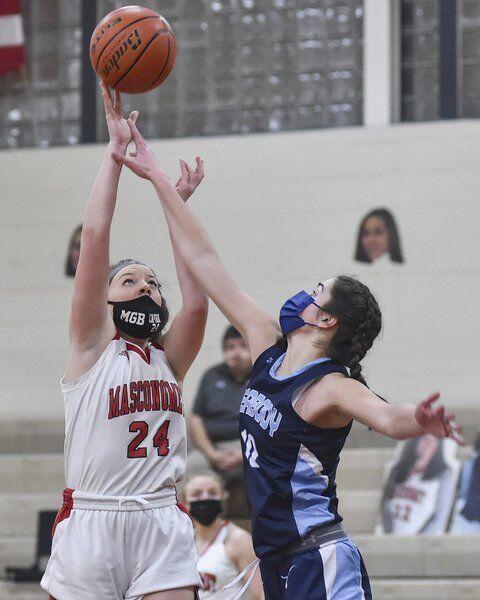 Easily the team's best effort, a blowout win over Peabody High, came at home with the five seniors all playing together and feeding off one another.
"It's crazy to think that after nine years, us five seniors were able to step onto the court and play together for one last season. The chemistry between all of us is better than anything. We all bring something different to the table and help provide to the team on and off the court," said Filmore, who graduates with 415 points and 343 rebounds for her career. She'll attend St. Michael's in Vermont next year.
Indeed, these five Chieftains meshed together seamlessly. Filmore was excellent when it came to spot-up shooting as well as scoring in the paint and rebounds. McSweeney, a tremendous athlete at 5-foot-11 who will play Division 1 college field hockey at Merrimack, was an immense defender with several double-digit rebounding efforts. Richardson also did a bit of everything, defending multiple positions while pulling down 43 rebounds and making 19 steals in eight games.
DiPietro, the quick do-it-all guard who's running track at the University of Vermont next year, led the team in rebounds (74), steals (29) and assists (26).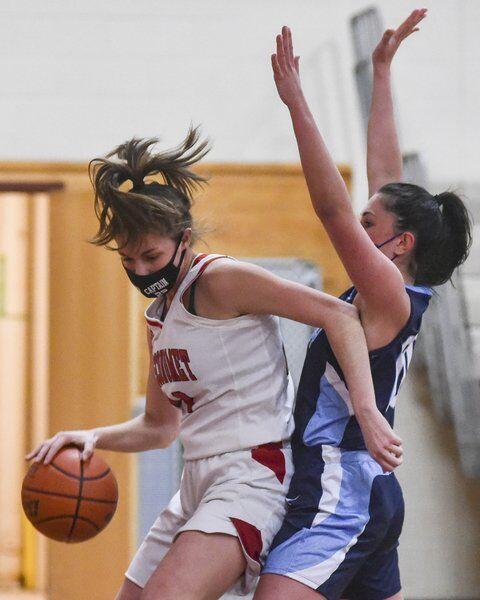 "Basketball's a hard sport to play and endure, and I think we all played for the person next to us," said DiPietro. "We played selflessly because we all believed the point of the game wasn't how we played individually, but how we did as a team."
Few players endured as much as Bovardi, one of the most gifted 3-point shooters in program history. The torn knee ligaments that took away her junior year cost her many milestones; she'll graduate with 689 points and 113 treys in 56 games. Stretch that out over the 80-88 games that a four-year player typically gets and she's well into the quadruple digits scoring-wise.
"It was tough watching," said Bovardi, who scored 42 points with 11 3-pointers against Danvers as a freshman. "It made it that much more awesome to get the chance to play together one last time, given the circumstances. We've been together since fifth grade and that made it easier to get the chemistry back even without much of a preseason."
Bovardi's quickness gives her a unique ability to create space for step back distance shots. She's also a classic point guard, handing out 22 assists (141 in her career) and having no fear crashing the paint for rebounds and putbacks.
"Maybe the most surprising thing was her tenacity," said Masconomet head coach Shannon Kirwan, who got a full look at Bovardi this winter after taking over the varsity squad last winter. "I knew she was competitive but to see it between the lines, it's the next level. She's hungry, never satisfied and never quits ... exactly what you want in your leader and your point guard."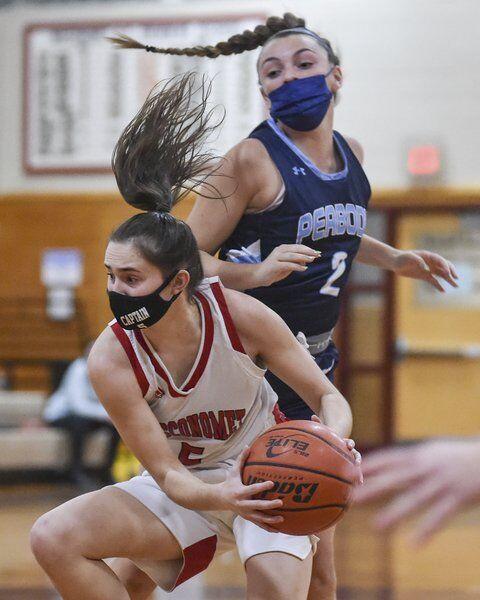 The five senior puzzle pieces fit together seamlessly. It was a classic example of the whole bringing out the best in the sum of its parts, and maybe the best way to describe that comes in what the captains have to say about one another.
"The way Morgan handles the ball, or when she does a behind the back pass or a deep 3, it something I'll always hype up even after the 100th time," said Filmore. "Jenna and Paige having no fear when driving to the basket is something I always strive for. All the years Cally has pushed me to become such a better player underneath were always a challenge but made me so much better."
"We compliment each other well on the court. Morgan is able to find the open girl wherever she is on the court and is able to knock down shots. Jenna and I run the floor, and Morgan finds us. Cally and Liv are our posts who do great work down in the paint. We really had some of everything in our line up," added Richardson.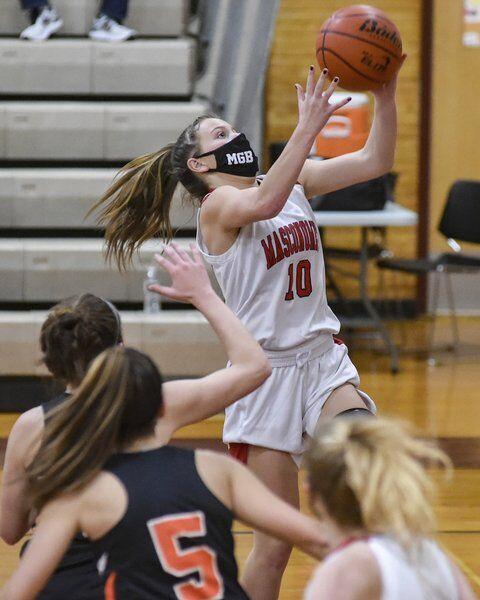 "We're different but so powerful when we combine," said McSweeney. "Also the determination and strength brought by these girls is incredible. We've been through so many battles in just these four years, overcame them and stuck together and finished strong."
Plenty of underclassmen helped the group this year, from junior Krystal Zepaj making some clutch 3's, sophomore Taylor Bovardi coming up with a timely steal or Sarah Green battling for rebounds. No matter what, it was a group that fought to the final whistle.
"I think it was our desire to see our team succeed and to see that we all hold the same frustration when things aren't going our way. During our one loss we never gave up; we did as Liv would say give our 'One-one-o'," said DiPietro, spelling out the team's mantra to give 110 percent.
Joining a new league is always challenging, but Masconomet proved it can play with the best programs in the Northeastern Conference this winter by taking down the likes of Beverly, Peabody, Marblehead and Danvers.
"I'm most proud of how we competed this year despite the restrictions and didn't look at this season any different than a normal year," said Bovardi. "We stuck together and competed night in and night out."
The five seniors leave Masconomet with an impressive overall record of 59-19, winning 18 games each as underclassmen, 13 last year and now 10 this past winter. It's a special group that certainly would've been a threat to make the Tsongas Center or beyond in a normal winter with postseason games.
"I wish I made more time with the whole group. I feel like if I had these seniors for four years, we could've done some damage and had some really special times," Kirwan said. "These two years were great and I'm thankful for that ... we're definitely peaking at the right time this year and the level of play we reached at the end of the season was pretty awesome."
Years of hard work paid off for this group on the scoreboard and in the book. Far beyond that, the fivesome will remember the personalities that made sprints at practice bearable and the way they complimented and brought out the best in each other.
"I'm so lucky to be able to have played with these four other girls for the past nine years. Through our ups and downs, struggles and challenges, wins and losses, we all stuck together and I'm so happy to call them some of my best friends," Filmore said.
"At the end of the day, you will forget the plays, the scores, and stats but you'll never forget your teammates," DiPietro said, summing up the Chieftains' mentality of togetherness. "I truly do love my team and feel blessed to have been able to play with them for as long as I have."
###
It was a tremendous regular season for Ipswich, which drew the No. 2 seed in the Cape Ann League's Baker Division playoffs and will host Manchester Essex Wednesday in the semifinals. Even more impressive was the play of scoring threats Carter King (12.1 points per game) and Riley Daly (11.5), who wound up 2nd and 3rd, respectively, in the CAL in scoring.
"Those two had great chemistry all season long," head coach Chris Tolios said. "It's not an easy feat, but that's what happens when you show up every day and work."
Both King (soccer) and Daly (field hockey) are great multi-sport athletes and were among their fall team's scoring leaders as well.
###
Bishop Fenwick (10-4) is off to Bishop Feehan Wednesday for the second round of the Catholic Central League Cup playoff tourney. The winner would face either St. Mary's Lynn or Archbishop Williams for the title on Saturday. Fenwick won its only meeting with Feehan this year by a 62-56 margin.
###
Peabody's matchup with Marblehead later this week should be a good one as two of the NEC's best defensive teams match up. The Magicians (4-3) downed Winthrop while holding the Vikings to a mere 26 points and followed that up by holding Gloucester to 15 on Monday.
The Tanners (8-3) meanwhile rediscovered their defensive mojo after allowing 61 to Masco and 44 to Beverly last week by holding Salem to 27 in a Monday victory.
###
Bounce Passes, a column on North Shore girls high school basketball, appears in The Salem News each Tuesday during the winter. Contact Matt Williams at MWilliams@salemnews.com and follow along on Twitter @MattWilliams_SN.
||||