Boston Bruins veteran goaltender Tuukka Rask announced Saturday morning that he has opted out of the National Hockey League's Return To Play and will miss the remainder of the Stanley Cup playoffs.
In a statement posted on social media at 10:20 a.m. Saturday, Rask stated: "I want to be with my teammates competing, but at this moment there are things more important than hockey in my life, and that is being with my family. I want to thank the Bruins and my teammates for their support."
The 33-year-old Rask and his wife, Jasmiina, have three young daughters, including newborn Livia, born in late April.
Jaroslav Halak, the Bruins' 35-year-old backup goaltender, will now assume the team's No. 1 duties in net for the remainder of the postseason. Halak has appeared in 31 career postseason games, including one during this year's round robin tournament against the Flyers. He'll be backed up by 27-year-old Max Legace, who has 17 games of NHL experience over the past two seasons with the Vegas Golden Knights, and 22-year-old Dan Vladar, who has never appeared in an NHL game.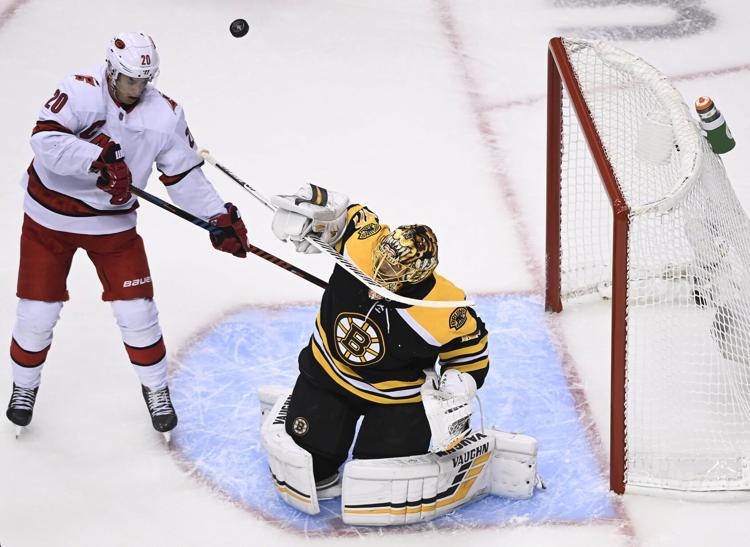 Bruins General Manager Don Sweeney addressed the media from Toronto shortly after the announcement, approximately an hour-and-a-half from the start of Game 3 of the Bruins' first round playoff series with the Carolina Hurricanes. 
"We understand completely where Tuukka is coming from. I don't think it's any big surprise to us, to be honest with you," said Sweeney. "We're privy to information maybe before the rest of the public is, and this has been a difficult decision for Tuukka. But the Boston Bruins are in full support of why he made this decision."
Rask, who had made 48 saves and allowed six goals in two games against the Hurricanes (an .889 save percentage), had told reporters after the Bruins' 3-2 Game 2 loss to Carolina on Thursday that the games in the bubble "doesn't feel like playoff hockey out there" and that without fans in the stands because of the COVID-19 pandemic, the atmosphere was akin to "playing in an exhibition game."
"It's definitely not a playoff atmosphere out there. You try and play as hard as you can ... when you're playing at a home rink and an away rink and the fans are cheering for and against you, it really creates a buzz for the series. "There's none of that. So it just feels like dull at times," he said.
In his Saturday press conference, Sweeney talked about the "mental challenge" he knew it would be for the players in the bubble to be away from their families without any contact, and that he gave Rask "a hell of a lot of credit" for going to Toronto and trying to play with and for his teammates despite the struggle he felt to be with his family.
"During the course of the time up here, it's been increasingly more and more difficult for Tuukka to mentally stay where he needs to be, and ultimately (he) made a decision that he felt he had to be in a different place ... the priority for Tuukka at this point in time, rightfully so, has to be his family — and we support that,"noted Sweeney.
Sweeney also stated that the team has complete faith in Halak. "We feel very confident. Jaro's been there and was on a ride last year, he knows what this team is capable of," he said.
Having twice led the Bruins to the Stanley Cup Final in his career — including Game 7 against St. Louis last year on TD Garden ice — Rask is 51-42 in 93 career NHL playoff games with a 2.20 goals against average, .926 save percentage and seven shutouts, all with Boston. 
Rask is the second Bruins player to opt out of the NHL's Return To Play, joining defenseman Steven Kampfer (who chose to do so before the team went to the bubble in Toronto).