BEVERLY — Three games and six points over a span of six days — and the Danvers High boys hockey team has its season back on track.
The Falcons got a goal on the game's first shift and received 27 saves from junior goaltender Adam Bridgeo to defeat Beverly for the second time in a week, this one a 4-2 decision Saturday night at Bourque Arena.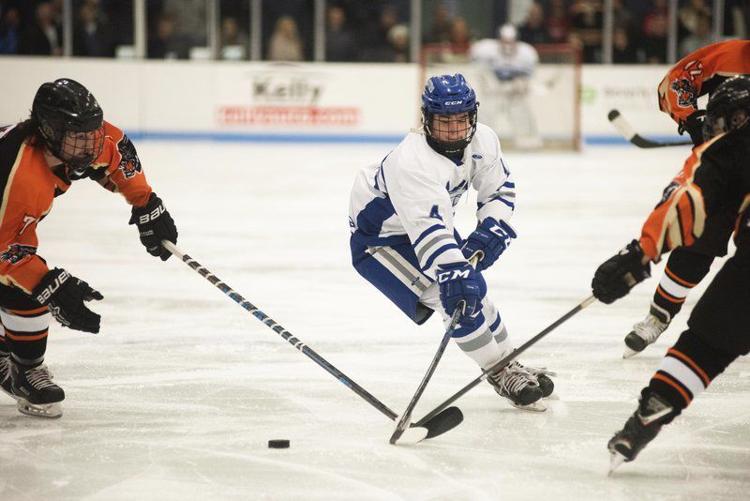 "No question, we're playing the way we've wanted to all along right now," said Danvers head coach Steve Baldassare, whose team has won four straight games and is now 5-5 on the season. "It was a good team win; guys are playing their roles and, just as importantly, understanding them and contributing to the team as a whole.
"We asked our guys how they wanted to be remembered: as a team that would cash it in and settle for a 5-15 season, or a team that straps 'em up, works harder and turns it around. They've shown they're doing the latter."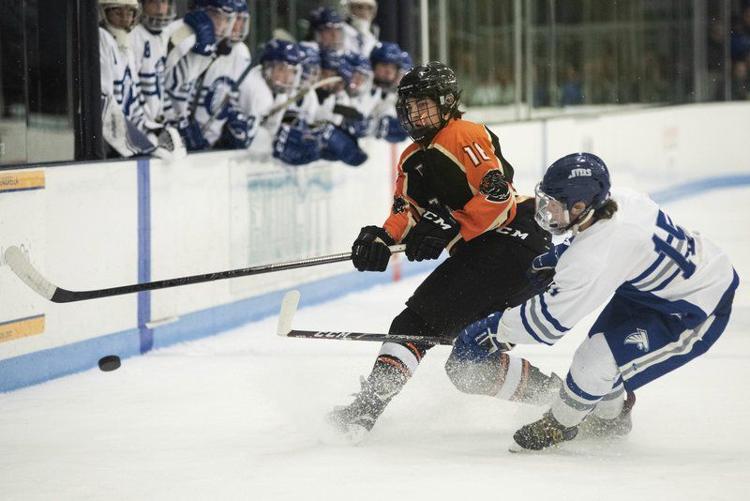 Bridgeo, whose goals-against average dropped from 3.21 to 2.66 over the last week, didn't allow many rebounds and showed good puck control all evening. He stopped a pair of breakaways as well as Grade-A chances from Beverly brothers Matt and senior captain Andrew Mezza on one-timers from the lower slot.
"Bridge was making big saves all night and in control throughout," said Baldassare, whose team was also a perfect 4-for-4 on the penalty kill.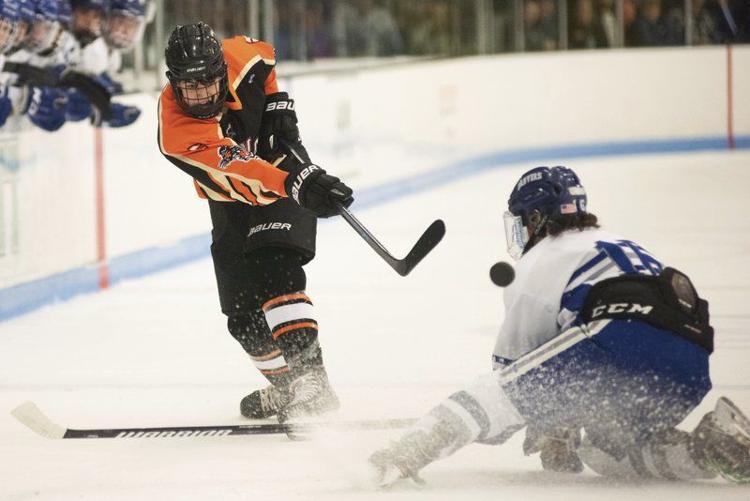 The loss was a tough one for Beverly (2-5-2), which controlled play throughout the second period and outshot the Falcons, 29-21 but weren't able to cash in on enough of their offensive opportunities.
"What you saw in the second period, that's the way we're capable of playing all the time," first-year Panther head coach Greg Fonzi said. "They worked hard and kept their focus. A little bit of help on the back end would've helped us more, and their guy (Bridgeo) was pretty good for them.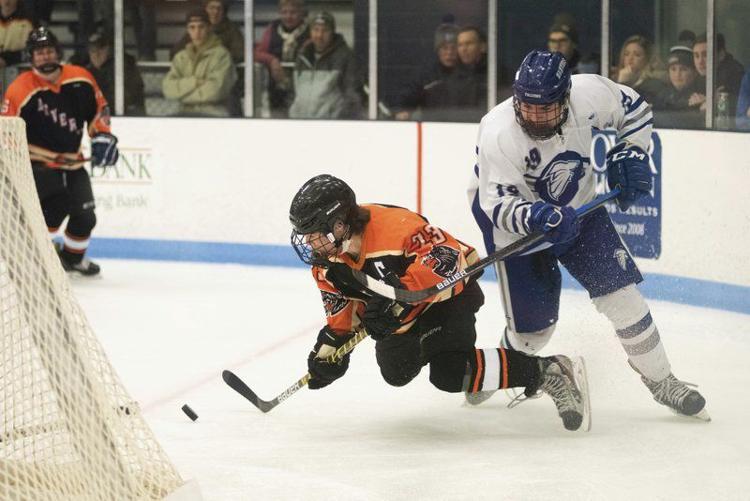 "I think Andrew Mezza (goal and an assist) was the best player on the ice for either team," added Fonzi. "But Danvers is a good team that's seen him for four years, and they know who he is, what he can do and they key on him. Still, Andrew did his thing; he's our captain and when he gets going, he's tough to stop. He's a man out there."
Danvers opened the scoring just 35 seconds in when sophomore Brett Baldassare took the puck up his off wing, faked a forehand and tucked a backhand toe drag home stick side past Beverly keeper Jack Feuerbach (17 saves). It was his team-leading 11th goal of the season.
The Falcons doubled their lead in the final minute before first intermission when James Carmilia sprung captain Cal Mansfield alone up ice, and the senior snapped a wrist shot off of Feuerbach's glove and into the net at 14:28.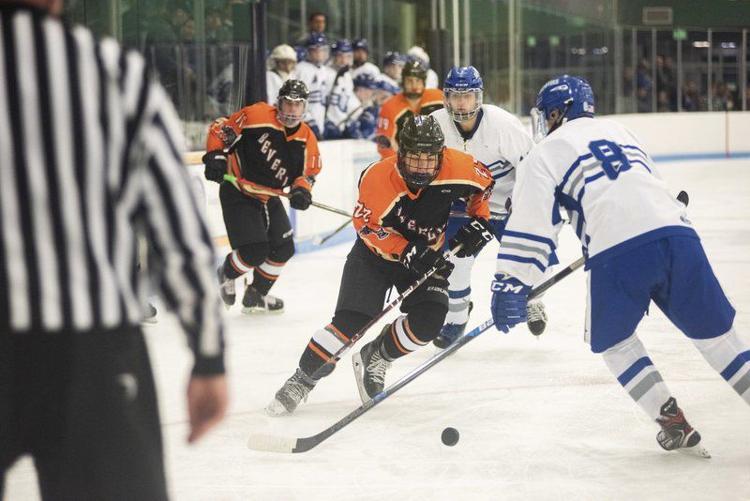 "Scoring early was great because it build off the momentum we had last time out (a 7-0 win over Peabody)," said coach Baldassare. "And that late goal was just as big, giving us an even bigger cushion after one period."
Beverly, which outshot Danvers in the second period, 12-6, sliced its deficit in half just 27 seconds in when Matt Mezza gathered his own rebound and roofed it into the Falcons' cage. But the hosts caught a break a little over six minutes later when captain Tyler Puska's shot hit a patch of ice in front of Feuerbach and bounced over his shoulder and over the goal line.
Taking advantage of a passive defensive shift by Beverly, the Falcons' third line made it 4-1 with a little over 10 minutes to go. A head-man pass up ice to Jake Ryan watched him skate in on the Panthers' net and tuck a shot in, with linemen Dillon Driscoll and Jimmy Thibodeau assisting.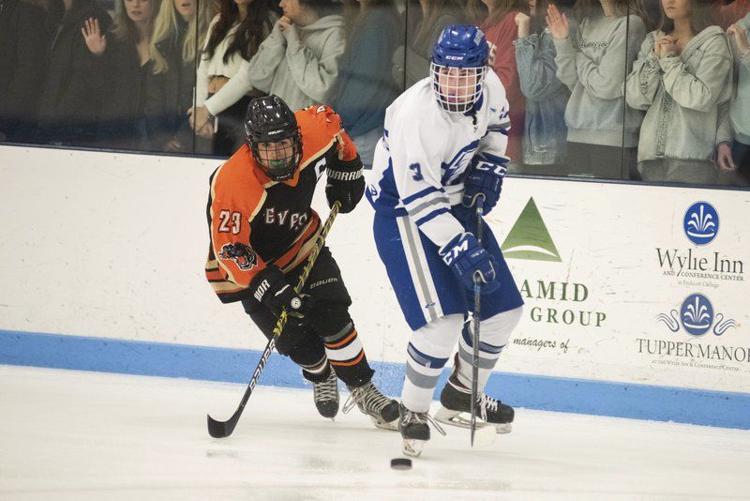 Beverly captain Andrew Mezza took a feed from sophomore Austin Bernard and converted on a wraparound with 3:53 to go, but that was all the Orange-and-Black would get the rest of the way.
"Bottom line is we have to start winning games," said Fonzi, whose Panthers travel to Methuen Monday for a non-league game with the Rangers. "I've been on teams that have made late runs before, and it's not too late for us to make a push for the playoffs."
Baldassare, whose team skates against host Gloucester Wednesday, said he'd like his squad to keep building off of how they've played over the last week-plus. "We're getting W's and we're learning, and our transition game was better (Saturday)," he said. "We could be more offensive down low with our speed, so we'll try to keep building off of that."
Danvers 4, Beverly 2
at Bourque Arena, Beverly
Beverly     0 1 1 — 2
Danvers 2 1 1 — 4
First period: D, Brett Baldassare (Cal Mansfield, Griffin Geraghty), :35; D, Mansfield (James Carmilia, Baldassare), 14:28.
Second period: B, Matt Mezza (Andrew Mezza), :27; D, Tyler Puska (un), 6:58.
Third period: D, Jacob Ryan (Dillon Driscoll, Jimmy Thibodeau), 4:25; B, A. Mezza (Austin Bernard), 11:07.
Saves: B, Jack Feuerbach 17; D, Adam Bridgeo 27.
Records: B, 2-5-2; D, 5-5-0.
||||