One of the biggest differences between good teams and great teams is that the former often have a tough time closing out games when they aren't playing at their best.
The latter, however, find a way to grind it out and prevail even when things aren't necessarily going their way. 
After watching the Boston Celtics gut out a 102-94 win over Philadelphia Friday night to take a commanding 3-0 series lead in their first round matchup, I'm convinced that this year's Beantown group has the makings of a great team. 
Was it an inspired, textbook victory? Not by any stretch. But the Celtics found a way to come out on top when it mattered most.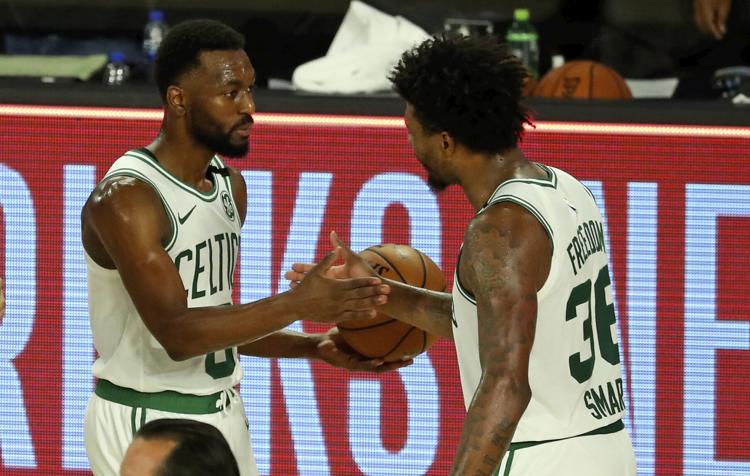 After falling behind, 94-92, with under two minutes to play, Boston locked in to outscore their depleted opponents 10-0 the rest of the way. It all started on the defensive end as fearless leader Marcus Smart jumped the passing lane for a steal and quickly tossed an outlet pass before his feet even hit the ground. The momentum-swinging play led to a Jaylen Brown bucket plus a foul on the other end, and Philly was never able to recover. 
Kemba Walker proceeded to increase his team's lead to four with a smooth stepback jumper over former Celtic Al Horford -- who by the way only scored six points on 1-for-5 shooting in 38 minutes -- before Smart sealed the deal with four freebies. 
Now a lot of people might say, 'Oh, the Celtics should've won that game by 20', and part of me agrees with that. Philly has often times looked disinterested and lackadaisical on defense, failing to close out on shooters and allowing the likes of Jayson Tatum, Walker and Brown to garner easy looks. 
But honestly, who cares how they did it? A win is a win, and the Celtics are now just one game away from a first round sweep.
Did the Sixers' lackluster energy somehow rub off on Brad Stevens' group and cause them to play down to their level? Perhaps. But more than likely the 'off' night can be chalked up to uncharacteristically bad shooting nights from Tatum (15 points on 6-19 shots and 2-9 from deep) and Brown (21 points on 6-16 shots and 1-5 from 3-point range). Maybe they were too open at times? In any case, if those two guys shot even a little bit closer to their usual percentages, the Celtics win in a blowout. 
Now I'm not going to sit here and say the Sixers are a bad team, but without an injured Ben Simmons -- and maybe even with him -- they really don't seem to pose any sort of threat to Boston. Joel Embiid (30 points and 13 rebounds on Friday) is an absolute force, but he regularly looks gassed down the stretch and clearly isn't dominant enough to carry his squad. 
The 34-year-old Horford has been less-than-stellar since signing a massive four-year contract with the Sixersy last offseason; Tobias Harris (15 points and 15 rebounds on 6-19 shooting) is a more-than-serviceable swingman, but note quite good enough to serve as a team's No. 2 option; and Josh Richardson (17 points on 5-17 shooting) is a good-to-great scorer, but far too inconsistent to be relied upon as a lead guy. 
Bottom line: Boston is undoubtedly the more talented team, with or without a now-hobbled Gordon Hayward. And as long as they get the job done, it doesn't matter if they win by 30 or eight or one.
A win's a win. 
Nick Giannino can be reached at NGiannino@salemnews.com. Follow him on Twitter @NickGiannino_SN.