LOWELL — Central Catholic waited a long time to get another crack at the St. John's Prep's football team after suffering a stunning loss to them back in the second week of the season.
The Eagles quickly found out this was a much different — and improved — Raiders squad as they exploded for three touchdowns in the second quarter en route to a 35-12 victory in the Division 1 state semifinals final at Cawley Stadium in Lowell.
Central head coach Chuck Adamopoulos is going back to the Super Bowl with his team after the big win. The last time Central Catholic was there was back in 2015.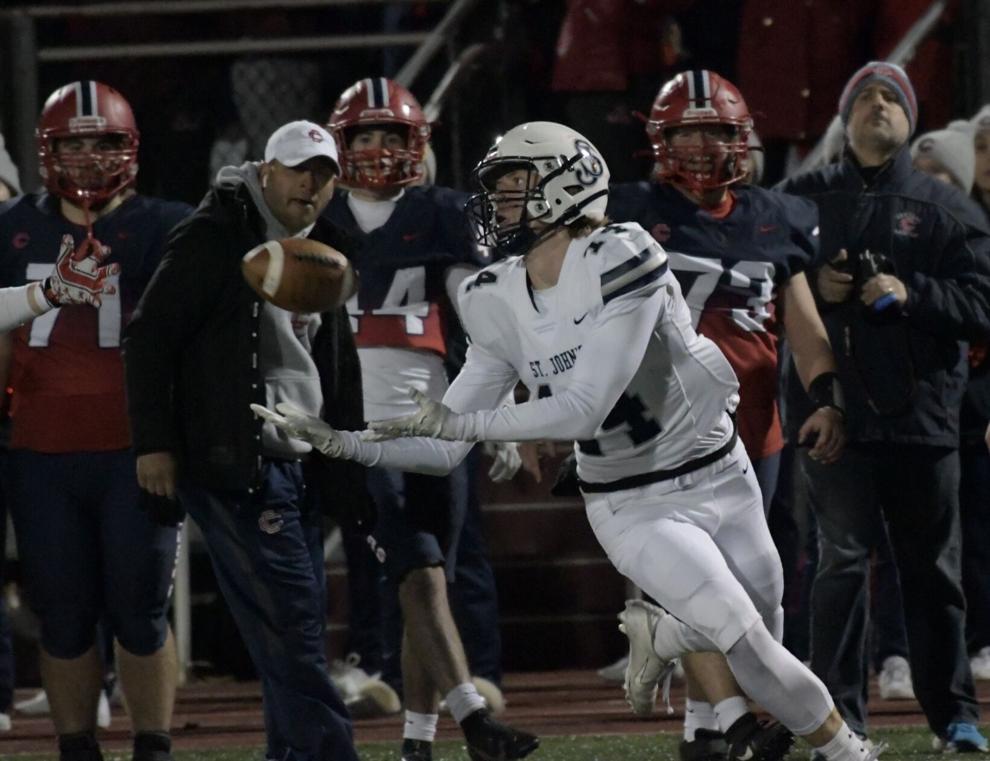 St. John's Prep (8-3) got on the board first on a nine play 98-yard drive after a punt by Ty Cannistraro came to rest at the SJP 2-yard line. A 54-yard pass from Jack Perry to Jackson Delaney, who caught it and raced up the left sideline to the CC 44 was followed by throws to Stephon Patrick, and another to Delaney. Carson Browne, who had 18 carries for 109 yards, picked up 16 and then eight more up the middle before Perry found Ofurie for an 8-yard TD reception. The kick was blocked for a 6-0 edge.
The Raiders answered on their next possession with Matthias Latham blasting in from a yard out, and Mike Ryan booted the extra point for a 7-6 lead in the first minute of the second quarter. They never looked back, scoring on their next two possessions to take a 21-6 halftime lead.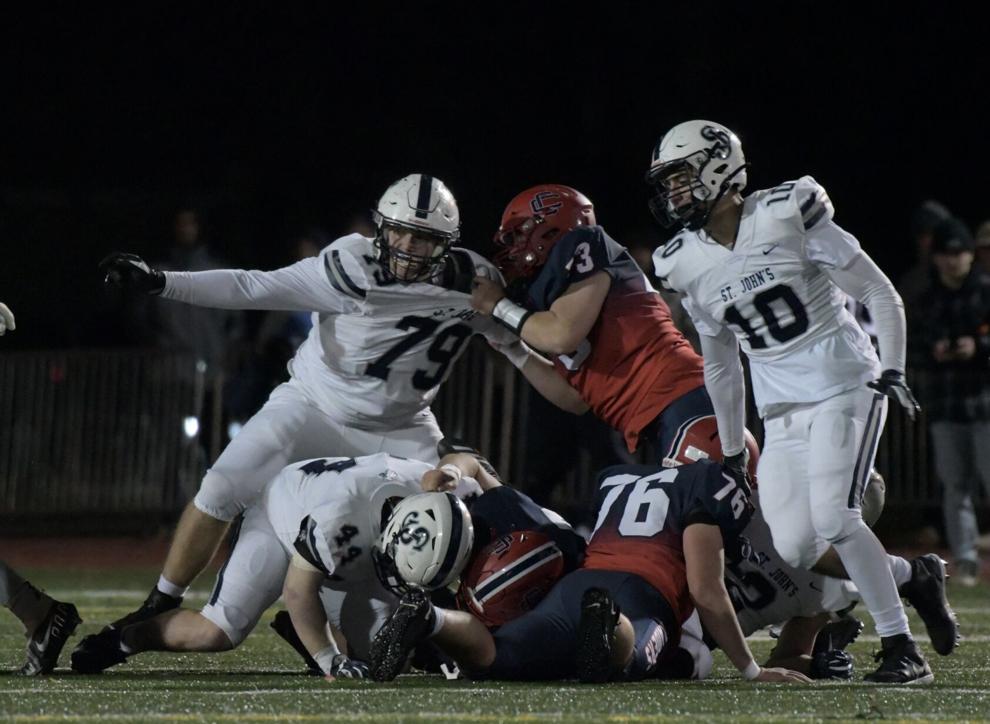 Cannistraro intercepted a Perry pass at midfield, and eight plays later the Raiders increased the lead to 14-6 on an Ayden Pereira 23-yard pass to Matthias Latham in the right corner of the end zone.
"Pereira is their best player; he touches the ball every play," said Prep coach Brian St. Pierre. "We had a good start, but we didn't get the stops we needed. We've had a lot of illness, and it's been a rough week. Kyle Webster (tackle) was in the emergency ward overnight, and a lot of our guys are pretty banged up, but no excuses. We didn't play well in any phase of the game. Central Catholic had a lot riding on this game and came ready to play."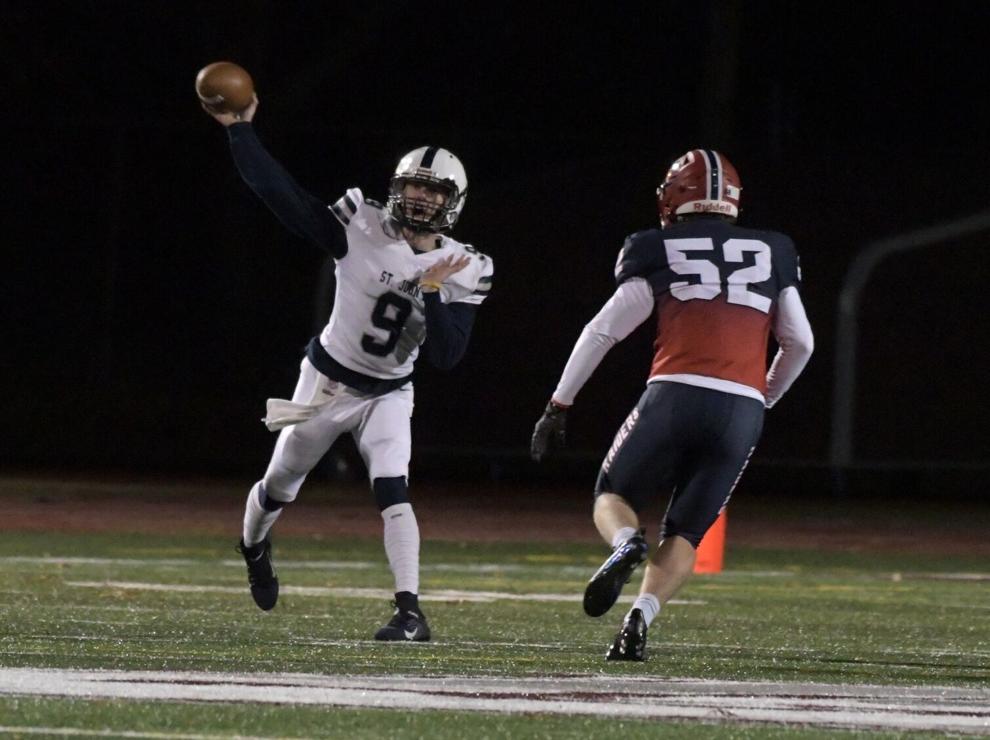 The first time these two teams met the Eagles won, 49-14 behind six TDs by Perry and three touchdown receptions for Delaney. This time after the first period it was all Central Catholic (2 seed), and they took advantage of every mistake the No. 3 Prep made.
One of the turning points in the game came late in the second quarter when St. John's went for it on fourth-and-three at their own 45. The pass was incomplete, and it took five plays for the Raiders to score again on a 3-yard run by Pereira.
"I probably should have punted there, but I thought we could get a first down," said St. Pierre. "I trust my defense and thought we could get a stop if we didn't make it, but we didn't."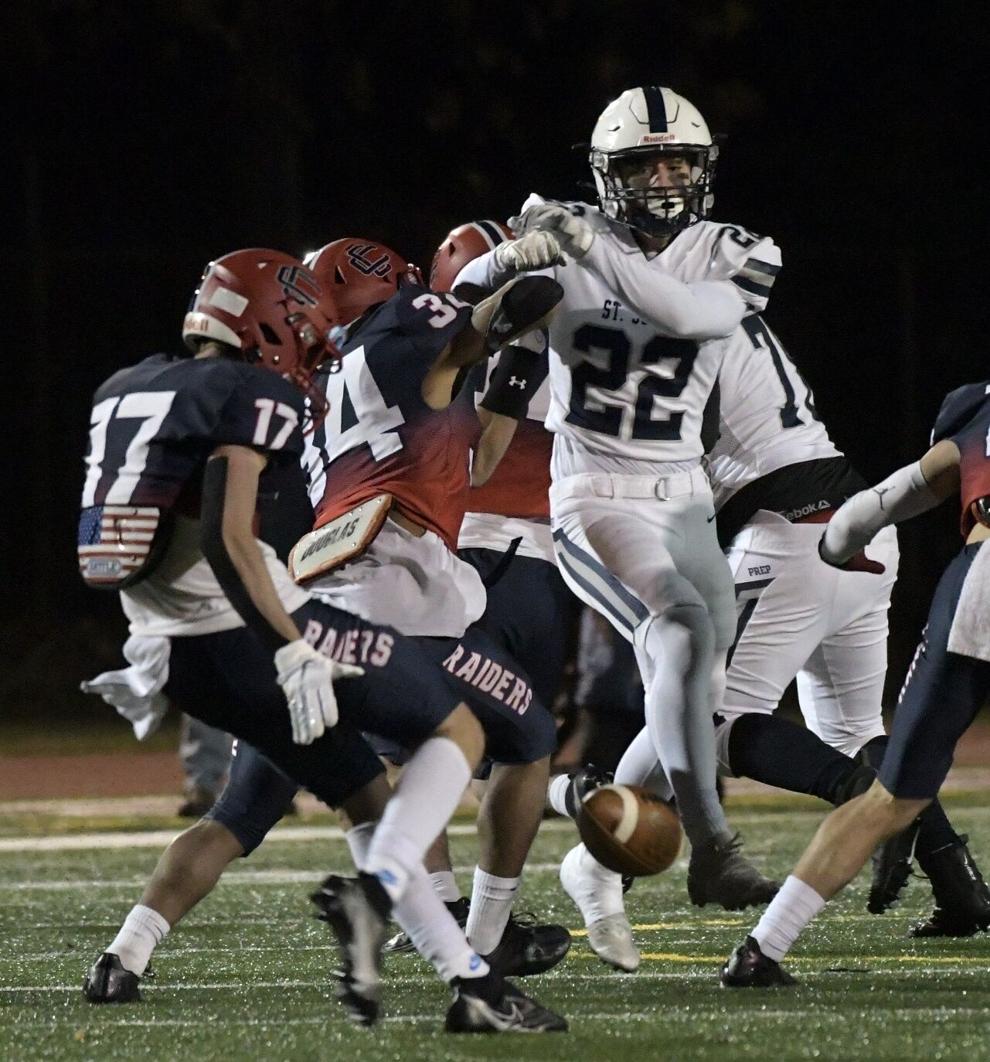 They had been successful earlier on the touchdown drive with a fourth down pass to Delaney, but the second time it didn't work. On the opening drive of the third quarter Pereira threw a 13-yard touchdown pass to Justice McGrail for a commanding 28-6 edge. Another interception by Kolten Williams set up the fourth TD with Pereira crashing into the end zone from five yards out as the wheels fell off the wagon for SJP.
"Pereira did a nice job, Latham ran hard, and our offensive line has improved a lot since we faced them before," said a happy Central Catholic coach Chuck Adamopoulos, who was congratulated by fans and players as the celebration spilled from the stands onto the field after the victory.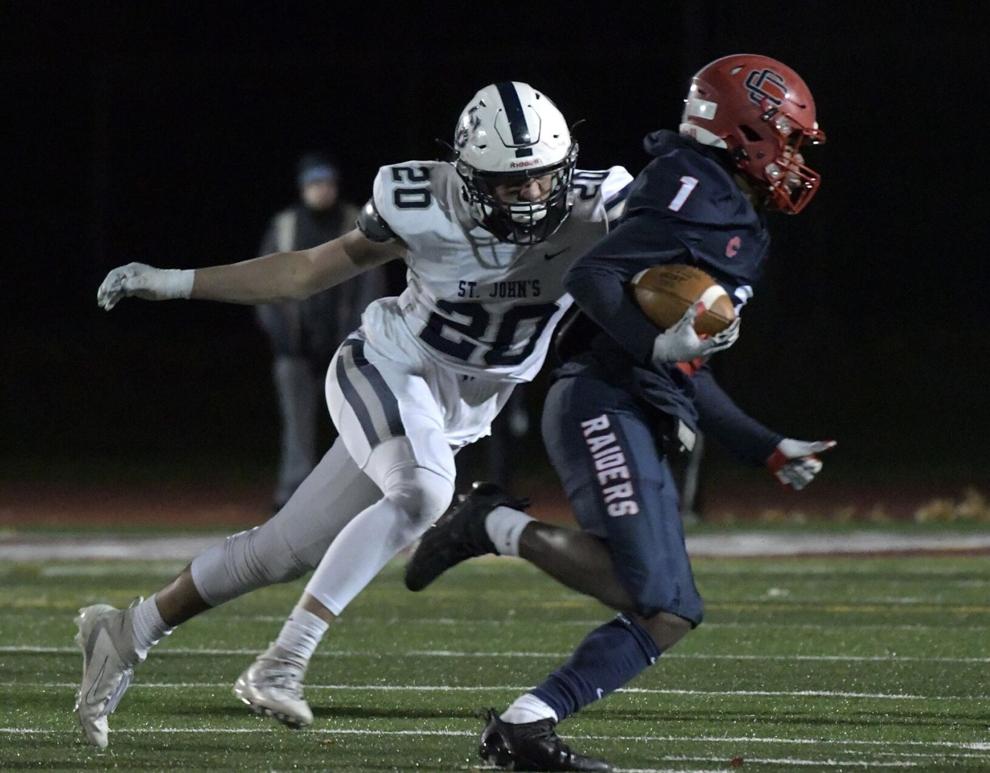 The Raiders (10-1) will face Springfield Central --which won a wild 60-49 contest over top seeded Franklin Saturday afternoon — in the Division 1 Super Bowl at Gillette Stadium.
"It's a good feeling to be going back to the Super Bowl. It's been a while, but the kids worked hard to get a second chance," Adamopoulos said. "Our defense is a lot better now than it was at the beginning of the season."
Victor Harrington took over at quarterback for St. John's Prep late in the game and rifled a 42-yard pass to Ofurie, who fought off tackles with great second effort to get into the end zone.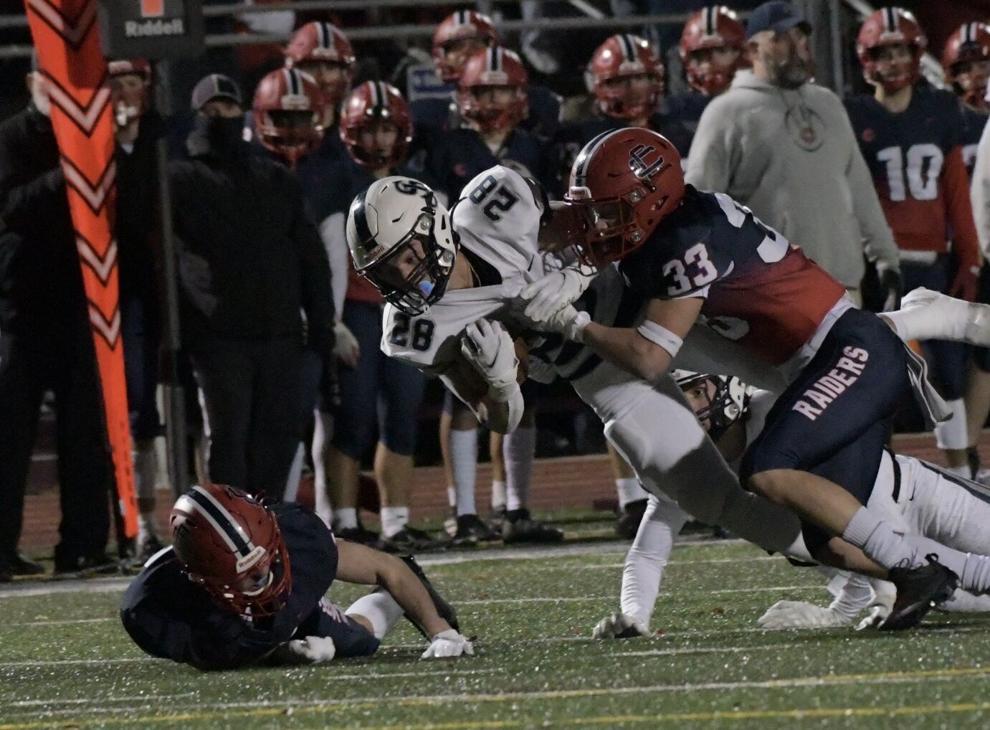 "Browne ran hard tonight , he always give maximum effort," said St. Pierre. "He's doing a great job, but we missed James Guy (ankle injury). A 1-2 punch would be nice, but that's football."