If this were virtually any other season in recorded North Shore football history, it would be one of the biggest stories in years.
It would be Thanksgiving Eve and unbeaten arch rivals Marblehead and Swampscott would be getting ready to play one of the most anticipated games in their 118-game history. Never had the Magicians and Big Blue both been unbeaten when they met in the season's final game, so the lead-in to such a contest would be enormous, and there'd be thousands of fans clamoring to get into Blocksidge Field on the holiday to watch this epic clash.
Alas, it's not to be for the Class of 2021, not with a pandemic altered, shortened Fall 2 football season and with the final high school gridiron contest of their careers held on the final Saturday in April as opposed to the final Thursday in November. 
These things, say the seniors for both the Magicians and Big Blue, they cannot change. What they can control is what transpires Friday night (6 p.m.) at Blocksidge, when both squads will be playing not only for eternal bragging rights, but with a perfect season.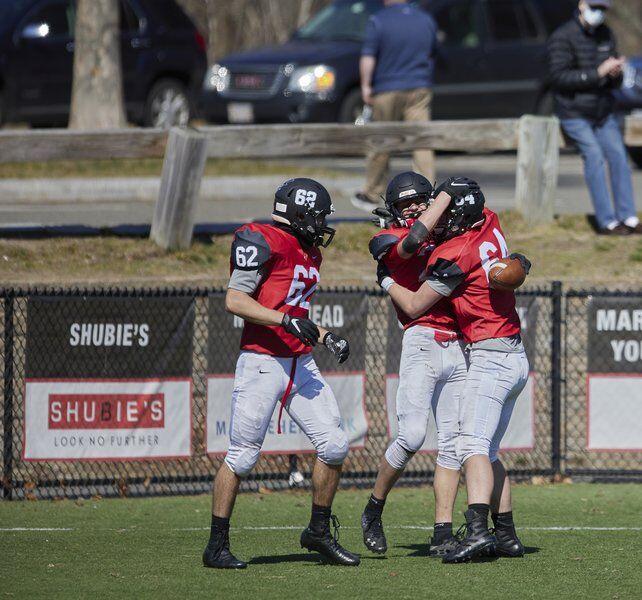 "It means everything to us, especially the seniors who have worked so hard all these years," said Marblehead captain J.T. Monahan, whose team won its ninth Northeastern Conference North title in the last 11 seasons and enters this showdown at 6-0. "You hear that every year, but it's especially true this year. We got through a global pandemic and were able to have a full football season; to get one last game against our arch rivals to cap off our careers, in a game where we're both undefeated, it's a dream come true."
Because of a COVID-19 pause in the middle of their season, the host Big Blue have played half as many games as Marblehead. But they, too, have an unblemished record (3-0) and shared the NEC South crown with Winthrop. Now, defeating the Magicians for the first time since 2012 is the only fire necessary to fuel them.
"I just want to make sure I don't come out of it saying 'I should've done this or that'. I want to do everything I can to help us win, and all my teammates feel the same way," said senior wideout and safety Andrew Augustin, a sure-handed 6-foot, 175-pound speedster. "We'll be ready to go for whatever comes up."
Dominant defensively
Marblehead hasn't finished a regular season unbeaten since 2016, when it went 11-0 before falling in the Division 2A Super Bowl to Falmouth. The Magicians have had two unbeaten campaigns in their 112-year history, the last coming in 1942 (9-0-2). Swampscott has produced nine unbeaten seasons and won a Super Bowl in 2019. But they did lose to Marblehead for the seventh straight year, something the Big Blue haven't forgotten.
"I can't put into words how much winning that Super Bowl meant to us," senior lineman Angelo Ciciotti said. "But losing to Marblehead on Thanksgiving was something we all clearly remember, too. Hopefully we get some payback (Friday). It'd be a fantastic way for us to go out."
"You can never take a championship ring away; those guys will have it forever. You have to give them respect," Marblehead senior lineman James Maniaci said of the Big Blue. "Those guys know how to step up in big moments. I felt bad they went through that COVID-19 stuff, too; it's tough to miss what few games you have in a season."
Swampscott has allowed just 12 points this spring. Augustin, along with fellow safeties Dylan Dubiel and Elijah Burns and cornerbacks Xaviah Bascon, Jason Codispoti, Cole Hamernick and Chris Ferragamo, are strong in coverage. Ciciotti and fellow senior end Thomas Frisoli join Nelson Beauchamp and Joey Mignone up front, while linebackers such as Jake Papazoglou, Nakamee Davis, Jordan Cummings, Zack Pierce and Cam O'Brien complete a stellar unit.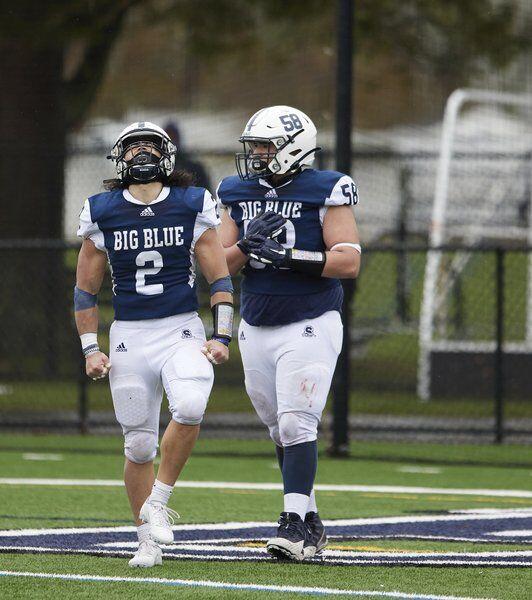 Marblehead has as dominant defensively, having surrendered just seven points in the first half of games and 51 points total. Maniaci is the nose guard with Monahan and Gresham Bosworth surrounding him as defensive ends; Tommy Groom and A.J. Andriano also rotate in. Captain Cam Janock, Mitch Corelle, George Percy and Devon Testa can stop the run and capably drop back into coverage from their linebacking spots, while James Galante, Connor Cronin, captain Miles Smith and Zander Danforth take care of pass coverage in the secondary.
"Watching Swampscott's linemen on film, they know what they're doing," said the 6-foot-2, 205-pound Bosworth. "Their footwork is excellent and they shoot their hands (out) really well. We'll need to beat their technique with more technique and find their weak spot."
Seniors say
Corelle said football has been a passion of his since the third grade, and it still amazes him that he's a starting member of Marblehead's varsity. He's calling Friday's showdown for what it is: the Magicians' Super Bowl.
"We want to end a season on a perfect note," said the 6-foot, 165 pounder, who will attend UMass Lowell to study mechanical engineering, "but this will be our toughest test. Swampscott is undefeated for a reason and their athleticism stands out. Andrew (Augustin) will probably be the best receiver we face, and they're also the first true spread team we'll play; Peabody did a little, but these guys do it on every play. It's going to be a great challenge."
Monahan remembers going to games when he was younger to watch his cousin, former MHS quarterback Ian Maag. "They lost to Swampscott his senior year and I remember how he felt. That always stuck with me," said Monahan. "I don't want that same feeling."
Bosworth said he's extremely thankful that the Magicians were able to have a full season in this, his senior year.
"So going into this last game, I'm not only remaining thankful," said the 6-foot, 205-pounder, "but I'm also grateful and excited to prove what we've learned all year and put it all together to beat Swampscott."
"No one wants this more than our seniors," added Maniaci. "I remember watching guys like Derek Marino, Aidan Michaud, Gresh's brother Will Bosworth, the Millett brothers ... we all looked up to those guys a lot. So this, for us seniors, is a culmination of everything we've been through and keeping that tradition, which was set long before us, going for a new group of incoming players."
Naturally, the Big Blue see things the other way.
"Marblehead's players are always in the right spot and are very disciplined, so for us to be successful we literally have to stay focused and calm," countered Swampscott's Augustin. "We can't rush it, but we can't play too slow, either. We have to play at the right pace and speed. We want to set the tone"
"As long as when the clock hits zero and we have more points than Marblehead," added Ciciotti, "then I'll be happy."
Capable of fireworks
Both teams are led by junior quarterbacks, with Marblehead's Josh Robertson having been crazy-accurate thus far (95-for-127 for 1,139 yards and 15 TDs against just 2 interceptions). Agile out of the pocket, he's also run for five scores.
Cam O'Brien is also gifted; the Big Blue signal caller has hit on 25-of-42 attempts for 379 yards and seven scores with a pair of picks.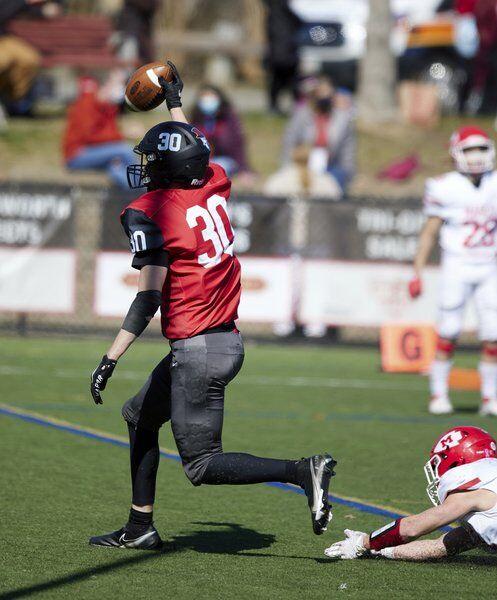 Junior George Percy (487 yards, 4 TD) and Cronin (289 yards and 2 TD on just 33 carries) form an excellent 1-2 punch out of the Magicians' backfield. When Robertson takes to the air, he looks for James Doody (23 catches for 489 yards and 5 TD), Cronin (36 rec., 306 yards, 6 TD), Godot Gaskins (10 catches, 102 yards, TD) and Percy (8 rec., 79 yards, TD), among others.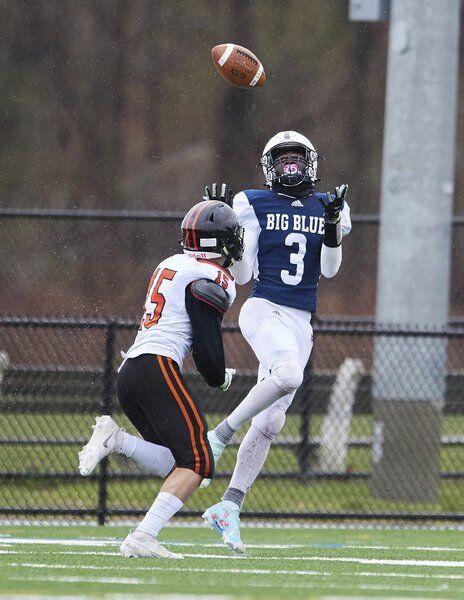 Bascon (137 yards and a TD on just 22 carries) is  Swampscott's primary back and can also catch the ball (9 rec., 116 y ards, TD) out of the backfield. Augustin (3 catches for 47 yards last week), Hamernick (6 grabs for 110 yards and 4 TD), and Burns (5 catches, 81 yards, 2 TD) are also scoring threats whenever they haul in a pass. 
||||