IPSWICH — For three years on the Hamilton-Wenham football team, Ian Coffey was deployed as a versatile weapon.
Whether he was sprinting through the seams out of the backfield, catching a pass in the slot and taking off for big gains, or hauling in a deep ball from then-quarterback Billy Whelan, Coffey was an irreplaceable asset for Generals head coach Jim Pugh. With Whelan graduated, Pugh turned to the multi-talented Coffey to run the offense at quarterback for his senior campaign — and unsurprisingly, he continued to produce.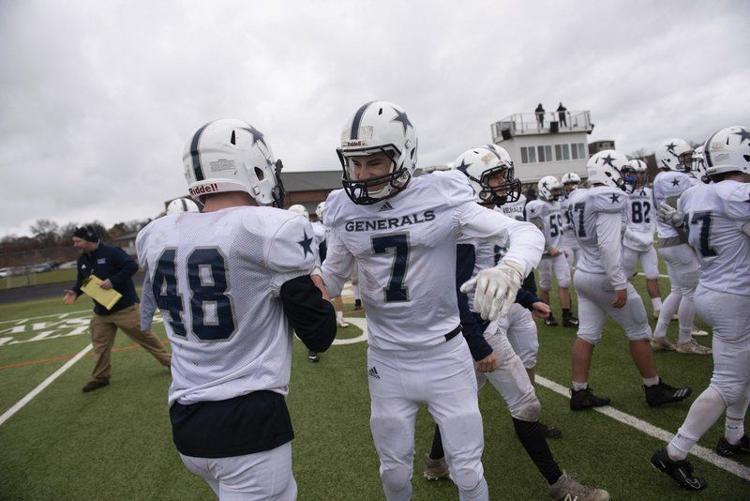 His impressive skillset was on full display Thanksgiving Day as Coffey scored a pair of touchdowns on the ground, completed all but one of his six pass attempts and led the Generals to a convincing 21-6 triumph over arch rival Ipswich. 
Coffey finished the season with 790 rushing yards to lead the team the third consecutive campaign. After the Turkey Day triumph, however, individual stats were the last thing on his mind; all he cared about was that his determined group came out of Jack Welch Field with a win.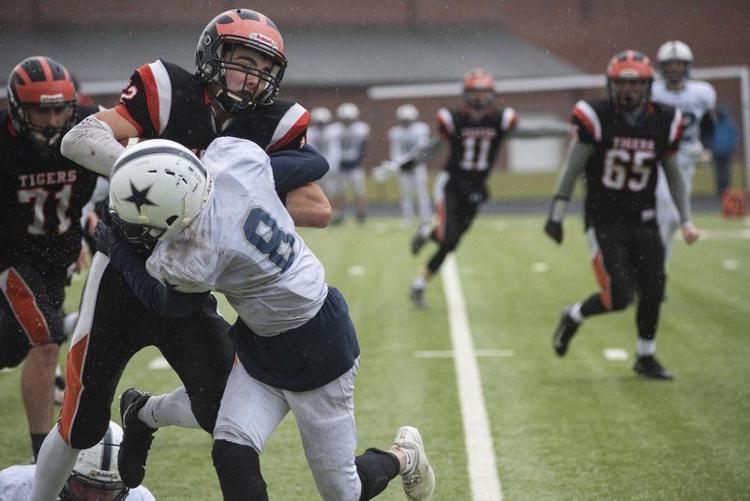 "It feels amazing. We spent the entire year thinking about this game," said Coffey, whose team hadn't beaten the Tigers since 2016. "Hamilton-Wenham and Ipswich ... it's the most important game of the year no matter what, and to beat them is just unreal."
Both teams finished the season with identical 5-6 records.
"We had two (Division 6) North finalist teams come in and lose to them on Thanksgiving the last two years, then this year we didn't even have a winning record and we come into their place and upset them," Coffey added. "It means the world to this team and I know it does to the other seniors, too. We just couldn't ask for a better way to end the year."
Coffey wasted no time getting the offense going as the Generals went 59 yards over 12 plays to paydirt on the game's first drive. Coffey scored the touchdown on an 11-yard keeper.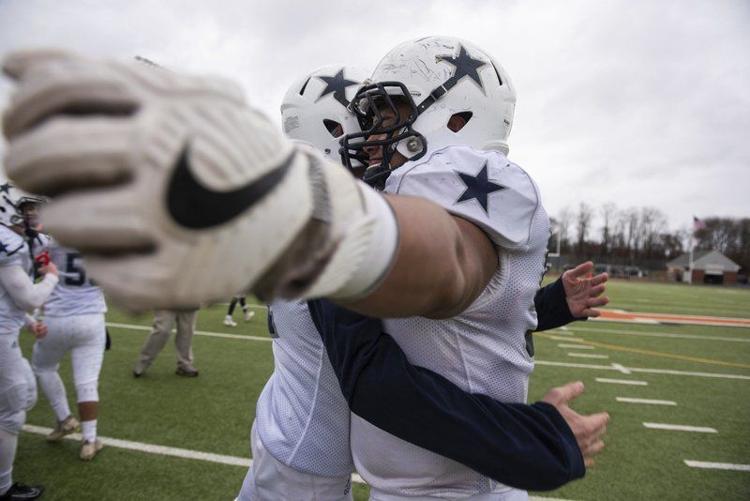 Ipswich responded quickly, finding the end zone on its first possession thanks to some equally impressive running from their lead back, Cole Terry (115 rushing yards). The junior ballcarrier took seven of the Tigers' first eight carries, including a 15-yard scamper to knot things up at 6-6.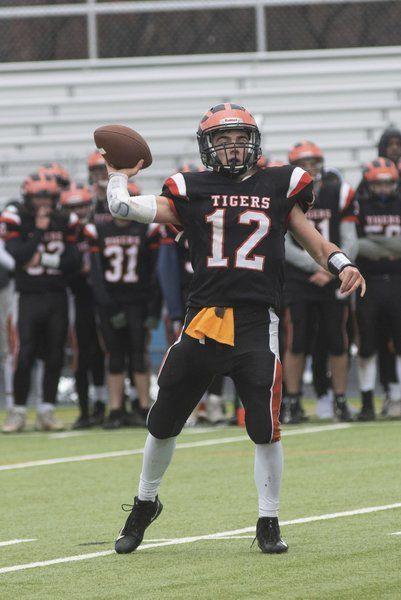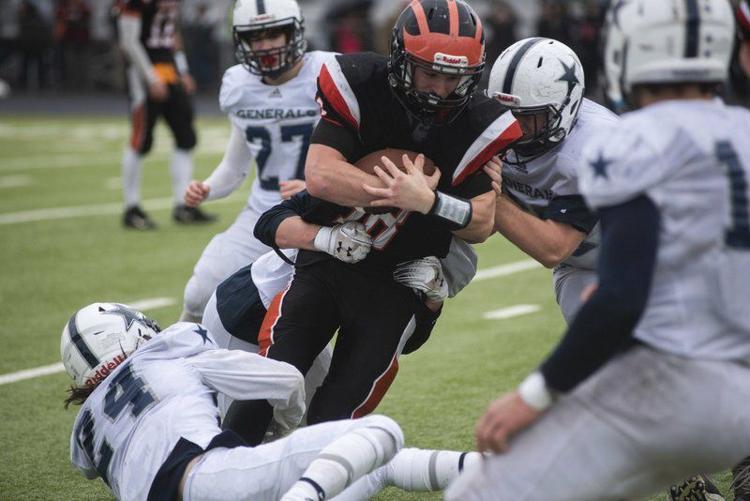 After getting a big stop on an extended red zone drive by the hosts, Hamilton-Wenham was able to take the lead for good with a well-executed series. Pinned at their own 6-yard line after forcing a turnover on downs, Coffey slung one down the middle of the field and drew a pass interference call. Now with more breathing room to operate, the shifty signal caller completed consecutive passes to Ryan Monahan and Markus Nordin before running on two straight plays, the latter of which went for a decisive 21-yard score.
Coffey then found Tristan McCarthy all alone in the end zone to add the 2-point conversion for a 14-6 lead at the half. 
"Ian's a very good athlete; he ran around and made a ton of plays with his legs as we had prepared for for over a week-and-a-half," admitted Ipswich head coach Kevin Fessette. "He did a great job and he's the MVP of the game, in my opinion."
After the break, Ipswich was able to string together another encouraging drive. But the Generals again came up with a big stop in the red zone on fourth down. That paved the way for another scoring drive, as Costas Savagnino capped it off with an 8-yard touchdown run and a 21-6 advantage for the visitors.
"The defense was unreal," Coffey said of his teammates. "Losing last year 36-0 and letting up all those points, and then this year coming and and only letting up 6? It's just unreal; I don't even know how to explain it."
With one last chance after driving inside the Generals' 20-yard line yet again as time wound down, Savignano came up with a timely pass knockdown in the end zone on a Tigers' fourth down attempt. That came immediately after a slew of Generals had teamed up for a quarterback sack.
It was an all-around effort for Hamilton-Wenham, who got particularly impressive performances from their tight-knit 12th graders.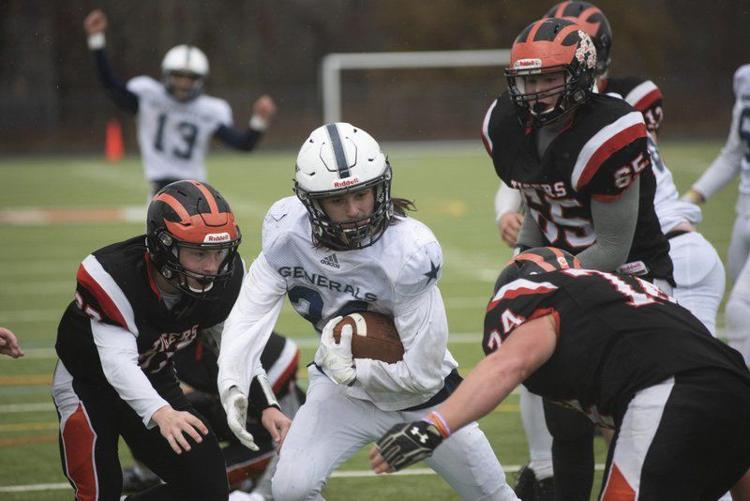 "The senior class just really pulled through," said Generals coach Pugh. "They were so excited and we appreciate their experiences here; we love them all. There's nine of them and they all contributed today and all season ... Costas (Savignano) was awesome in the last two games. Just a great win."
Hamilton-Wenham waves goodbye to seniors Colby Cala, Chance Augustine, Max Lech, Finn Brophy, Louis Preston, Ethan Moynihan, Savignano, McCarthy and Coffey. 
For Ipswich, Cam James had one last strong game under center, rushing for 77 yards on 16 carries. He'll graduate in the spring along with Ethan Jean-Charles, Clay Manolian, Andrew Zambernardi, Will Ginolfi, Brian Trefry, Tyler Roberts and Alexander Somers — a group that will also surely be missed.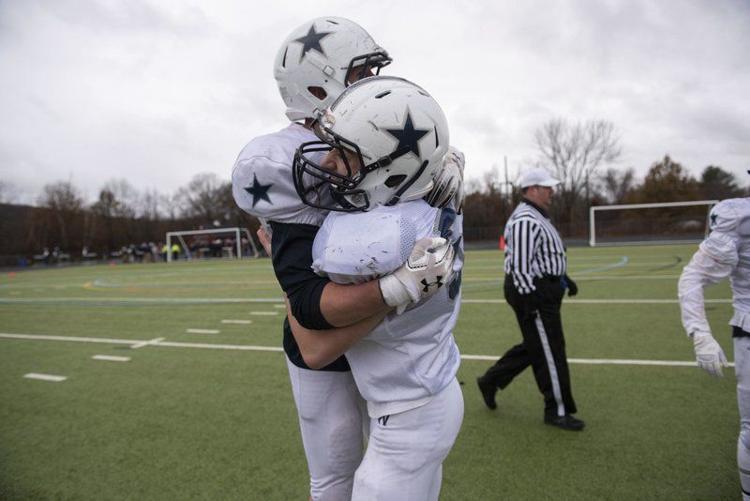 "They're part of the first group that we've had as coaches since we moved in here to go through the four years," Fessette said. "They did all the little things: the extra lifts, the running and the paying attention and really making better decisions, being good people and working hard. That's all we really ask for — and we're going to miss them. They represented us the right way; hats off to them. I love those guys and appreciate what they did for our program."