As a sophomore for a deep and talented Beverly High boys soccer team last fall, Nick Braganca made an enormous impact with his defense and passing abilities, among other things. 
The physically imposing defensive midfielder tallied a team-high 16 assists and was voted to the Northeastern Conference all-league team. This season, different as it may be, he's already shown even more signs of improvement. 
Part of that is due to varsity level comfortability and a larger and more leadership driven role after the Panthers graduated 12 seniors from last year's team. The other part? That's all attributed to his hard work and dedication to the sport.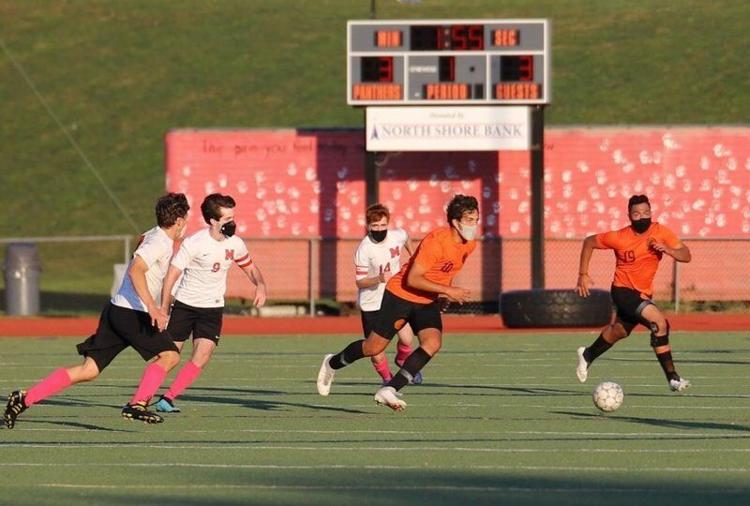 "We expected him to have this start," said Panthers' head coach Edgar de Leon. "Once we saw what his abilities were, especially with him being so dominant with these senior laden teams we played against, you knew coming into this year he was only going to grow as a player. He put a ton of work in in the offseason, and he's just playing soccer at a different level than the majority of kids on the field."
In two games thus far (both wins), the versatile 6-foot-2 threat has compiled two goals and a team-best six assists (four of those coming in a comeback win over Marblehead). He's served as both a lockdown defender, vocal leader and tremendous facilitator, while possessing the ability to find the back of the net at a high rate as well. 
During the offseason, Braganca worked tirelessly on his skillset with Surf Soccer Club coach Jake Beverlin, something he says has paid dividends early on this fall. 
"I worked a ton on soccer. Lot of 1 v. 1s with coach (Beverlin)," said Braganca, who actually plays striker for his club team, which explains his knack for goal scoring. "I worked on my touch, my dribbling, my outside shooting, my weak foot ... everything really because it's a big year for me and big year for college recruiting, too."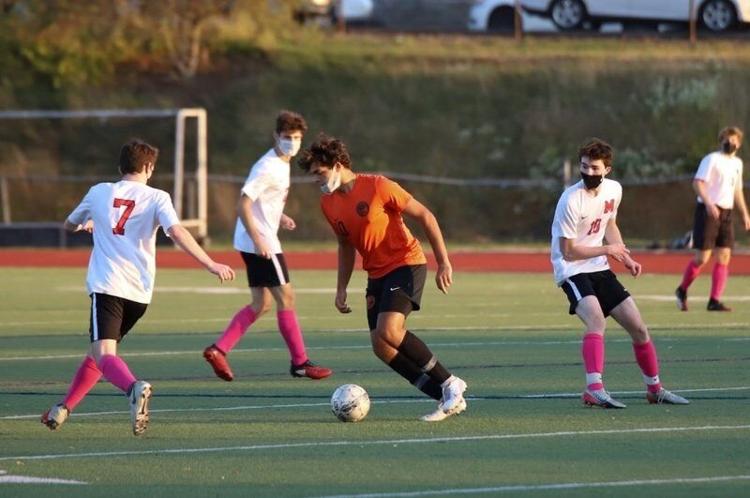 Braganca says the goal for the team this season is to finish with an undefeated record. In order to make that possible, he won't be able to do it all himself. Luckily, he's got plenty of other talent surrounding him. 
Junior Teo Berbic is a gifted offensive player and netted a hat trick in a 4-1 win over Swampscott. He also has three assists on the season. Senior captains Marshall Lee (forward), Carson Brean (defender) and Justin Butters (defender) have all gotten off to strong starts both on and off the field; sophomore Ian Visnick continues to make strides after an impressive debut season a year ago — "he's gotten bigger, faster, stronger and smarter," says de Leon; and newcomer Wilson de Leon (no relation to coach) has been more than a useful asset in the early goings as well. 
All great players in their own right, Braganca only makes them better. 
"Nick's a great player but out of all his individual attributes what he does best is make everyone around him better," said de Leon. "His presence, his skills, the way he approaches the game, his attitude and encouragement to all the players ... I've never seen him be negative towards anyone and it really rubs off on everybody else."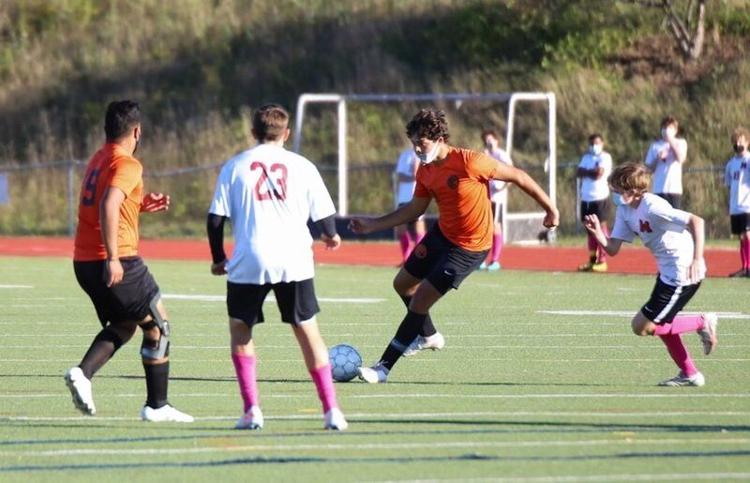 Braganca will look to help his team continue their unbeaten streak to start the season when Beverly takes on Salem on Friday afternoon. 
###
Masconomet was certainly eager and ready to take on Marblehead on Tuesday afternoon in what was sure to be a competitive contest. But due to the rain the game was called off, and the Chieftains will have to wait a bit longer before attempting to improve their unbeaten record of 2-0. 
It's been complete and utter dominance for the newest members of the Northeastern Conference thus far, as the Chieftains have upended Salem (9-0) and Swampscott (8-1) in their first two games of 2020. Masco once again looks impressively balanced, with Carmine Dipietrantonio (hat trick against Salem) and Sam Brockelman (2 goals, 2 assists against Swampscott) serving as two of the lead catalysts offensively thus far. 
###
Much like their golf team, Bishop Fenwick keeps on rolling. After dropping their season opening clash against rival Bishop Feehan, the Crusaders have reeled off three straight shutout wins against quality opponents. First it was Essex Tech who was on the losing side of a 3-0 decision to Fenwick, then Central Catholic (1-0 Fenwick) and finally Arlington Catholic this past Monday, a game which the Crusaders also won 3-0. 
Keiron Murray, Ryan Noci, Aidan Dwyer, Andrew McKenzie and Jack Andrews have all factored into the scoring at one point or another, while Liam Foley has been stout in net en route to the three consecutive shutouts. 
###
Hamilton-Wenham got in the win column over the weekend after dropping its first two decisions of the season. For a team that's prided itself on the defensive end over the past few years but struggled to get consistent offense, scoring five goals in the win over Ipswich was certainly a good sign. 
The Generals got two goals from Ronan Conors, a goal and two assists from Ethan Minster and a goal apiece from Rafi Santomena and Jackson Contois. H-W grabbed another win on Monday, shutting out Amesbury, 1-0.
###
Corner Kicks is a weekly high school boys soccer column that appears in the paper every Wednesday during the fall season. Contact staff writer Nick Giannino at NGiannino@Salemnews.com. Follow him on Twitter @NickGiannino_SN.
||||