It was another banner year for the Danvers High girls soccer team, which repeated as Northeastern Conference North champions and saw senior co-captain Lauren Clement voted the league Most Valuable Player.
The Falcons had the most players voted to the All-Confernece squad as well, with Clement joined by teammates Olivia Anderson and freshman Arianna Bezanson.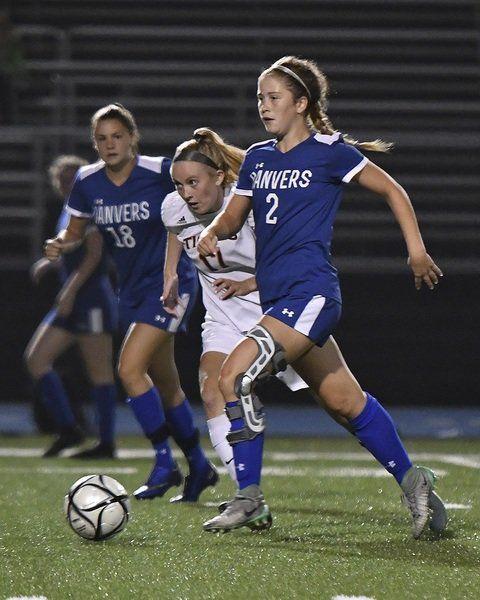 Swampscott's leading scorer Haley Bernhardt and ace midfielder Mackenzie Kearney were also selected first-team All-Conference, as were Beverly senior co-captains Jordan Butters, Anna Edson and Katelyn Singer.
Peabody's Aja Alimonte and Marblehead goalkeeper Rachel Saulnier were chosen as first-teamers along with Somerville's Jill Hutchinson and Medford's Lyndsey Martins.
The NEC's team sportsmanship award went to the Mustangs of Medford while Danvers' Jimmy Hinchion was voted NEC Coach of the Year.
The NEC's South division MVP went to Allison Leblanc of Saugus. Salem's Isabella Wronkowski drew first-team honors in the South along with Malden's Darcy Cummings, Beatriz Deoliveira Segato and Jill Tramondozzi, Saugus' Kylie Ronan, Lynn Classical's Julia Jordan and Fatima Girdia, Winthrop's Maura Dorr and Julia Marcoccio, Revere's Carolina Carvalho Bettero and Lynn English's Melissa Zayas.
Meghan O'Donnell of Revere was the South Coach of the Year and her Patriots received the Sportsmanship Award.
The second team honorable mention all-stars were chosen as follows:
DANVERS: Riley Baker, Madison Pesce, Jess Pelletier.
BEVERLY: Julia Pitman, Samantha Carnavale, Cassie Jones.
SWAMPSCOTT: Kayla Kornitsky, Nikki Rosa, Sydney Clark.
PEABODY: Bridget O'Connell, Shelby Doucette.
MARBLEHEAD: Grace Arthur, Meeghan Cronin.
SALEM: Madison White, Stephanie Cantone.
GLOUCESTER: Lauren Wood, Liz Schuster.
SOMERVILLE: Daisy Pena Figueroa.
MEDFORD: Isabella Sanchez
SAUGUS: Alivia Burke, Shaylin Groak, Cailey Maceachern.
MALDEN: Susan Deleon-Pais, Nour Chouiki, Audree Carleton.
WINTHROP: Emma Carleton, Mia Marticci.
LYNN CLASSICAL: Chloe Kebreau, Anna Flaherty.
REVERE: Jackelynn Zapata, Luana Barbosa.
EVERETT: Dayeli Garcia.
LYNN ENGLISH: Ravyn Rapley.