Emma Thibodeau, a senior forward who helped lead Danvers High to a league championship this fall, was named the Northeastern Conference's Player of the Year in field hockey.
Thibodeau was one of three Falcons chosen for the NEC's All-Conference team. Joining her were senior midfielder and fellow captain Ella Brinkley, as well as junior defender Janessa Marchegiani. In addition, Danvers' Jill McGinnity was chosen as NEC Coach of the Year.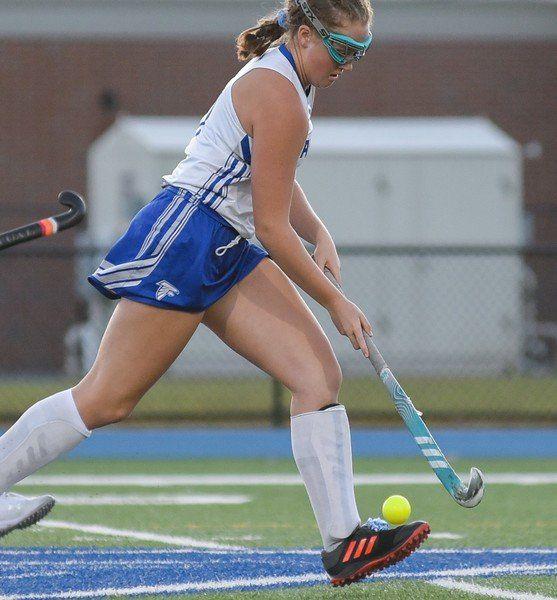 Senior forward Hailey Anderson of Beverly was also selected as a member of the All-Conference team, as were Marblehead seniors Sammi Bendicksen at halfback and Maddy Dimare at midfield.
Swampscott also had two All-Conference selections in senior forward Natalie Dominiconi and sophomore midfielder Isabella Modica, while Peabody was represented by senior midfielder Jess Bacelar. Gloucester's Cate Delaney, a senior midfielder, and Mia Salah, a junior forward, rounded out the All-Conference squad.
The Northeastern Conference all-stars were junior forward Ashley Curcuru, sophomore midfielder Grace Brinkley and sophomore defenseman Ashley Clark of Danvers; junior Anne Curtin of Beverly; seniors Julie Arts on defense and Lydia Hurley at sweeper for Marblehead; junior midifielder Lily Bromberger of Peabody; juniors Harper Clopton on defense and Olivia Passalacqua at forward for Swampscott; and senior forward Maddie Machado and junior midfielder Ella Marshall of Gloucester.
Saugus High captured the NEC Team Sportsmanship Award.
The final NEC standings for 2019 were:
Team Record Pts.
Danvers 11-0-1 22
Gloucester 7-3-2 16
Marblehead 7-4-1 15
Swampscott 6-4-2 14
Beverly 4-4-4 12
Peabody 1-11-0 2
Saugus 0-12-0 0