DANVERS — It's a brand new year with a lot of new faces on the St. John's Prep football team ... but the beat goes on.
The Eagles opened up the 2019 season with a shutout victory, scoring three times in the fourth quarter to take down visiting Bridgewater-Raynham, 28-0, Saturday at Glatz Field. Senior quarterback Matt Crowley threw two touchdown passes and ran for another over the final 12 minutes.
Head coach Brian St. Pierre made it clear than the 2018 Division 1 Super Bowl championship season is in the rearview mirror and that this year's Eagles are a different squad.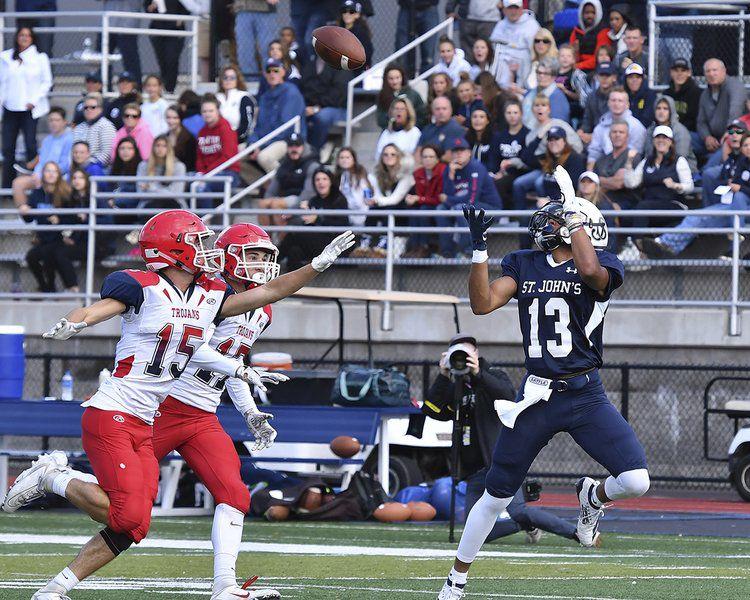 "We're a new team, and we looked like it early on (Saturday)," he said. "(Veteran B-R coach) Dan Buron does a great job with that team; they grind and are always physical. We made some adjustments at halftime and played much better in the last two quarters."
The Trojans' defense was on the field for long stretches of time and wore down in the second half, allowing St. John's to eventually pull away.
Late in the third quarter, Prep freshman Joenel Aguero went up for a jump ball with B-R's Anthony Morrison. Aguero came down with it and hung on to set his team up at the Trojans' 46-yard line. A dozen plays later Crowley crashed into the end zone behind center Cooper Smith. After Nolan Philpott booted the extra point, the Eagles had a 14-0 lead.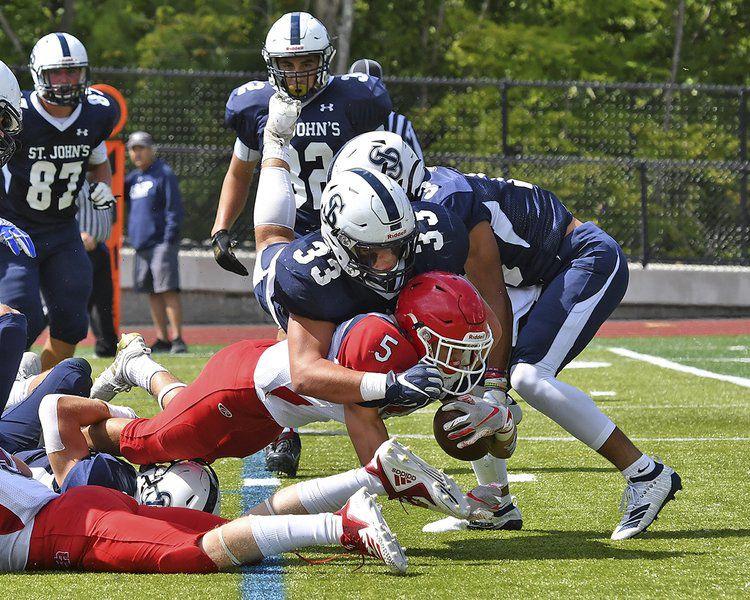 "I feel completely confident in this offense," said Crowley. "I have nothing but good things to say about Cooper and the rest of the offensive line, too. We have some things to clean up and I didn't throw the ball all that well in the first half, but we adjusted at halftime."
After the Prep's Nick Baldini sacked Trojan quarterback Austin Hartsell for a big loss, a short punt gave the hosts possession at the Bridgewater-Raynham 36-yard line. On the next play from scrimmage, Crowley hit sophomore receiver Jackson Delaney in the back of the end zone to extend the lead, 21-0.
The Prep defense then forced a three-and-out, and once again the Eagles had good field position at the visitor's 44-yard line. Behind the running of sophomore James Guy (16 carries, 90 yards) and senior Pat Nistl (8 carries, 63 yards) the Eagles moved the chains before Nistl found a huge hole to run through for a 5-yard TD.
The Trojans had only two first downs in the second half, both in the waning minutes of the game.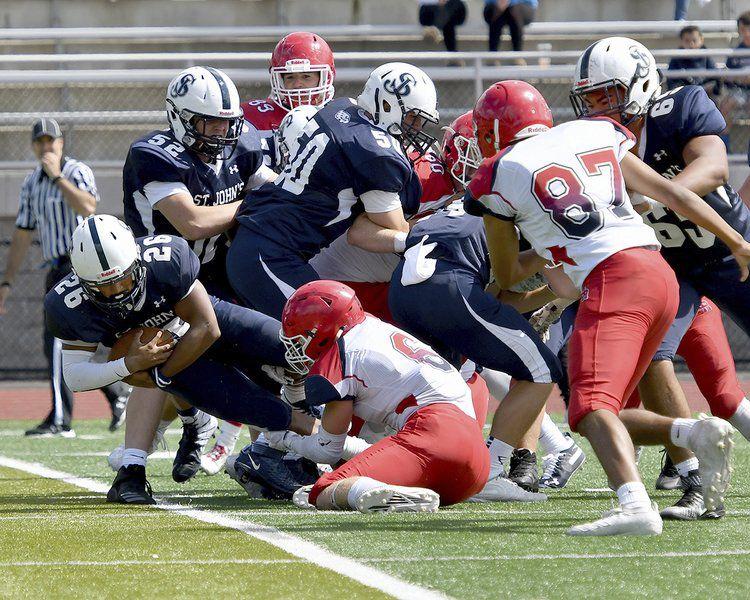 It was a different story in the first half as both teams had good scoring chances, but missed field goal attempts. On the opening drive St. John's marched to the Bridgewater-Raynham 5-yard line and Philpott attempted a 22-yard field goal, but it sailed wide right. The visiting Trojans answered with a long drive of their own, but Hartsell's pass was broken up by Guy at the goal line and two plays later the sophomore QB was sacked by the Eagles' Collin Taylor for a 12-yard loss, forcing a punt.
Crowley then went to the air, hitting Delaney for a 14-yard gain, connected with Aguero for 46 more, and three plays later found Matt Duchemin for a 4-yard TD grab. The Trojans answered with a drive to the Prep 10-yard line, but Liam Stewart's field goal attempt failed when the place holder bobbled the ball. St. John's was called for three offside penalties on that drive, and St. Pierre said they were lucky to go into the locker room up by seven points.
"We're not perfect, but it's a good win against a well coached team," said St. Pierre. "We know whenever we play them it's going to be a grind because Buron takes pride in his program being tough and physical.
"I thought we played really good defense, and our offensive line was better in the second half," he added. "We're young; at one point we had two sophomores and a freshman at receiver. They're new but also talented. There's stuff we have to clean up, but I love the process because each day they get better."
Crowley threw for 137 yards, and his favorite receiver was Delaney, who had four catches for 74 yards. Duchemin caught four balls for 17 yards, and was outstanding at cornerback.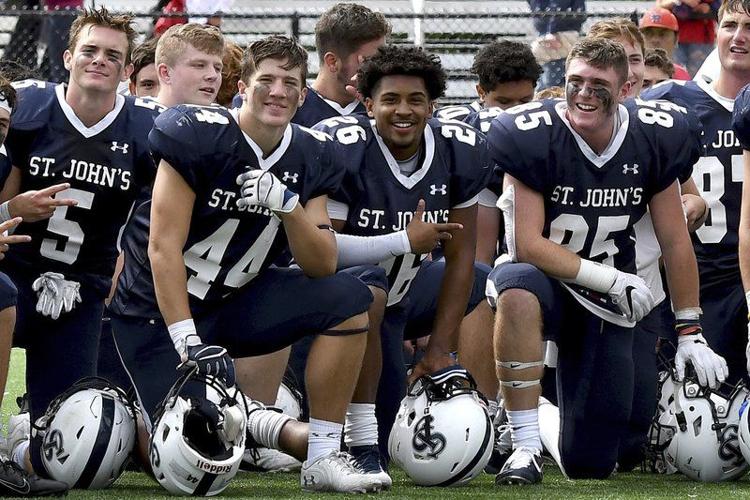 "He's so good at the corner," said St. Pierre about his senior captain. "They tested him early with a guy that was about 6-foot-4, but Matt broke up the play. He really comes through with some big catches."
Next week the Eagles travel to Haverhill for another non-league game (3 p.m.).