MARBLEHEAD — Pomp and circumstance isn't Jim Rudloff's thing; on-field execution and results are.
Junior wideout James Doody provided both on Saturday afternoon, and in doing so helped his head coach reach a milestone no other football coach in North Shore gridiron history had reached before.
Doody had touchdown receptions of 49, 16 and 8 yards in the first half as the Magicians remained unbeaten with a 35-19 triumph over Masconomet on Senior Day at Piper Field.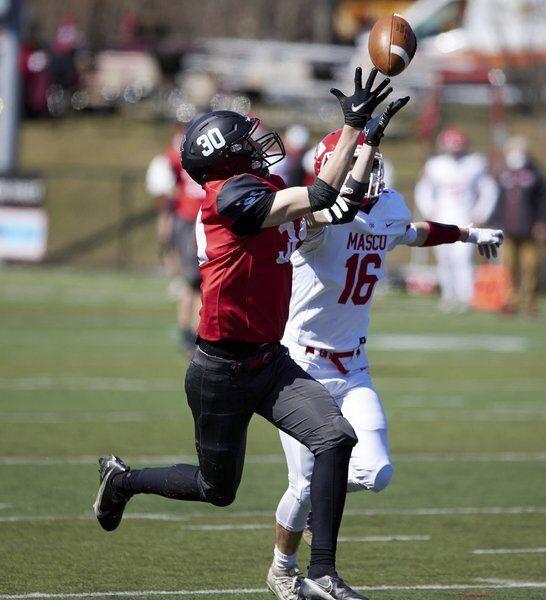 The triumph not only brought Marblehead's record to 4-0, but also gave Rudloff his 100th win on the MHS sidelines in just his 128th game, the fastest coach to ever reach triple digit victories locally.
"It's crazy to see the success that he's had," Marblehead captain J.T. Monahan said of Rudloff after the game. "I saw the article that was written about him (in Friday's Salem News) and how he basically flipped the (program's) winning percentage since he's been there. That's just amazing; it shows what kind of coach he is."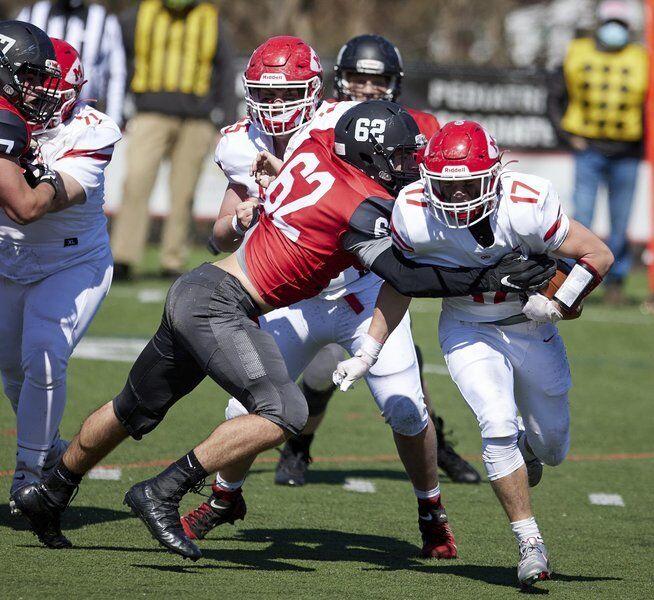 A Natick High and Northeastern University graduate, Rudloff would come up to watch the Marblehead/Swampscott Thanksgiving Day game as a youngster because his mother's parents lived in Swampscott. He was first hired at Marblehead as an assistant on coach Bill Manchester's staff in 2001, then went to Beverly to work for his current boss, MHS principal Dan Bauer, on the Panthers' staff in 2005.
Rudloff returned to Marblehead, this time as head coach, in 2009, and his teams have won eight Northeastern Conference titles and had a pair of Super Bowl appearances since then, along now with an even 100 victories and a stellar .781 overall winning percentage.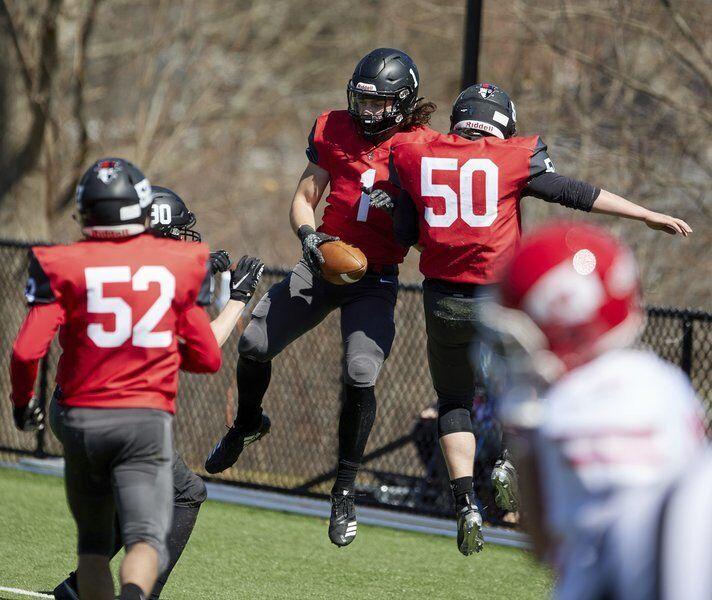 Rather than focus on any individual milestones, Rudloff praised his players postgame for their resilience and making every practice and game count in this pandemic season. He was happy to see each of his seniors on the field postgame for the work they've put in.
"The big thing for me," Rudloff said of the 100-win milestone," is what Marblehead football is now, and I'm proud of that."
Doody had a big day in large part because he was able to get himself open in space, putting separation between himself and the defender. Working well with quarterback Josh Robertson (12-for-19 for 194 yards and 4 TDs), Doody made the most of his opportunities.
Rudloff offered up an example of when Doody was supposed to run a 10-yard out with speed cut, but knew enough to slow down when running back Connor Cronin got the attention of Masconomet's perimeter defender, who jumped the latter's route. Had Doody kept running his original designed play, he would've run straight into the cornerback covering his teammate, Godot Gaskins. Instead, Doody's legs stopped and Robertson found him alone in space, leading to another score.
Monahan said it "honestly wasn't a surprise" to see Doody excel. "In practice it's like watching Larry Fitzgerald sometimes; he makes some catches that aren't supposed to be made routinely," Monahan noted. "To see him thrive like this against a quality opponent like Masconomet is awesome. This kid is going to be a star."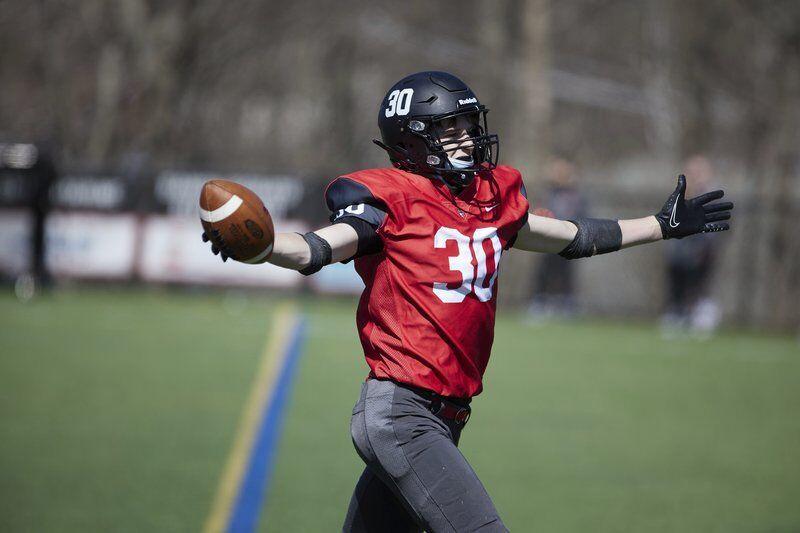 "James is going to be a very dangerous young man, because he's getting better every week," added Rudloff. "He understands that we're not throwing to players; we're throwing to space. And he has the understanding to move to a different part of that space when needed; the negative space, they call it. He has a real understanding of that."
Robertson's other TD pass went to George Percy five-and-a-half minutes in, a play where he caught the ball in the right flat, followed a terrific block from senior lineman James Maniaci and sprinted down the right sideline untouched for a 54-yard score.
"I love the way they play," Masconomet head coach Gavin Monagle said of the Magicians. "They're very disciplined in every part of the game, they keep their angles well, they block, they tackle ... and they're tough to trick."
Masconomet, without standout lineman and captain Teddy Fellows since Week 1 and starting running back Greg Walker (dislocated shoulder last week vs. Peabody), welcomed the Nadworny brothers back to the lineup. Members of the Masconomet community, they moved with their family to Texas because of their father's work and played some ball there, said Monagle; that ultimately counted against them when they returned to Massachusetts, and the Nadwornys went through an appeal to play again for the Chieftains, which was granted this past week.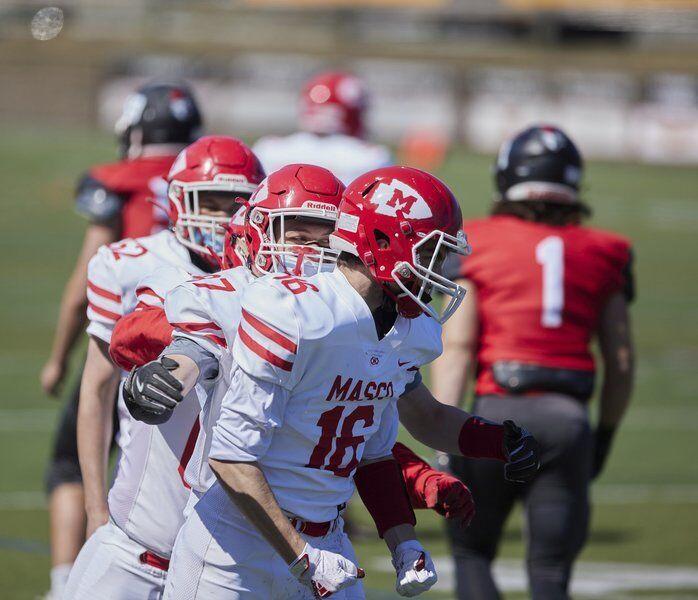 Mat Nadworny, a junior tailback, had a team-high 38 yards on nine carries and caught six passes for 33 yards. He had a pair of touchdowns, fighting through tackles for a 13-yard TD catch to start the second quarter, and then breaking the plane from a yard out in the third quarter.
His brother Sam, a freshman, added 22 yards on a half-dozen totes and snared five passes for a team-best 61 yards. He too found the end zone, getting behind the Magicians' defense and pulled in a 42-yard touchdown grab from sophomore quarterback Matt Richardson (20-for-39, 192 yards) with under six minutes remaining, cutting his team's deficit to 28-19.
The Chieftains then successfully recovered an onsides kick, but four plays later Marblehead had the ball back and on second down, Cronin took it up the right sidelines for a 53-yard touchdown, sealing the win.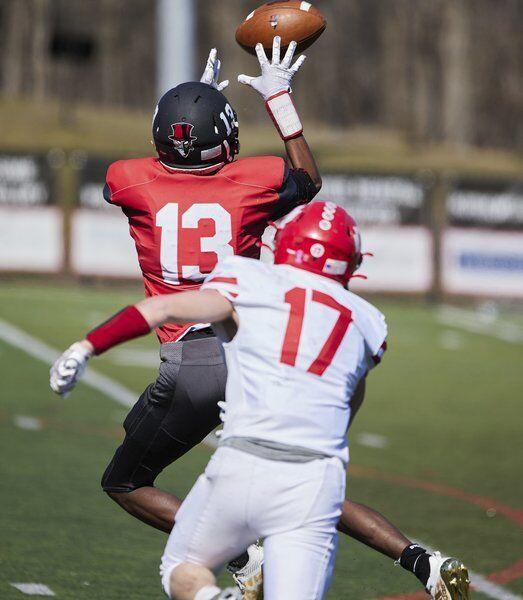 Captains on both teams were missing on this day: hulking Masconomet lineman Teddy Fellows missed his second straight game but hopes to be back for Friday's home tilt vs. Salem, while Marblehead was without free safety and wideout Mark Paquette and lost fellow captain Cam Janock, a left guard and middle linebacker, after he was flagged for a helmet-to-helmet hit in the second quarter.
Marblehead 35, Masconomet 19
at Piper Field, Marblehead
Masconomet (1-2)     0 7 6     6 — 19
Marblehead (4-0) 14 14 0     7 — 35
Mar-George Percy 54 pass from Josh Robertson (Eli Feingold kick)
Mar-James Doody 49 pass from Robertson (Feingold kick)
Mas-Mat Nadworny 2 pass from Matt Richardson (Toal Lodewick kick)
Mar-Doody 16 pass from Robertson (Feingold kick)
Mar-Doody 8 pass from Robertson (Feingold kick)
Mas-M. Nadworny 1 run (kick blocked)
Mas-Sam Nadworny 42 pass from Richardson (kick failed)
Mar-Connor Cronin 53 run (Feingold kick)
INDIVIDUAL STATS
RUSHING: Masconomet — Mat Nadworny 9-38, Sam Nadworny 6-22, Matt Richardson 9-22, Nick Cantalupo 4-14, Trent Bunker 1-3; Marblehead — George Percy 11-82, Connor Cronin 8-81, Josh Robertson 5-17.
PASSING: Masconomet — Richardson 20-39-192-2-1; Marblehead — Robertson 12-19-194-4-2.
RECEIVING: Masconomet — S. Nadworny 5-61, Tyler McMahon 3-38, Jack Randall 1-38, M. Nadworny 6-33, Cantalupo 3-12, Owen Barnett 1-6, Keo Kiriakos 1-4; Marblehead — James Doody 3-73, Percy 3-55, Gaskins Godot 2-45, Cronin 4-21.