Lily Eldridge, a junior setter who has helped the unbeaten Danvers High volleyball team into the Division 2 state semifinals for the first time in school history, was named Player of the Year in the Northeastern Conference this season as the league released its annual all-star teams.
Eldridge was one of four Falcons chosen to the NEC's All-Conference team and one of seven members of the Blue-and-White who were picked as all-stars. Joining her on the All-Conference squad were junior captain and middle blocker Megan Murphy, junior outside hitter Carly Goodhue and senior captain and right side attacker and opposite Maddie Montanari.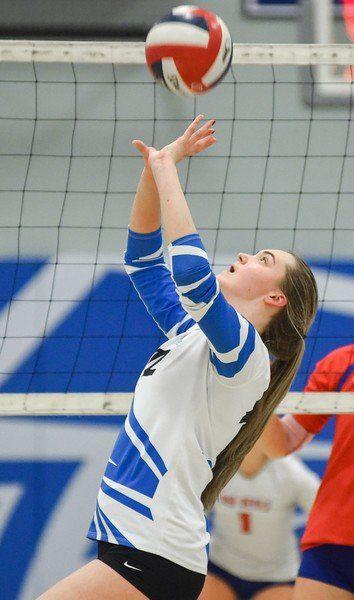 Meanwhile, Danvers senior captain and outside hitter Jianna Durand, junior middle blocker Shayla Saad and junior libero Cassie Malley were selected as NEC all-stars.
Two players from Marblehead, senior outside hitter Anna Arbo and junior defensive specialist Abby Schwartz, were also chosen for the All-Conference team, as was Lynn Classical's Pam Diaz. 
Other NEC all-stars from the North were junior libero Rory Harmon and senior outside hitter Julia Erricola of Beverly; middle blockers Lilah Thompsona sophomore, and junior Anna Schluter of Marblehead; freshman outside hitter Isabel Bettencourt and junior middle hitter Aaliyah Alleyne of Peabody; and senior setter Cassidy Ryan and senior hitter Annika Laudermann of Swampscott.
In the NEC South, sophomore outside hitter Presley Shairs and senior defensive specialist Dyanelis Mateo were picked as all-stars.
Peabody's Lisa Keene was chosen as the NEC Coach of the Year, while her Tanners and Salem  High shared the NEC Team Sportsmanship Award.