BEVERLY — Brett Baldassare has heard the stories of what Mike Clifford meant not only to his father, Danvers High boys hockey coach Steve Baldassare, but also to hundreds upon hundreds of Falcon players over the years.
"He said how Coach Cliff was a guy who every time you were on the ice, you didn't want to let him down," said Brett Baldassare. "That you wanted to work not only for yourself and your teammates, but for him. He told us before the game that (Clifford) was a quiet guy, but if you had 2-3 shifts where you didn't work, you heard it from him."
The younger Baldassare obviously took his father's words to hard, and his teammates followed suit. He notched his second hat trick of the season as the Falcons bested Peabody, 7-0, in the ninth playing of the Mike Clifford Memorial Game.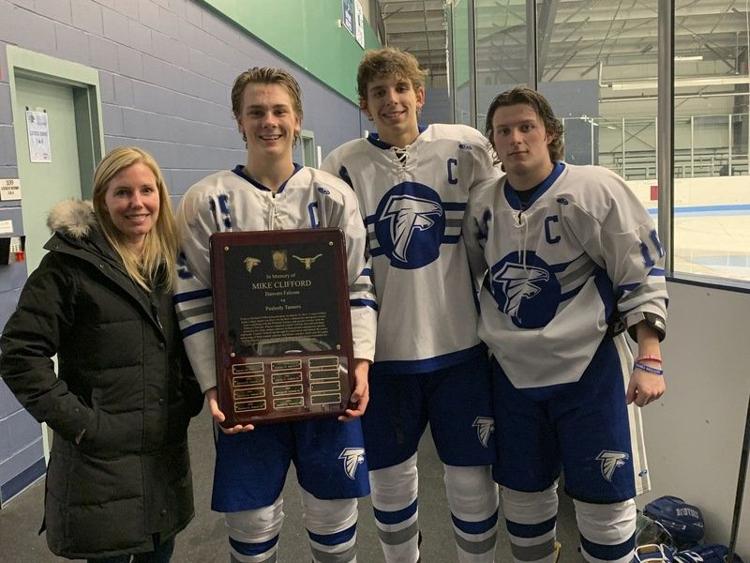 Clifford was an assistant coach at Peabody High for 16 seasons before joining then-head coach Kevin Flynn in Danvers for the next 20 years. During those two decades, he helped the Blue-and-White win Division 2 state championships in both 1994 and 2001 before he passed away in March 2011 at the age of 63.
He was always dressed impeccably, had connections throughout the hockey world that helped many of his charges get into prep schools and colleges, and was a sympathetic ear whenever a player might need one.
Kelly Clifford, his daughter, was on hand at Bourque Arena Wednesday night to present the plaque giving to the winning team in her father's memory to Danvers captains Cam DiMeglio, Tyler Puska and Cal Mansfield. The Falcons lead the all-time Clifford series with Peabody, 7-1-1.
"This game means a lot to us," Brett Baldassare said, "especially to our coaches. A lot of they do is probably learned from Coach Cliff, and now they use it with us."
Now winners of their last three games, Danvers (4-5) held the Tanners to just seven shots the entire game, including zero in the second period. They also didn't allow a 5-on-5 shot on goaltender Adam Bridgeo until early in the third period, as Peabody's first four shots came during a major penalty man advantage in the opening stanza.
"I felt we were very undisciplined, running all around and letting them take control of the game," first-year Peabody (3-6) coach Christian Wright said afterwards. His team was beset by sickness and injury, which didn't help matters on this night.
"We had guys playing with different people based on what we had for availability, which might've played into it, but we weren't focused on creating offense because we weren't disciplined," continued Wright. "Our forecheck was in disarray, too. When we start out sloppy and play undisciplined, it just avalanches."
Puska added two goals and an assist for the winners, scoring on the game's first shift just 24 seconds in on a wraparound backhand that he put past Peabody goalie Lucas DeMild (31 saves). His linemate, junior left wing Tyler Robinson, also had a strong game with three assists.
Captain Cal Mansfield and junior defenseman Brian Taylor were the other Falcons' goal scorers, with sophomore James Carmilia and Mansfield each chipping in with two assists. Freshman rearguard Bobby Joyce had his first career point on an assist, with fellow D-men Griffin Geraghty and Connor Horn also dishing out helpers.
"We started our second line (Robinson-Puska-Brett Palladino) in an attempt to get those guys going, and Puska really got the guys going by burying one right away," said Steve Baldassare.
"I thought we played clean in the first period, but then got a little sloppy in the second. Transition with the puck seems to be a bit of an issue with the puck right now, an area we need to clean up."
Peabody had tied Danvers in last year's Clifford Game and beat them in their other meeting, a fact not lost on this year's Falcons. "It definitely served as momentum for us," said Brett Baldassare.
The Falcons are back home Saturday night (7:30 p.m.) for their second tussle with Beverly in a week. Peabody returns home Saturday (4 p.m.) to face Saugus, a team they beat last month.
"We're just beginning a stretch where we can go after these games individually and make something happen," said Wright, who hopes for more health from his team this weekend. "But we have to be able to maintain our discipline while still playing smart, physical hockey and generating some offense. That's the test for us (Saturday)."
Danvers 7, Peabody 0
Ninth annual Mike Clifford Memorial Game
at Bourque Arena, Beverly
Peabody 0 0 0 — 0
Danvers 2 2 3 — 7
First period: D, Tyler Puska (Griffin Geraghty, Tyler Robinson), :24; D, Cal Mansfield (Puska, James Carmilia), ppg, 13:56.
Second period: D, Brett Baldassare (Mansfield, Carmilia), 6:59: Baldassare (un), shg, 10:28.
Third period: D, Baldassare (Mansfield, Robinson), ppg (5x3), :22; D, Puska (Connor Horn, Robinson), 2:54; D, Brian Taylor (Bobby Joyce), 4:24.  
Saves: P, Lucas DeMild 31; D, Adam Bridgeo 7.
Records: P, 3-6-0; D, 4-5-0.