PEABODY — A hot goalie can steal a game — and that's exactly what Pentucket's Charlene Basque did Saturday afternoon.
Basque's terrific play between the pipes enabled her field hockey team to pull off a 1-0 upset win over second seeded Bishop Fenwick in the Division 2 North quarterfinals.
A sophomore netminder, Basque denied the Crusaders with some acrobatic saves. None of those were bigger than the one she made on a penalty stroke on Fenwick's top scorer, Cailyn Wesley, with 11 minutes remaining.
Fenwick had carried the play the entire contest and had 13 penalty corner opportunities, but weren't able to finish. Wesley, a senior captain and forward who had 28 goals during the regular season, let go of a strong shot on her penalty stroke, but Basque alertly did a split to stop the blast from tying things up.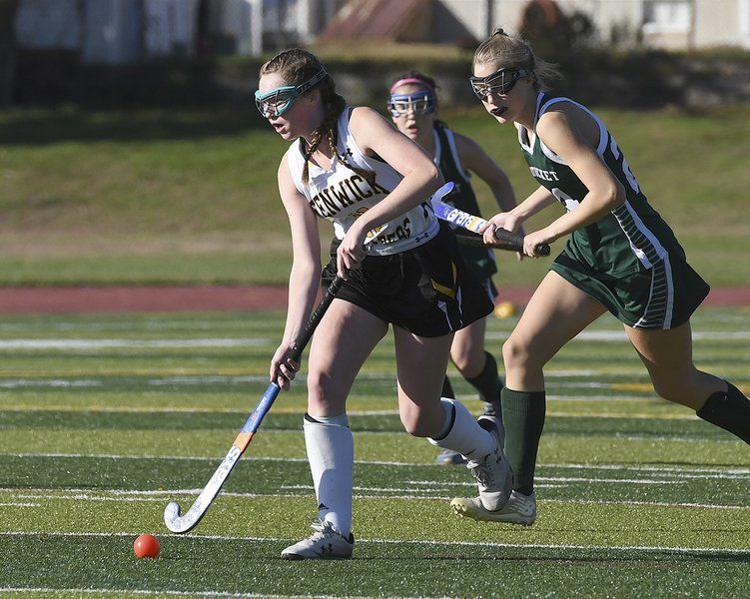 "This win is amazing," said Basque. "I don't know how I was able to keep that stroke from going in. I'm so psyched to be going on to the semifinals ... but I have to thank my defense. Sarah Bean and Talia Beech were able to send the ball out after I made a save."
The lone goal of the afternoon came with just over 18 minutes remaining in the second half. The 10th seeded Sachems (now 11-7-2) had been completely outplayed up to that point, but Liv Reagan made a long run up the right side and sent the ball across to teammate Meghan Bean, who was at the far post. Her shot was deflected and wound up going into the top left corner of the Crusaders' net as goaltender Cat Elias had no chance to stop it.
"In the tournament it only takes one run to change the whole game — and that's what happened in this one," said Bishop Fenwick head coach Marybeth Mahoney, whose team saw its season at 16-3. "We should have put a little more pressure in the middle on that play. We had a lot of opportunities, but their goalie played really well."
The Crusaders pressed to tie it up, but couldn't put one in the back of the net. They had two corners in a row with 10 minutes remaining, but Basque came up with another clutch save. She then made a diving stop on another corner with three minutes left, and a minute later a shot across the crease was just wide of the open corner.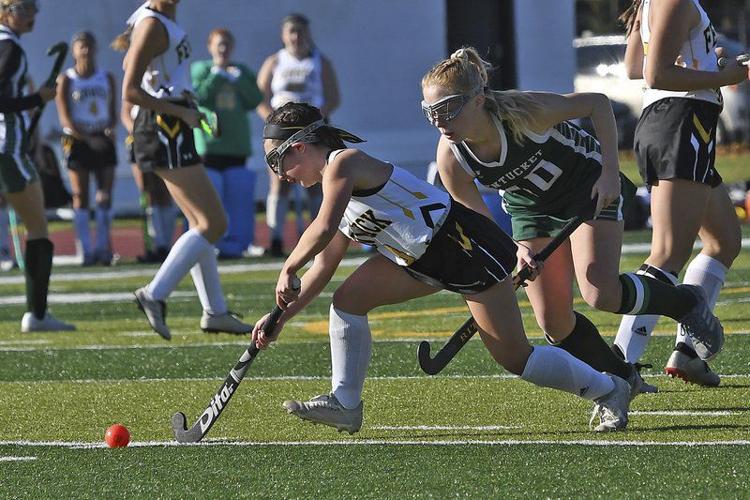 "It wasn't pretty and we made some mistakes, but we scored when it counted," said Pentucket head coach Ruth Beaton. "This was a team effort all along, and we can learn from a game like this.
"Basque has been simply amazing all year long; she's the reason we're going on."
For the Crusaders it was a tough loss on their home field in an outing in which they did everything well except get on the scoreboard. Senior captain Stephanie Steriti had an outstanding game on defense, limiting the visitors to a few shots.
"We played hard the whole game and it's a tough loss, especially since we had such a good season," Steriti said. "This is the closest team I've ever been on; we all played together. We dominated the whole time, so it's hard to believe we didn't win the game."
Mahoney said she was proud of her team and hopes the bar the seniors set will carry over to next season.
"I'm 100 percent proud of all of them," she said. "The senior leadership was just unbelievable; they never quit. Steriti was amazing on defense, and our midfielders Kat Clancy, Kristina Rusha and Kate Keenan worked very hard all game."