PEABODY — Wearing facial coverings underneath a hockey cage isn't optimal. But it certainly hasn't hindered the Bishop Fenwick girls hockey team from putting shots on their opponents' net.
The Crusaders peppered Archbishop Williams with 48 shots on goal Sunday morning at the McVann-O'Keefe Rink, ripping twine three times in the middle stanza and once more in the third to take a 4-2 triumph over their Catholic Central League rivals.
It was the second victory in less than 24 hours for Fenwick, which began its season Saturday with a 4-3 road win at Bishop Stang.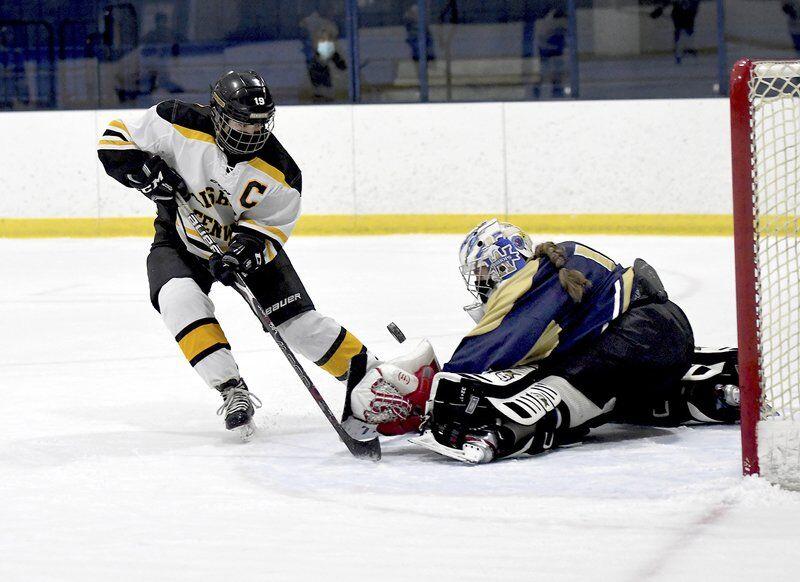 "It's a lot harder to play with masks," acknowledged Fenwick captain Gabby Davern, who had a goal and an assist in Sunday's triumph. "It's hard with no parents allowed here to watch us, either. But it's good to have our season; we're thankful for that."
Fellow captain Shannon Nagy had a pair of goals and junior defenseman Catherine Salvo (on the power play) also scored for Fenwick, which had 16 shots in the first period, 19 in second and another 13 over the final stanza.
"Definitely a good way to start the season," said Crusaders head coach John Kasle, who had his mask taped up high on his cheekbones to prevent his glasses from fogging up on the bench. "It's certainly different with COVID-19 still going on; we're all adjusting every day, following the MIAA modifications and stressing to stay six feet apart.
"But the girls are doing what we ask them to do," he added. "They're getting pucks to the net, driving to the net to get those pucks, and are seeing the end results of that."
Much like Saturday's game at Stang, Fenwick fell behind 1-0 Sunday on a fluky first period goal, this one deflected out front through a scrum and past first-year senior netminder Sedona Lawson (15 saves). But the hosts roared back in the second period by following Kasle's advice.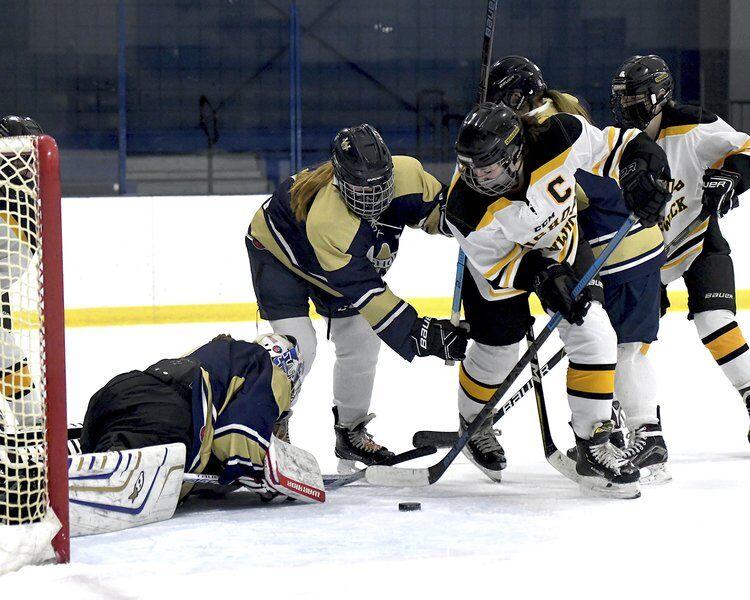 Nagy tied it up at the 8-minute mark by taking advantage of an Archbishop Williams turnover in its own end, driving the net, dekeing and tucking a backhand past keeper Amy Donnelly (44 saves). Fenwick then had eight shots on goal during the game's only power play, and the eighth made it 2-1 when Salvo tucked the puck in at the left post, with Davern assisting.
Nagy notched her second goal 44 seconds before intermission, driving to the net hard to knock in Abi Bruner's rebound. Bruner had flown up the right wing boards (after a successful faceoff win by Lauren Diranian in her own zone) and put a strong shot on Donnelly before Nagy punched it in her third tally of the young season.
"Shannon's been with us for four years, and that style of game plays to her strengths," said Kasle. "She's a senior with maturity and strength. And that power play goal, we had a few good shots but the one that went in was the scramble at the post. We're constantly preaching to the girls: the majority of goals from youth hockey to the NHL are scored in tight like that through hard work."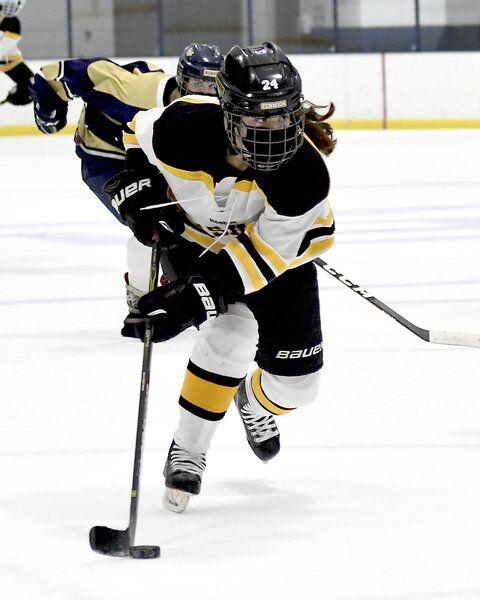 Archbishop Williams (now 1-2) cut its deficit to 3-2 when Melanie McClay stole the puck and slipped a backhand home with 7:17 to play, but Davern answered less than a minute later with a nice move out front, accounting for the final score.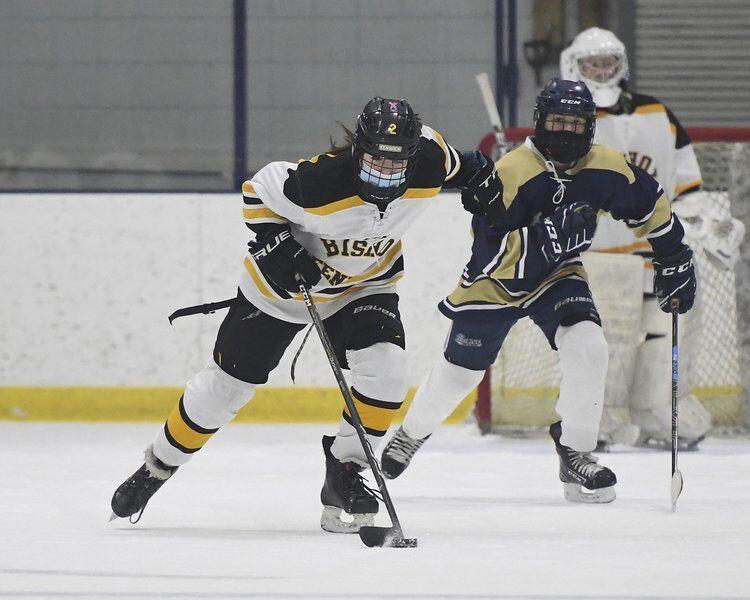 Fenwick — which hosts Matignon next Sunday (9 a.m.) back at McVann-O'Keefe — got a pair of goals from Davern, one from Nagy and the game-winner from Bruner in Saturday's decision over Bishop Stang. Lawson had 20 saves in net as well.
Bishop Fenwick 4, Archbishop Williams 2
at McVann-O'Keefe Rink, Peabody
Abp. Williams 1 0 1 — 2
Bp. Fenwick 0 3 1 — 4
First period: AW, Lilly  Donovan (Melanie McClay), 7:37.
Second period: BF, Shannon Nagy (un), 8:08; BF, Catherine Salvo (Gabby Davern), ppg, 11:33; BF, Nagy (Abi Bruner, Lauren Diranian), 14:16. 
Third period: AW, McClay (un), 7:17; BF, Davern (un), 8:11.
Saves: AW, Amy Donnelly 44; BF, Sedona Lawson 15.
Records: BF, 2-0-0; AW, 1-2.