The issue was never with Stefano Fabiano's athletic ability.
An undiagnosed learning disability, however, had prevented him from reaching his full potential in the classroom at Bishop Fenwick.
Identified last year as having ADHD, Fabiano is now taking the proper medication and his focus has become laser-like when it comes to his academics. So much so, in fact, that he ended his junior year earning First Honors. "A complete 360-degree turnaround," he said.
More good news came Fabiano's way recently when he was accepted in to Endicott College's Class of 2025, where he'll join the Gulls' lacrosse program and play under head coach Eric Hagerty.
"I really wanted to play lacrosse in college and find the best school for me," the 5-foot-11, 180-pound midfielder said. "I had several schools in mind and offers from some others, but Endicott was a great fit for me. I loved the school, and Coach Hagerty was a great guy. He was kind of in the same situation as me when he was trying to get recruited, and he understood my predicament."
Fabiano, who has 54 goals and 128 total points in two varsity seasons at Fenwick (minus this past spring, which was cancelled due to the COVID-19 pandemic), freely admits that he struggled in his schoolwork as a freshman, sophomore and for part of his junior year "until we were able to find out what the problem was and figure out how to correct it." Since then, the change has been remarkable.
"Everything is so much clearer to me now," he said. "I can understand things much, much better, and my grades have gotten so much better. Overall, it's just a different mindset that I can do it, and then seeing the results. That's really the biggest part of it, which shows that it's working.
"It's better study habits, paying more attention in class and understanding what I'm being taught," added the Wakefield native. "Because that carries over to tests and quizzes, I'm now excelling in those. Those were big issues to me prior to this."
Steve Driscoll, the Director of Admissions at Fenwick and its varsity boys lacrosse coach, said that Fabiano was a freshman when he first started at the school. Because they were both newcomers, they bonded quickly and their relationship grew from there.
"From the moment I met Stefano, I knew he was a different breed," said Driscoll. "He has such a fire in him that makes him just want to work all the time.
"(Football) Coach (David) Woods told me how good of a football player Stefano was but that he was a better lacrosse player, and when I saw him play football I knew lacrosse was going to be special."
Having helped the Fenwick football team reach the Division 6 state Super Bowl last fall with 21 catches for 367 yards and five touchdowns, Fabiano enjoys being on the gridiron as much as he does the lacrosse field. But to him, it made more sense to keep up with his favorite spring sport at the next level.
"I really hope we have football this year (in the 'Fall 2 season from late February to late April), because I do love playing," said Fabiano, who has 59 catches as a Crusader, good for 861 yards and 11 trips to the end zone. "But lacrosse is something I deeply love. Through all the ups and downs, I can always pick myself up and keep going."
Part of that comes from the joy he gets in setting up one of his teammates for a goal as scoring one himself. Fabiano led the entire North Shore in assists in 2019, with 47 of his 77 points coming that way.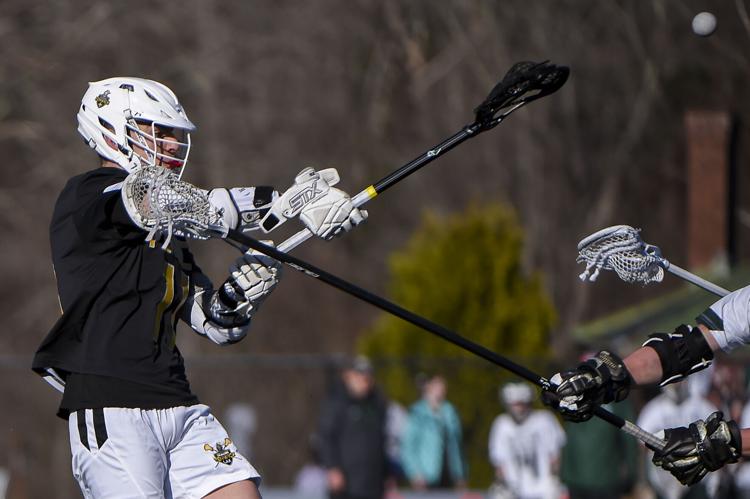 "He has such a vision out on the field that he contributes in every part of the game," said Driscoll. "Stefano's our go-to guy when we need a short stick defender; he's the guy who, if we need a faceoff win, he goes and takes it; and almost every time we need a goal, the ball is in his stick either scoring or setting up someone with a great pass. He might not blow up the stat sheet in a game, but if you ask the opposing coach who Fenwick's biggest contributor in a game is, it would be Stefano."
"You aren't going to win by playing hero ball," added Fabiano, who played club lacrosse for the Fighting Clams this summer and will continue to do so in the fall. "Every team needs a facilitator, and I think I fit that role perfectly with the style that I play."
Fabiano, whose favorite class in school is U.S. History, said that his teachers and administrators at Bishop Fenwick "have been there for me whenever I needed them." 
As someone who hopes to study business at Endicott with hopes of opening an Italian restaurant or grocery store one day, Fabiano also said that his parents, Nicole and Peter, have played huge roles in his development as a scholar and person.
"They're a huge part of this long, stressful journey," he said. "Not having them right by my side would've been tough. They helped make this happen and always seemed to understand when I had difficulties with my learning disability. I can't thank them enough for always being there for me."