The high school football season kicks off for real Friday night, and you can feel excitement in the air.
Our North Shore high school football experts, Phil Stacey and Matt Williams, are just like you in that they have their thoughts and opinions on which players and teams will shine brightly this fall. In the first of a two-part story, they'll give their thoughts on leaders in a half-dozen different categories and why, followed up with six more queries answered on Friday.
1. Who are your top three picks to lead the North Shore in rushing yardage?
PHIL STACEY
1. David Cifuentes, Bishop Fenwick. The Crusaders have all kinds of mouths to feed offensively, a nice problem to have with so many talented players to turn to. Yet this jet propelled tailback is undoubtedly Option No. 1 and can score from anywhere on the gridiron.
2. Tim Cronin, Marblehead. Bulled his way to almost 1,100 yards last fall and will probably average close to 20 carries a game this time around, so surpassing that total of a year ago is surely attainable.
3. Cole Terry, Ipswich. Averaged nearly eight yards a carry last year as a sophomore, rushing for 913 yards and spiking the ball nine times; the rushing yards and TDs should both increase as he becomes a more focal point of the Tigers' offense.
MATT WILLIAMS
1. Marje Mulumba, Beverly. His Derrick Henry game in last year's playoffs (315 yards rushing, 5 TDs) would rocket him to the top of most local fantasy draft boards. There should be plenty of carries available in Beverly, a team that loves to pound the rock, and I see Mulumba as the lead dog in a deep pack.
2. James Guy, St. John's Prep. You have to be a special player to see the field at St. John's as a true freshman, and Guy did that while averaging 7.65 yards per carry. With a load of talent behind some mammoth offensive linemen, Guy will be "the guy" in 2019.
3. Will Hunter, Masconomet. An off-the-board pick, but with the Chieftains looking to grind out chunks on the ground this year there's a wealth of opportunity for a fast, tough and athletic kid like Hunter (a two-year baseball captain) to break out.
2. Who are your top three picks to lead the North Shore in receiving yardage?
PHIL STACEY
1. Andrew Augustin, Swampscott. In a pass happy offense with a rocket armed QB and a strong running game to keep defenses honest, Oriakhi (41-622-11 a year ago) could eclipse 60 grabs, 900 yards and a dozen visits to the end zone as a senior.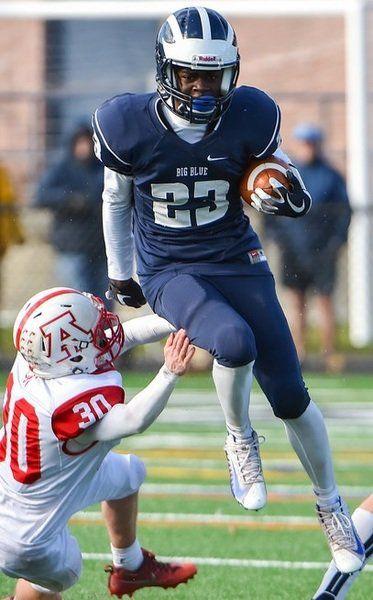 2. Duncan Moreland, Beverly. In hindsight, it's hard to believe Moreland had but 26 catches for 504 yards and a half-dozen scores as a junior. With terrific leaping ability, strength and body control — plus the Panthers making it clear they want the ball in his hands — expect a monster year.   
3. Joe Rivers, Bishop Fenwick. Eager to be the top dog when Fenwick goes to the air, the Holy Cross-bound Rivers should shatter his 9-228-3 totals of a year ago while using his speed and athleticism to torch defenses on a weekly basis.
MATT WILLIAMS
1. Andrew Augustin, Swampscott. With 11 touchdowns a year ago and running mate Jonathan Oriakhi having departed for Milton Academy, Augustin becomes the focal point of the area's most prolific passing offense. You can bet the mortgage on at least 50 catches and 600-700 yards — and that's a conservative estimate.
2. Matt Ducheman, St. John's Prep. Call this the reverse Troy Brown, where a trained defensive stud does double duty on offense. We've seen that Ducheman has the footwork and athletic ability to mirror routes as a cornerback, and the bet here is he'll prove just as good at running them from the Eagles' 'Z' receiver spot.  
3. Tim Dowd, Pingree. The Highlanders usually spread the ball around, but Dowd has sure hands and will want to leave a big impression before departing to play at Harvard University next year. 
3. Which three quarterbacks will throw for the most yardage?
PHIL STACEY
1. Graham Inzana, Swampscott. It's an ideal situation for Swampscott's senior signal caller, who still has a ton of weapons at his disposal and knows how to disperse the football to matriculate downfield.
2. Matt Crowley, St. John's Prep. Lost his top two receivers from last year's Super Bowl title campaign, but Crowley's TD-to-INT ratio (23-to-5) wasn't an accident. New faces will step on the outside, in the slot and out of the backfield, and this gunslinger will find a way to get the ball to them in space.
3. Alex DeNisco, Peabody. Having made the job his own in the late stages of 2018, including a sublime 15-for-17 passing day on a bitterly cold Thanksgiving Day blowout of Saugus, DeNisco will reap the benefits of having multiple glue-fingered receivers to throw to.
MATT WILLIAMS
1. Graham Inzana, Swampscott. How do you pick against a guy that threw for 2,555 yards and 28 touchdowns last year? The schedule is tougher but that just means the Big Blue will need to put even more points on the board so somehow Inzana's production could be even better. 
2. Jason Romans, Bishop Fenwick. It's tough to choose between Romans and fellow Crusader QB Chrys Wilson and they'll probably both throw for copious yards and scores. Call it a hunch that Romans just might emerge as the clubhouse leader as far as yardage goes.
3. Matt Crowley, St. John's Prep. It's a relatively safe pick: A proven commodity with a championship ring and the area's best QB coach (Brian St. Pierre) teaching him new tricks.
4. Name the three teams you think will have the stingiest defenses.
PHIL STACEY
1. Danvers. Check out the absolute beasts that will line up for the Blue-and-White: Jack Strangie, Rich Canova, Russ Canova, captain Tommy Walfield, Jacob Stone, Andrew Chronis, Ben Wilichoski ... it's a veritable cavalcade of shutdown defenders that will cut down their foes more often than not.
2. Marblehead. Over the last decade, in which Jim Rudloff has undoubtedly made himself into the best football coach in school history, stout defensive and refusal to let teams get near the goal line have been Marblehead hallmarks. That's not about to change this autumn.
3. St. John's Prep. There's a lot to like in Eagles' Country when it comes to shutting down foes. Collin Taylor, Mike Fionda, and captains Anthony Fagan and 6-3, 300-pounder Cooper Smith up front are monsters; linebackers Tripp Clark and Mason Davis can patrol sideline-to-sideline, and Charlie Wilmot and Matt Duchemin in the secondary could be elite.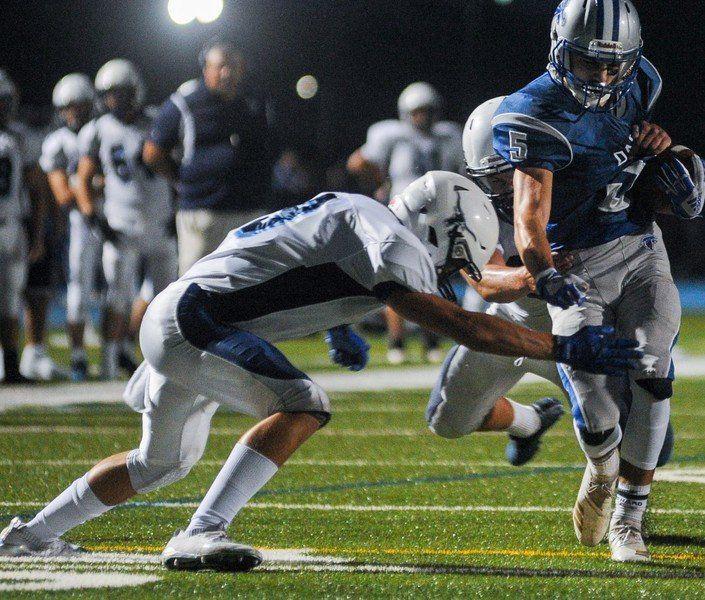 MATT WILLIAMS
1. Peabody. Put me down as a big believer in new assistant coach Greg Haberland, who brings a wealth of experience from his days at Lynnfield, head coaching Essex Tech and most recently for Masco. The Tanners have veteran athletes at all three levels and this scheme should put them in position to succeed.
2. Ipswich. The Tigers bring back nine starters from the unit that shut out Hamilton-Wenham last Thanksgiving. Expect a stingy effort led by Will Ginfoli all year long. 
3. Danvers. Until proven otherwise, any Ryan Nolan coached team can be written with ink as far as defensive points-against leaders go. 
5. Name three defensive standouts who could be among the area leaders in tackles this fall.
PHIL STACEY
1. Russ Canova, Danvers. Taking skills (and mentality) he's honed on the wrestling mats to the football field, Canova is always in the middle of the action for the Falcons from his linebacker spot and is like a heat seeking missile when it comes to bringing down ballcarriers. 
2. Will Ginolfi, Ipswich. Thinks like a coach on the field; plays like someone willing to do whatever it takes to bring the player in the opposite colored jersey carrying the football down. Explodes through his hits to take foes down.
3. Connor McRae, Salem. Between carrying the ball out of the Witches' backfield and roaming between middle and outside linebacker on D, McRae will rarely, if ever, leave the field. That's good news for Salem, where his penchant for knocking guys off their feet and ending the play will come in handy.
MATT WILLIAMS
 1. Dylan January, Swampscott. What's not to love about this throwback player that clobbers home runs all over the North Shore in the spring and then clobbers opposing running backs into next week during the fall? 
2. Joe Rivers, Bishop Fenwick. The Crusaders lost some big pieces to graduation, but that only opens up more responsibility for a heady, hard-hitting Holy Cross commit that's more than capable of shouldering the load — and shouldering his opponents to the turf.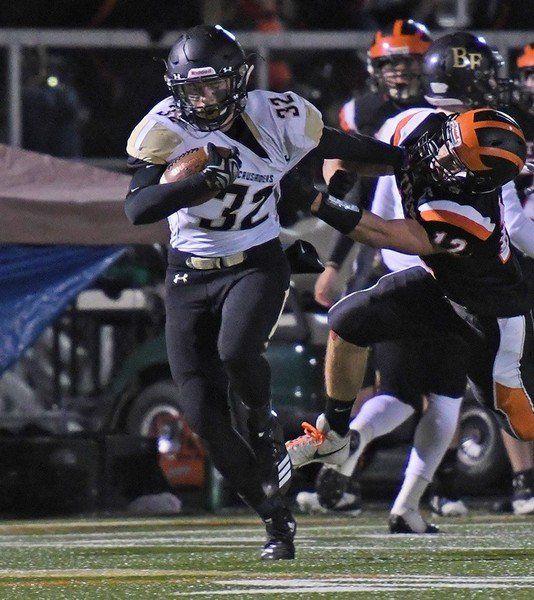 3. Jack Strangie, Danvers. Here's a guy that makes his living doing the dirty work on the football field — blocking and tackling. He does it better than just about anybody, too. 
6. Name three players who aren't currently household names who will be by the end of the season.
PHIL STACEY
1. Nico Mangano, Pingree. You want to talk about a college prospect? Check out this 6-foot-1, 280-pound bull of a defensive end. The junior pushes offensive linemen backwards and uses quick feet to not only put a helmet on the ballcarrier, but often times wrap him up and bring him down. 
2. Tyler Geary, Essex Tech. Head coach Dan Connors' team is very young, but he's bullish on his offensive line — where the 6-foot, 250-pound junior from Salem should be adept at opening holes for the Hawks to run through.
3. Colby Cala, Hamilton-Wenham. As the Generals' new No. 1 tailback, Cala will be looked upon as a three-down back who can catch swing passes as well as he hits the edge on jet sweeps. As a lacrosse player he does his best work 1-on-1 with a defender, something he's hoping translates onto the gridiron this fall.
MATT WILLIAMS
1. Steven Bua, Peabody. A transfer from St. John's Prep that can fill any number of roles — linebacker, safety, receiver, running back — Bua has the potential to be a game-changer for the Tanners. 
2. Wayne Holloway, Salem. I love the Witches' QB's calm and subtle confidence, and you can't help but marvel at the way he moves around the pocket. He's an impact player, no doubt about it. 
3. Andrew Chronis, Danvers. Have you seen this guy steal a bag on the baseball diamond? When you move that quickly, with his size, and the translate the explosiveness generated to the football field — that's the kind of physics that gets fans out of their seats.
Coming Friday: Part 2 of our Crystal Ball predictions for 2019. 
||||