SALEM — For the first time in his high school football career, Beverly High senior captain Chris Curran took a handoff, followed his blockers and plowed into the end zone.
Then came tears, jubilance and overwhelming emotion all at once. It was, for the 5-foot-11, 185-pound linebacker who had never carried the ball in a game before, an ultimate moment of Thanksgiving football serendipity.
"It was pretty surreal, but at the same time a perfect ending," said Curran with a huge smile as his Panther teammates celebrated in the rain on the Bertram Field turf around him, reveling in their 48-8 victory over their arch rivals from Salem in the 121st playing of 'The Game', the grandaddy of all North Shore sporting events.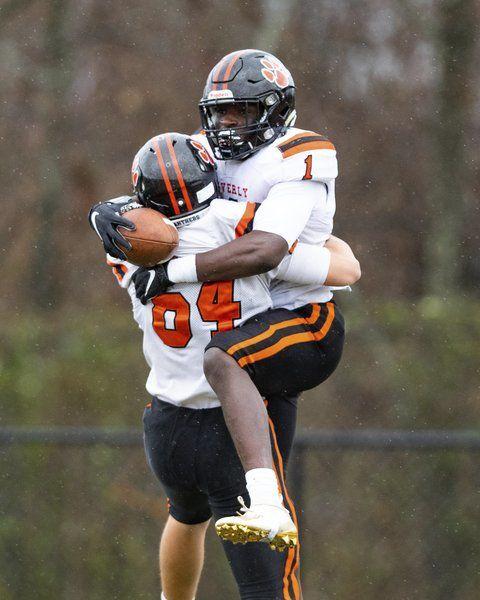 "I got into the end zone and started tearing up, and then I stood up and all the guys were surrounding me cheering and yelling my name, patting my helmet," said Curran, one of the most popular Panther players among his teammates and coaches. "Like I said, it was pretty surreal."
It was one of several highlights in a dominant showing by Beverly, which piled up 363 yards of offense on 36 rushes without attempting a single pass. The Orange-and-Black, who finished the season at 5-6, scored three times in a span of 59 seconds after recovering back-to-back fumbles on kickoffs and, all told, saw nine different players carry the rock, five of whom found the end zone.
It was also a measure of sweet revenge for the Panther seniors, who lost on this same field on Thanksgiving Day 2017 and wanted nothing more than to reverse that in this, their final high school game.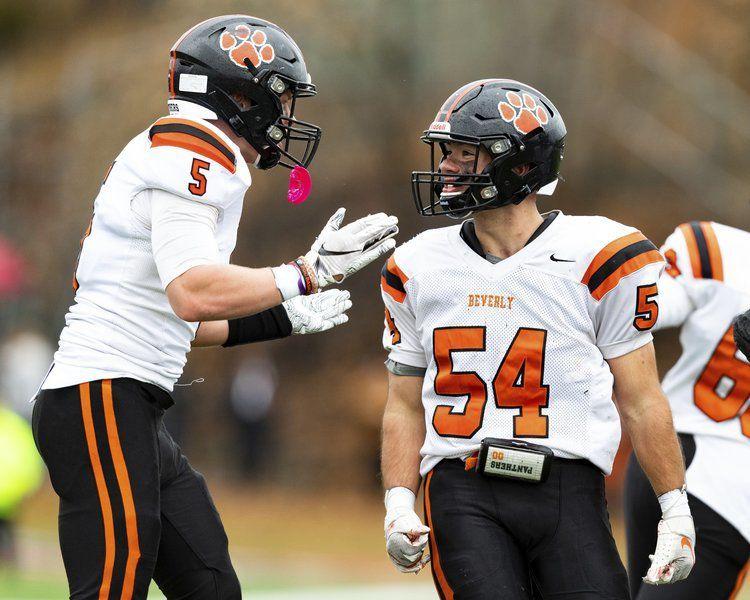 "It feels great; there's no other way to put it," said senior tailback Marje Mulumba, who ran for a game-high 112 yards on a half-dozen carries and scored twice. "This is a game we'll remember the rest of our lives. It's a great football family feeling to get this win."
Mulumba had scoring runs of 32 and 58 yards; junior speedster Jaichaun Stanton-Jones also hit paydirt twice (on just 3 carries), picking up six points after runs of 16 and 58 yards, respectively. 
Senior captain Duncan Moreland (84 yards on 11 carries) added a 1-yard TD plunge for the Panthers while senior Mike Rhodes (6-yard run) and Curran also scored and Joey Loreti kicked six extra points. Beverly did most of its damage playing power football, running blast plays time and time again to great success.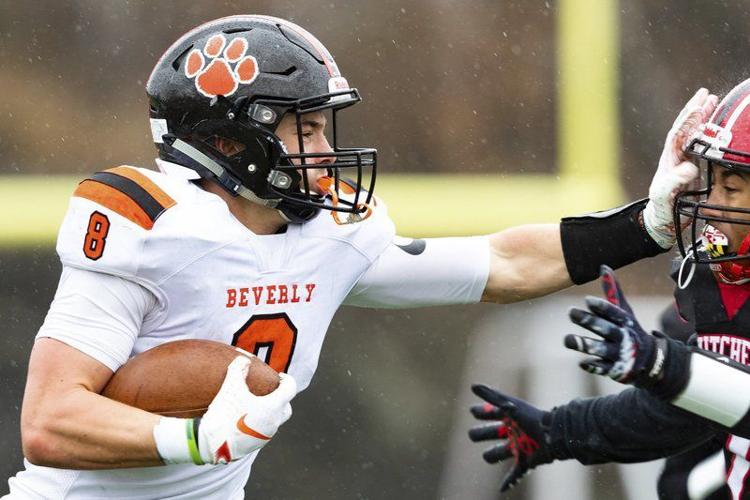 "I'm so happy for our seniors. They wanted to erase some demons (from two years ago) but also make a statement in this, their final game," said Beverly head coach Andrew Morency, whose team was the healthiest it had been all season. "We executed the game plan and played power football throughout because we felt it would be there for us — and it was.
"We never let the magnitude of this game get away from us, either."
Morency was especially pleased for Curran, whom he called "the epitome of an unsung hero."
"We had worked on that play for him for weeks and waited for the right moment to bring it out, and I'm so glad we did," said Morency. "I'm really, really happy for Chris."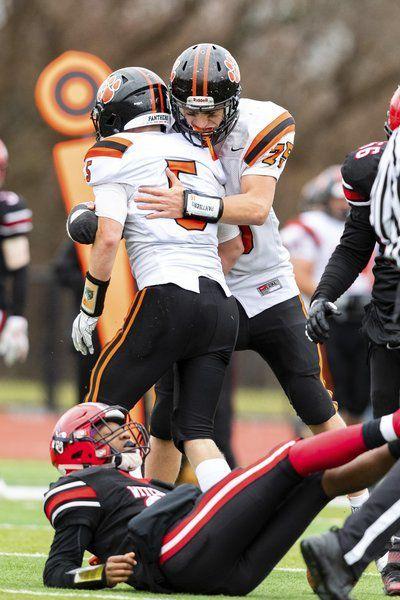 Fellow captain Braeden Pratt, who unofficially led the Panthers with eight tackles Thursday, also had his first carry out of the backfield, good for four yards.
Defensively, no one had a bigger game for Beverly than Rhodes. The 6-foot, 190-pound senior cornerback, who had missed the last two games, produced four of Beverly's five quarterback sacks, blitzing with abandon and dropping Salem's Wayne Holloway for a combined minus-46 yards.
"We studied the film and saw a play that would be there for us defensively," said the 18-year-old Rhodes. "They set their running back on the other side (away from Rhodes), so I was able to get to the QB every time."
Salem scored its lone touchdown in the fourth quarter when Holloway capped off a 70-yard drive with a 29-yard keeper for the touchdown. Devin Tolbert then ran around the right end for the 2-point conversion.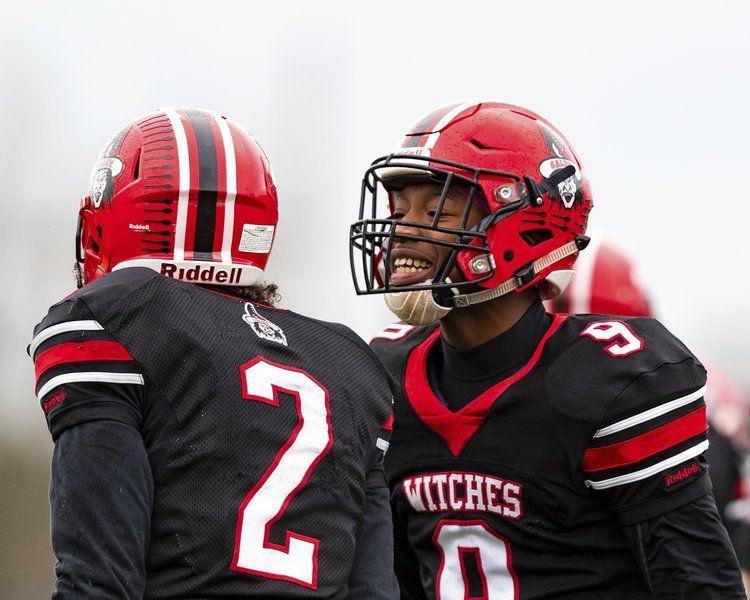 With just six seniors on the roster and many young players seeing significant varsity time, Salem head coach Matt Bouchard was happy to see his team's second half effort didn't reflect the halftime scoreboard (41-0).
"I saw that kind of tough Salem mentality start to come out in those final two quarters," said Bouchard, whose team had a strong game defensively from senior captain Melkin Bautista (7 tackles). "I saw the flip in the level of hunger, and they carried that out onto the field with them and played like that the rest of the way."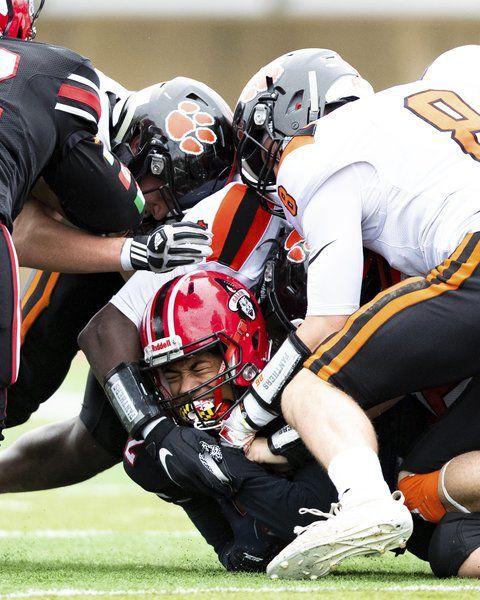 Prior to that drive against their second and third team defense, the Panthers had given up just 52 yards of total offense.
"Everyone contributed today," said Morency. "That's what makes this such a great win for Beverly."
"I'm definitely happy we got the win," added Curran, "but it's sad to look up at that scoreboard and seeing 0:00, knowing it's over. But it's a great way to go out."