Last season was a special one for Masconomet's field hockey squad, which won not only the Cape Ann League crown, but the first Division 1 North title in the program's history. They went all the way to the state finals in a memorable, historic run.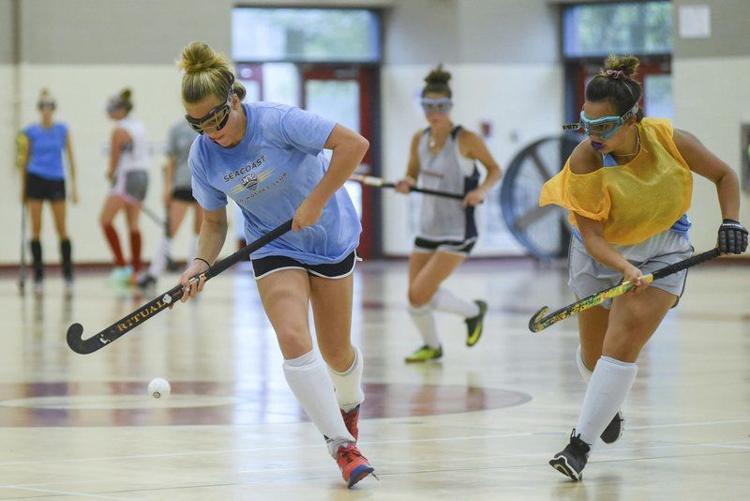 The Lady Chieftains are not content to rest on their laurels, though, and are off to an undefeated start with a 8-0-2 record. After losing only two starters to graduation, there is a strong core group. Senior captains Mak Graves and Orla Gauvain brought the team together for captains practices all during the summer and set the bar high.
There is one disappointing thing about the way last season ended — the loss to Somerset Berkley in the state championship.
"That loss stings," said Graves, who is also a star basketball player. "I had never played against a team with two boys on it before. Getting to the state championship was unbelievable, but I think we showed our weaknesses in that loss. We found out what we had to work on. It was definitely our toughest of the season, but we're 100 percent committed to going back."
Graves is one of the top scorers on the team along with Cecily Paglerani, a sophomore wing. The captain also takes control of the field from her center mid position while Gauvain anchors the defense.
"We have a lot of returning players, and last year we developed a real tight team chemistry. We have pasta parties before every game, and sleep overs. It's not just field hockey; we do a lot of things together," Graves said.
"We always have so much fun, laughing and joking, but when it's time to get serious we do," added Gauvain."
Coach Maggie Bridgeo took over the program last year and guided the team to a 19-2-2 record.
"We want to get back to where we were last year, win the conference, and be successful in the post season," said Bridgeo. "We can't look too far ahead though; focus on every game and not overlook anybody. What we want to do is take it one step at a time."
Bridgeo knew from the first day of preseason practice the girls were very serious about the season. They reported in excellent condition, ready to go.
"Every single player came to practice in great shape," said Bridgeo. "They had captains practice, long runs, and some went to the Nike Camp. They all did something during the summer, and I was very pleased they were in mid season form.
"We do a bunch if time trials and timed mile runs. The numbers were incredible; they were all so fast I couldn't believe it. And it was not just at the varsity but all three levels."
Bridgeo couldn't say enough good things about the job her two captains are doing and credits them with being the heart and soul of the team.
"Mak does so many things well," said Bridgeo. "She's a top scorer and is skilled both on and off the ball. Freshman Maggie Sturgis has been unbelievable at forward, and both wings Cecily and Lilly Conway (sophomores) have good hands. Orla really takes charge of the defense, and Ava Tello (sophomore sweeper) has been a wall there, too."
Having an experienced goalie in Gruener is also a key to success.. The Lady Chieftains have depth, strength, and skill in all areas.
"We have a lot of girls, who really know the game and how to play it," said Bridgeo. The stick work and dribbling are really good. They talk to each other, communicate so well, and are friends both on and off the field. It's a real family atmosphere, which makes my job so much easier."
Target on their backs
Because they had such a strong season a year ago there's a target on the Lady Chieftains backs, and every opponent would like nothing better than to defeat them. Masco tied North Reading and Central Catholic earlier, though they've outscored their opponents 40-4 in league action.
"We couldn't finish against North Reading," said Bridgeo. "Our biggest challenge in the league is Lynnfield. We know we have a target on our backs, but the girls feed off that. We beat both Lynnfield and Pentucket, but have to play them again."
Masco is ranked among the best in the state and checked in at No. 20 in New England in the most recent MAX field hockey poll (which includes prep schools). Bridgeo is not interested in what that rating is because she knows there are a lot of games still to be played.
"I know because some people told me, but I don't look at it," she said. "It's not important right now. Our team wants to be No. 1 at the end, and in order to get there we have to focus on taking one game at a time so we'll be there when it counts. That loss at the end of last season is a thorn in our sides, and motivation. There's a lot of field hockey to be played first, but that's in the back of everybody's head."
"We're concentrating on one game at a time; take nobody for granted," said Graves. "I think we underestimated North Reading, and as a result had to settle for the tie."
"We need to push ourselves every game because each team is different," said Gauvain, who plans to plan rugby in the spring. "We're doing it together; we really do have each other's backs."
||||