MANCHESTER — The last time the Ipswich and Manchester Essex boys basketball teams met, the Hornets prevailed with a one-possession win. So when the two Cape Ann League rivals clashed again in Wednesday night's Baker Division tournament semifinal, you knew it was going to be a good one.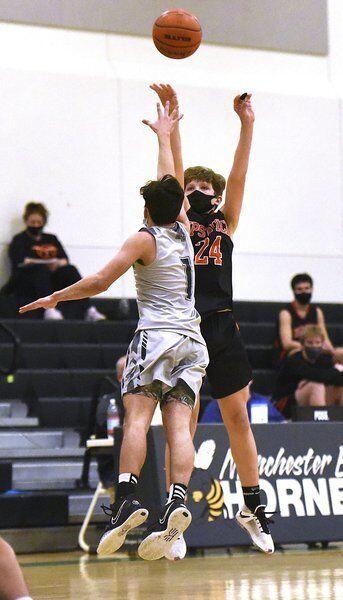 This time, the visiting Tigers who came out of their den hungry, seizing a first quarter lead and never looking back en route to a 65-51 triumph. Ipswich defended at a high level, rebounded with a purpose and knocked down timely shots all night in response to the numerous Manchester runs. With the win, they'll move on to face familiar foe Hamilton-Wenham in the championship game on Friday (6 p.m.). 
"I thought we did a nice job on the defensive end against them in the first half, really trying to take away those shooters on the perimeter because we knew they were down the one inside guy," said Tigers' head coach Alan Laroche, his team now 6-4. "I told the guys before the game that they're going to go on runs, we're going to go on runs and we have to be able to counter their runs and make their runs shorter this time around and we were able to do that."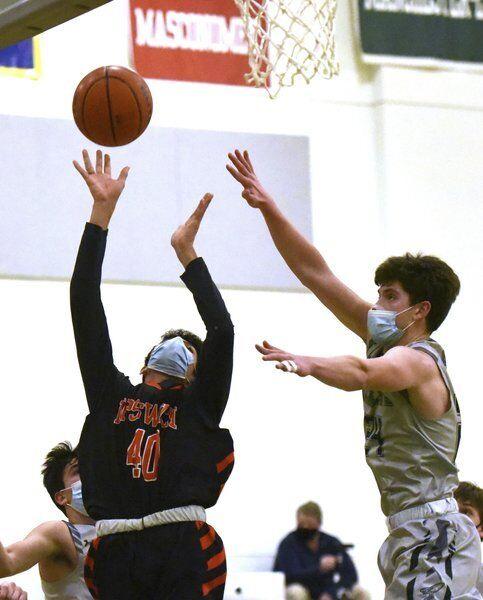 With Manchester keying in on Tigers' leading scorer Ray Cuevas early and often, that opened up opportunities elsewhere for others to step up and make offensive contributions. In the first half, freshman Will Wertz was that guy. The confident sharpshooter canned two triples and 12 points in all in the opening 16 minutes, helping Ipswich seize a 35-23 lead at the break.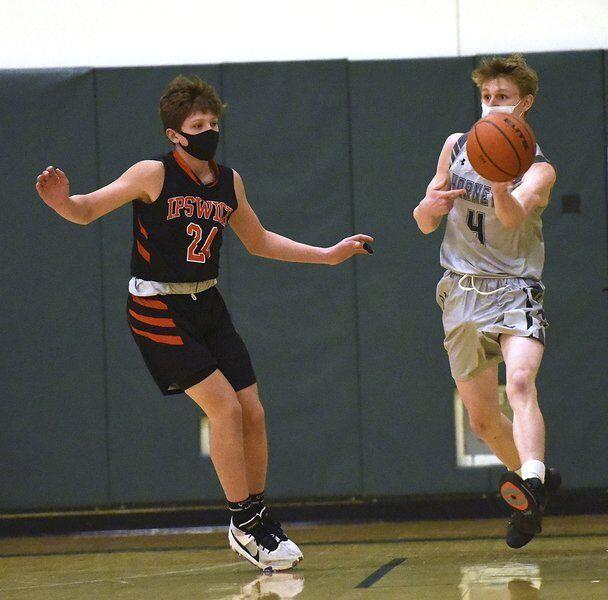 "Will was huge in the first half for us. He was really feeling confident shooting the ball and he's really starting to come out of his shell as a freshman gaining more confidence," said Laroche. "I wish we had 10 more games this season (to see him continue to develop)."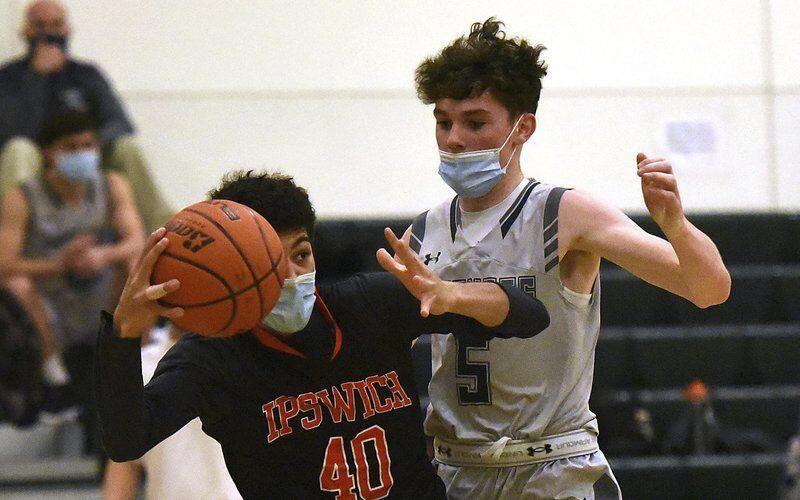 On the other end, Manchester struggled to knock down open looks in the first half. At times their offense looked crisp and the ball movement was on point, making the Tigers' defense really work to get stops. Freshman Cade Furse (18 points, 3 rebounds, 4 steals) got going from deep in the opening half, but nobody else was able to help him out shooting wise. Furse scored all his points on threes. 
"He's a heck of a ball player as a freshman," said Manchester head coach Tim St. Laurent. "His older brother (Kellen) scored 1,000 for us last year so basketball is in his blood."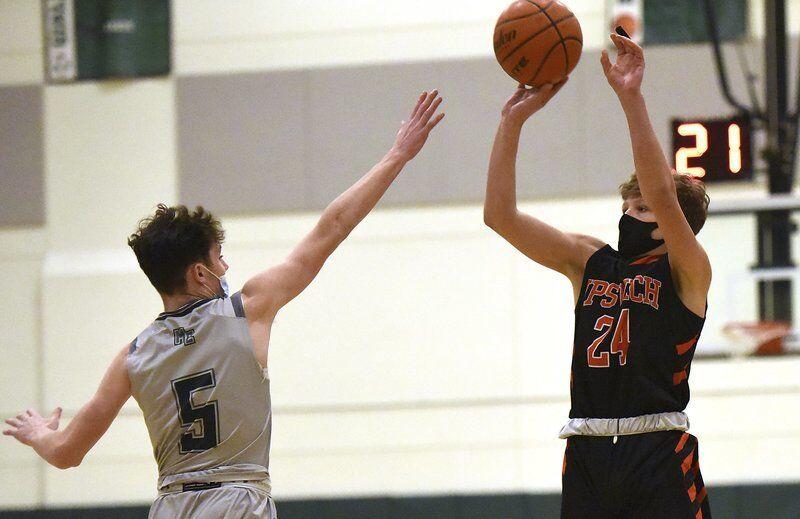 But overall, the shooting for the Hornets just wasn't up to par on this particular evening. 
"We were moving the ball around like we wanted to and the shots weren't falling today; credit Ipswich to playing hard and making us take tough shots," he added. "(Jack) Shaw is one of the best shooters that's ever played for me and I think he was 1-for-10 in the first half; just wasn't his night."
To his credit, Shaw did play well in other areas, finishing with 15 points, four rebounds an assist and steal. 
Manchester was able to cut the deficit to single digits multiple times in the second half, getting within two possessions at one point, but Ipswich seemed to have an answer for every Hornets run. 
Cuevas wound up finding his groove after the break, finishing with 17 points, four rebounds, three assists and two steals; Nikhil Webb-Walker was a monster in the paint, collecting 13 rebounds to go with 12 points and a thunderous two handed dunk; and Tyler White was consistent with 6 points, six rebounds, two steals and a block.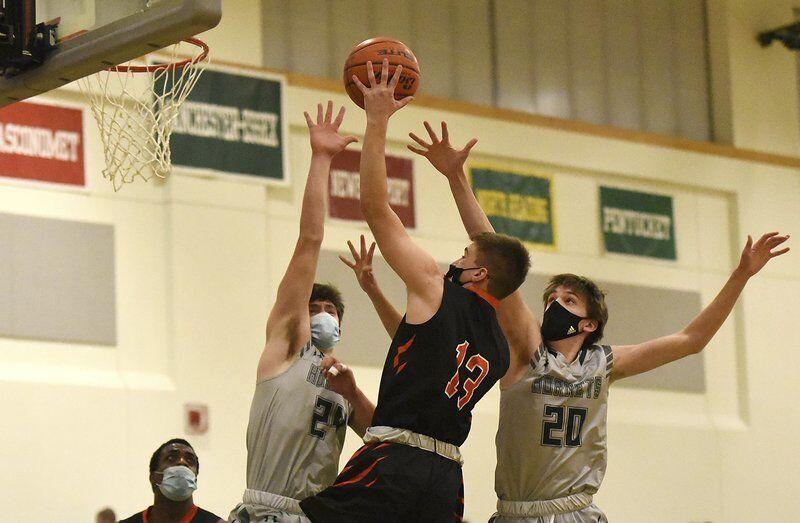 The Tigers also got great production from their bench, as guys like Evan Stein (huge three to halt a Hornets run) and Jayden Halecki (5 points including a key drive to the basket in the second half) stepped up when their team needed it. Ipswich also did a tremendous job on the glass which helped them limit the Hornets to one-shot possessions; they wound up out-rebounding Manchester by a 35-19 margin.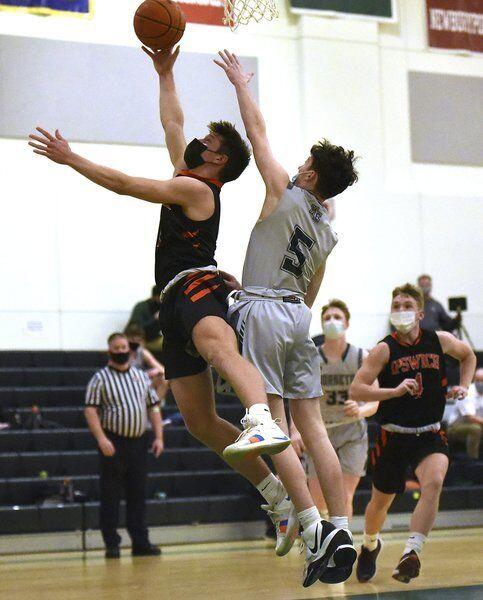 It always felt like Manchester was going to crawl right back into it, but Ipswich simply did a great job staying the course and thwarting any Hornets threats as they game rolled on. It was a great team win and Laroche is excited about Friday's championship showdown. 
Ipswich 65, Manchester Essex 51
at Manchester Essex Regional High School
Ipswich 15 20 8 22 — 65
Manchester 11 12 12 16 — 51
Ipswich: Will Wertz 6-0-15, Tyler White 2-2-6, Charlie Henderson 2-0-5, Evan Stein 1-0-3, Reilly Dillon 1-0-2, Aidan O'Flynn 0-1-1, Nikhil Webb-Walker 6-0-12, Ray Ceuvas 5-3-17, Jayden Halecki 2-1-5. Totals: 25-7-65. 
Manchester: Ambrose Pallazola 2-2-6, Jonathan Craigen 0-1-1, Alexander Furse 2-0-5, Cade Furse 6-0-18, Gavin Glass 0-3-3, Will Larson 0-1-1, Frank Wood 1-0-2, Jack Shaw 4-6-15. Totals: 16-13-51. 
Halftime: Ipswich, 35-23
3-pointers: Ips. Wertz 3, Cuevas 4, Stein, Henderson; M-E, Furse 6, Shaw. 
Records: Ips. 6-4; M-E 7-4.